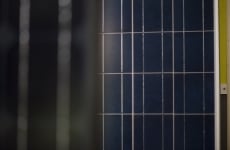 NextEnergy Solar Fund (NESF) has raised gross proceeds of more than £115 million in the first tranche of a major share issuance programme which was oversubscribed.
As part of fund raising plans announced earlier this month, NESF had initially intended to issue 100,000,000 new ordinary shares to fund an acquisition drive of UK solar assets.
But after additional interest in the issuance – and after consulting with the fund's investment manager – NESF elected not to scale back any applications and allow for 110,300,000 new shares to be issued.
NESF said that its directors took into account "the strength of the company's short-term investment pipeline" and its ability to meet forthcoming dividend targets before agreeing to the additional shares.
"We are pleased by the ongoing demand for the company's shares, which has enabled us to raise more than £180 million over the last four months, increasing the company's share capital by approximately 63%. We believe this demand reflects investors' confidence in NESF's investment proposition and investment manager," Kevin Lyon, chairman of NESF, said.
Earlier this month NESF confirmed it had entered into letters of intent to acquire 170MW of UK solar farms and expected that amount to grow before the year's end as it looks to ramp up its share of the UK asset base.