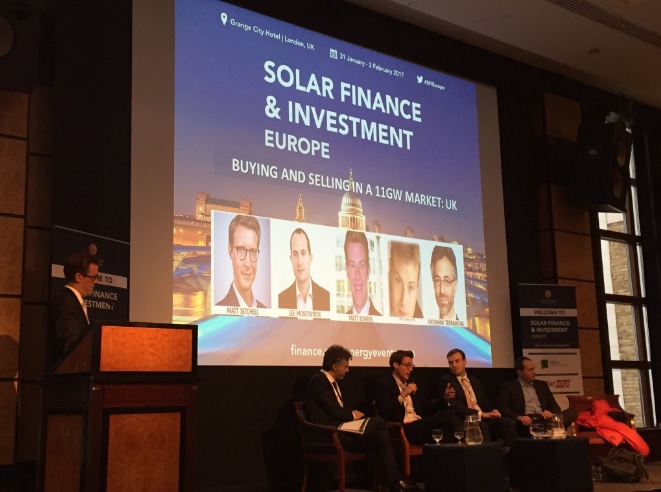 The number of large-scale solar asset holders will rapidly reduce over the next few years as consolidation takes hold of the UK market, according to a panel convened on the first day of the Solar Finance & Investment Europe conference in London.
Discussing the future of the UK's c. 12GW solar market, representatives from Bluefield Partners, Octopus Investments, Ancala Partners and Greencoat Capital all agreed that the market's "major players" will grow in strength.
Matt Setchell, head of Octopus' renewable energy team, said: "In my head there will be about five, whether that's in three years or ten years I think there's going to be a very small number of large players in this market."
Many in the conference hall of the Grange Hotel, made up of a wide range of the investment community, agreed with this assessment. Using an interactive polling system, attendees were able to provide their views, with 63% claiming there would be between six and ten large asset holders in the UK in three years' time.
Claiming that consolidation of existing owners was "inevitable", Setchell went on to say that as the number reduces this will in turn drive improved, or "differentiated" returns for these larger players.
"You've got economies of scale, you've got buying power in the form the operating costs but also in terms of the cost of capital, and the ability to source and acquire assets, presumably better than the smaller players.
"Then it becomes a virtual circle where differentiated returns for the larger players drives more capital and potentially lower capital to those players," he said.
Giovanni Terranova, managing partner at Bluefield, agreed with Setchell's assessment, adding that even fewer investment firms will reach the top end of the market due to the benefits that come with a large-scale operation.
"I guess that in three or four years we will see two or three players get to 1GW because the consolidation and the synergies and economies of scale you can get with a certain size will start to play a significant role," he said.
He went on to claim that only 4GW of the current UK market is up for grabs, with the 8GW of large scale solar currently split in half between sites already owned by the top ten asset holders in the country and the addressable market that is left.
"This will be where the consolidation will happen," he added.
Both Terranova and Setchell agreed that the remaining market for new assets will come from developers currently building out in time for the closure of the ROC subsidy scheme on 31 March. These smaller players are expected to create portfolios too small to compete with established investors and, in the words of Satchell, "will be looking for an exit presumably".
Lee Mellor, director with Ancala Partners which has been building a solar portfolio for the last year, agreed with the assessment that asset holders will need to reach a certain threshold in order to stay viable in the coming years.
"It does not make sense to have a small portfolio as an institutional investor, we need scale. We've just got to 100MW which is getting us there, around 200MW is where you need to be to be an efficient owner and operator," he said.
The panel discussion kicked of the first day of 2017's Solar Finance and Investment conference, now in its fourth year. Tickets are still available for the remaining two days of the event, priced at £1,000 for one day tickets or £1,500 for two-day tickets, and can be found here.