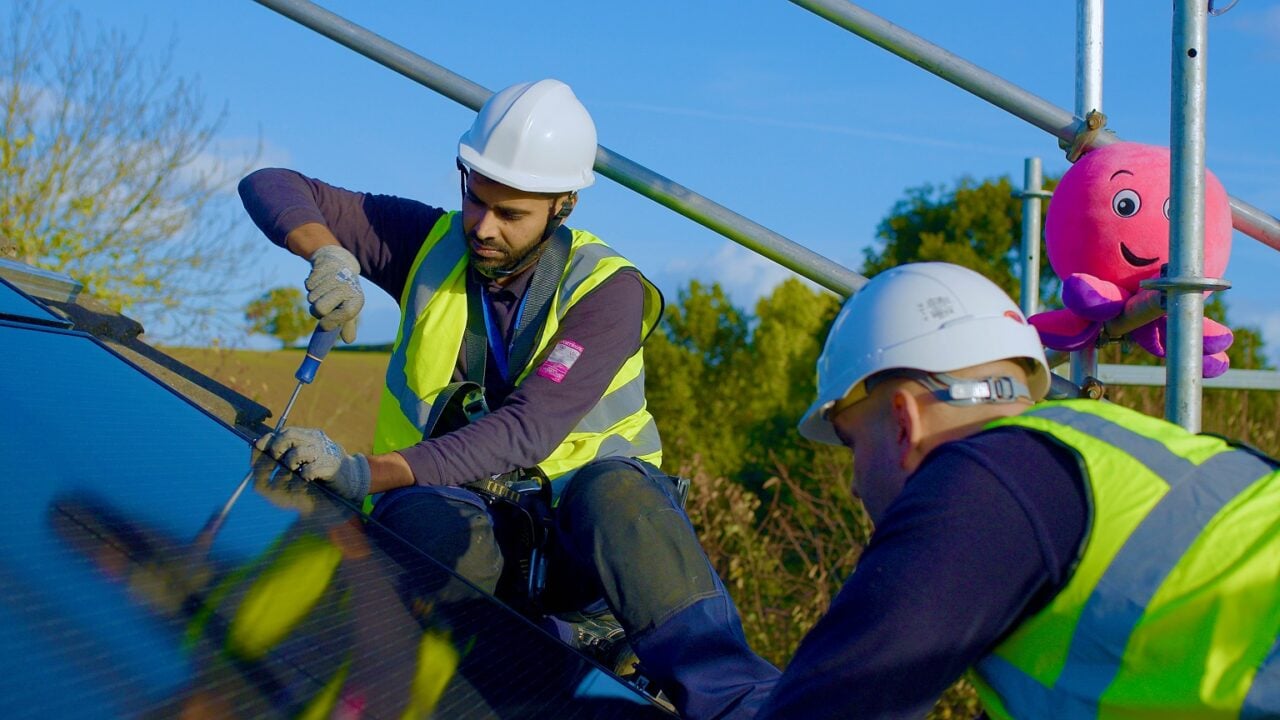 Octopus Energy has announced the launch of a new smart tariff aimed at consumers with domestic solar and battery storage.
The company says the tariff could unlock more than £450 of savings per year for consumers and help to balance the grid.
'Intelligent Octopus Flux' (IOF) will offer the same rate for both importing and exporting electricity, with a 21 hour off peak window costing 10% less than Octopus Energy's standard variable 'Flexible Octopus' tariff, and a three hour peak window from 4-7pm.
Octopus says this will allow customers to save more than £450 a year compared to customers on their 'Flexible Octopus' and fixed export 'Octopus Outgoing' tariff. The combination import-export tariff will be available to all Octopus customers with solar panels and eligible batteries.
The tariff is powered by Octopus' tech platform, Kraken, which optimises a home's batteries and solar panels to use electricity when supply is higher and cheaper.
The IOF tariff will automatically set their battery system to charge and discharge at times when they receive the best import and export rates to and from the grid. Customers previously had to do this manually.
Creating virtual power plants with battery storage increases the flexibility of the grid, and means that the National Grid ESO can avoid the cost of paying to curtail renewable generation.
In 2022, the UK spent £215 million turning wind farms off and £715 million turning on gas plants, according to the Daily Telegraph. The Energy Systems Catapult has also pointed out the costs associated with grid balancing, saying:

"More than £1 billion is spent each year by the electricity system operator on 'balancing actions'. These are actions the system operator has to take to correct the results of wholesale markets that are currently too simplified to reflect real conditions on the grid. This includes paying some generators – including wind farms – to switch off to manage physical constraints on the grid and to ensure that the system functions in real time."
The government is currently assessing potential energy market reforms which could reduce this problem, but increasing grid flexibility with battery storage can also help deal with some of this issue.
Octopus says that "improving grid flexibility through tariffs like IOF reduces the need for National Grid to pay renewable energy generators to switch off and fossil fuel power plants to switch on when the grid is under stress. This will help reduce everyone's bills as these costs are paid for by all energy consumers."
Alex Schoch, Head of Flexibility at Octopus Energy Group, says: "Octopus Energy continues to unlock a grid system that is green, cheap and easy for customers. Next generation smart tariffs like Intelligent Octopus Flux optimise energy tech in people's homes – passing on savings to customers while stopping the need for dirty fossil fuel plants at peak times."
"We've seen an 80% increase in demand for our smart tariffs since 2022, and everyone benefits. The learnings we get from managing smart tariffs teaches us how to run initiatives like 'Saving Sessions', where millions of energy customers were paid to use less energy at 'dirty' times."
IOF is currently still in beta testing, and currently optimises with GivEnergy batteries, though the company says that more battery brands will be integrated this year.