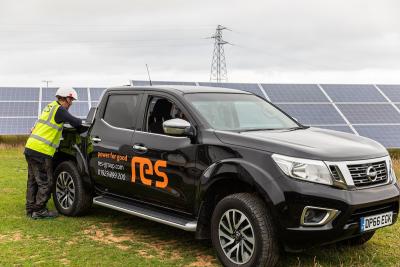 Octopus Renewables has signed a three-year spares management contract with RES as it continues to grow its solar portfolio in the UK.
The agreement will see RES supply inverter spares, requiring it to own over 1000 compatible spare parts and deliver these on-demand. This will improve the availability of parts and develop commercial advantage for Octopus's 640MW portfolio.
RES recently opened an operations and maintenance (O&M) site in Exeter to support this agreement along with other recent growth.
Brian Darnell, head of solar and storage O&M at RES, said the company was "thrilled" to be offer Octopus "a unique multi-vendor spares management service" as well as the delivery guarantee for its UK solar sites.
"When combined with our O&M service, the centralised parts management provides uninterrupted performance for solar assets for a much lower cost than the traditional approach.
"When equipment is offline due to lack of spare parts, it has a negative impact on energy generation. This new arrangement will actively support the production of much more green power and help Octopus's assets perform more efficiently. It has taken significant time and effort to design, agree and implement this novel and sophisticated parts management process from scratch. I'd like to thank those involved from both RES and Octopus for making this possible."
RES and Octopus Renewables announced that they were extending their previous partnership to a total of 503MW of operational assets in October, after RES was awarded a management contract for two new wind farm assets along with O&M work for its solar portfolio.
Thomas Rosser, asset management director at Octopus Renewables, said: "We have developed a great working relationship with RES over the past five years and we're really pleased to build on this with the introduction of a bespoke spares management system. We look forward to continuing to work alongside RES who share our focus for driving a future powered by renewable energy."
Octopus Renewables has been working to expand its solar assets throughout 2020, including acquiring 122.8MW of solar in March. Following this, it acquired 9.1MW of rooftop solar in July.