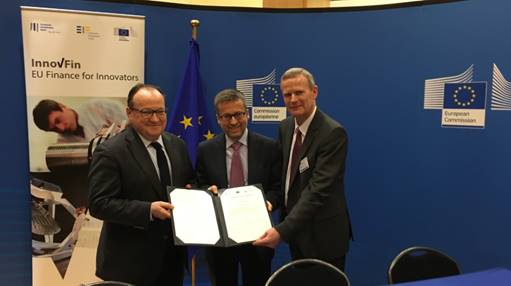 The German subsidiary of Oxford PV has been awarded €15 million (~£13.3 million) by the European Investment bank (EIB) to support the commercialisation of the company's perovskite photovoltaic technology.
Oxford Photovoltaics Germany was awarded the finance last month to further develop its perovskite on silicon tandem solar cell technology.
Frank P. Averdung, chief executive officer at Oxford PV, said: "The EIB financing recognises our considerable progress to date and the opportunity our disruptive perovskite solar technology has to dramatically transform silicon solar cell economics.
"The funding will allow Oxford PV to continue to invest in its demonstration line infrastructure, in Brandenburg, Germany, enabling the company to continue the rapid transfer of its perovskite on silicon tandem solar cell technology from the lab to an industrial scale process in collaboration with our joint development partner – a large scale manufacturer of solar cells and modules."
The EIB funding is the first financing in Germany under the InnovFin – EU Finance for Innovators' Energy Demonstrator Projects, which seeks to facilitate and accelerate access to finance for innovative businesses and other innovative entities across Europe.
The finance initiative, which has a particular focus on R&D funding, also has the backing of the European Union under the Horizon 2020 programme.
Ambroise Fayolle, vice-president of the EIB responsible for Germany and InnovFin, said: "I am delighted to sign the contract with Oxford PV. The company has demonstrated the necessary parameters in efficiency and stability on its perovskite photovoltaic technology, to engage commercially with major industry players and play a key role in enhancing solar energy supply in the future."
The latest cash injection follows a series of fundraising successes for Oxford PV in recent years, having secured a combined £16.8 million in 2016 through two funding rounds.