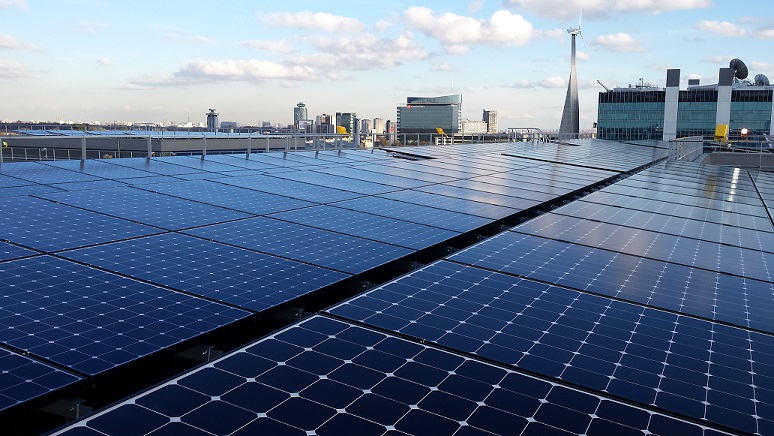 The major broadcasting firm has embraced solar after a 463.4 kWp system was completed in West London earlier this year.
The installation by Photon Energy was carried out between September 2015 and February this year and is expected to generate a minimum of around 441MWh/year, saving approximately 230 tonnes of carbon annually.
The commercial rooftop installation comprises over 1,300 modules from SunPower alongside SolarEdge inverters and optimisers intended to maximise output and counteract the effect of shading at certain times of day.
Speaking about the project to Solar Power Portal, Photon Energy managing director Jonathan Bates said: "It's fantastic to see BSkyB installing a large solar PV system on their new facility in Osterley, and very pleasing to see that premium products have been specified."
The system has been tied into Building 2's building and energy management system as well as the energy network management system, which shuts down the PV array if the standby generator is started.
In addition, the SolarEdge inverters are connected via a communication and control gateway which sends real time performance data to an online portal. This enables remote detailed analysis of the PV system right down to the performance of individual panels, alerting a building manager if a fault is identified.
Abu Luswata, project manager for Photon Energy, said: "Successfully managing the entire project from start to finish was an excellent learning opportunity for Photon Energy's team. I am proud of our excellent team spirit that made the delivery of this state of the art project a great success, exceeding the high standards set by the client."
Since cuts to the feed-in tariff were enacted earlier this year, the commercial rooftop sector has become a key area of activity for installers following the decline of the residential market.
Bates added: "The solar PV industry in the UK is still going through very difficult times and the industry needs all the positive news it can get. So when large multi-national companies, such as BSkyB are seen to be installing solar PV on their buildings it gives a real boost to rooftop solar and helps to create a more positive environment in which the industry can operate."