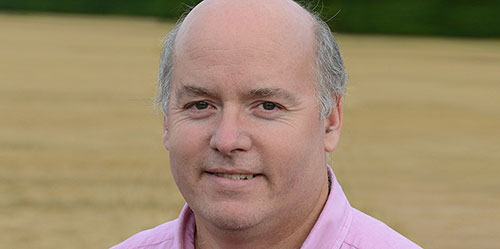 RenEnergy recently began construction on a 1.9MW solar farm for Briar Chemicals, one of the last of its kind to be supported by ROC accreditation.
With the 31 March deadline for the closure of the subsidy scheme looming, founder and managing director of RenEnergy Damian Baker explained to SPP what the future holds for large scale solar deployment in a post-ROC world.
How do you see the removal of subsidy under the ROC scheme affecting the power purchase agreement (PPA) and large scale solar market?
I think that going forward post-ROC, if you've got the right project with the right counter party with the right energy usage on site you can make a deal work but everything's got to be right. If there's a developer involved they can't take very much of a margin, you've got to have a site with no shading, high onsite usage but the PPA deal won't be as good as we gave Briar Chemicals.
The removal of ROCs will certainly change the financial structure of future deals. What impact will this have on PPAs going forward and how can you ensure a good return?
We don't class ourselves as a traditional EPC, we class ourselves as someone who brings and will own the systems. So we're not looking at it just on what margin we can make, we're looking at the longer term and we think the margins are going to be thinner all the way through. It's all going to be about quality of installation and strength of counter party and how the project looks over the next 15-20 years.
The reality is your asset has to perform 100% from day one because when it comes to selling that asset on or even getting the yield yourself, margins are going to be skinny all the way through. It needs to do what it says on the tin from day one.
We look after all our O&M and when we look back over sites we've installed, we're getting really good yields.
What are the advantages of coming out of the ROC system?
The deadlines have been too tight [and] then they were pushing for cheaper prices so you ended up with a perfect storm rather than looking at the best long-term opportunity and then making sure it was installed correctly.
What I'm hoping is that planning horizons will lengthen out so we can work on all these things that historically we've not been able to do because there wasn't enough time. So you bring that planning horizon into a longer more sustainable business and I think that is the right approach.
We've got to move into a sustainable industry; solar PV has been a very sustainable product but in the least sustainable industry. You're giving people a 25 year investment yet the companies installing the stuff aren't sustainable.

"


We've got to move into a sustainable industry; solar PV has been a very sustainable product but in the least sustainable industry.
What new strategies are you looking at for the post-ROC market?
Big industrial users are paying very little for their energy but when you get to people who can take 100kW and use most of it they're still going to be paying a certain amount for their energy and that makes it very much more viable. You've got a slightly higher legal cost but if you then have a generic lease, there's potentially a little more in it and people can benefit more, so instead of them paying 12p you can probably get it to 8.5-9p.
Aside from PPAs, what other grid scale opportunities do you see for solar development without subsidy?
You're going to have to have an off-taker. Unless they make sleeving much easier I can't see that we're going to get direct into the grid for 5p for a while. I think within four or five years that market will be back on.
[Until then] there's a huge amount of opportunity out there. We're seeing the grid open up in some places so we've got a number of clients that have 200-250kW [systems] which we'll be moving into, working on community schemes.
If you look at a lot of the housing developments going in, some of these are going to have massive power needs and I'm not sure where the grid is going to come from. I think there will be an opportunity to set up a micro-grid using gas CHP and microgrids with solar and renewables all plumbed in together and then you become the power company for those housing developments.
Companies like us would be able to lead that and take all that responsibility off the housing developer. The DNOs will struggle to get power out to people and they're going to be charging a lot of money.
If you can say 'give us the deal to power your 2,000 houses for the next 25 years, we'll give you market related prices, say 12p/kW for a whole housing estate', we could easily do that and get good margins and then the project is very green.