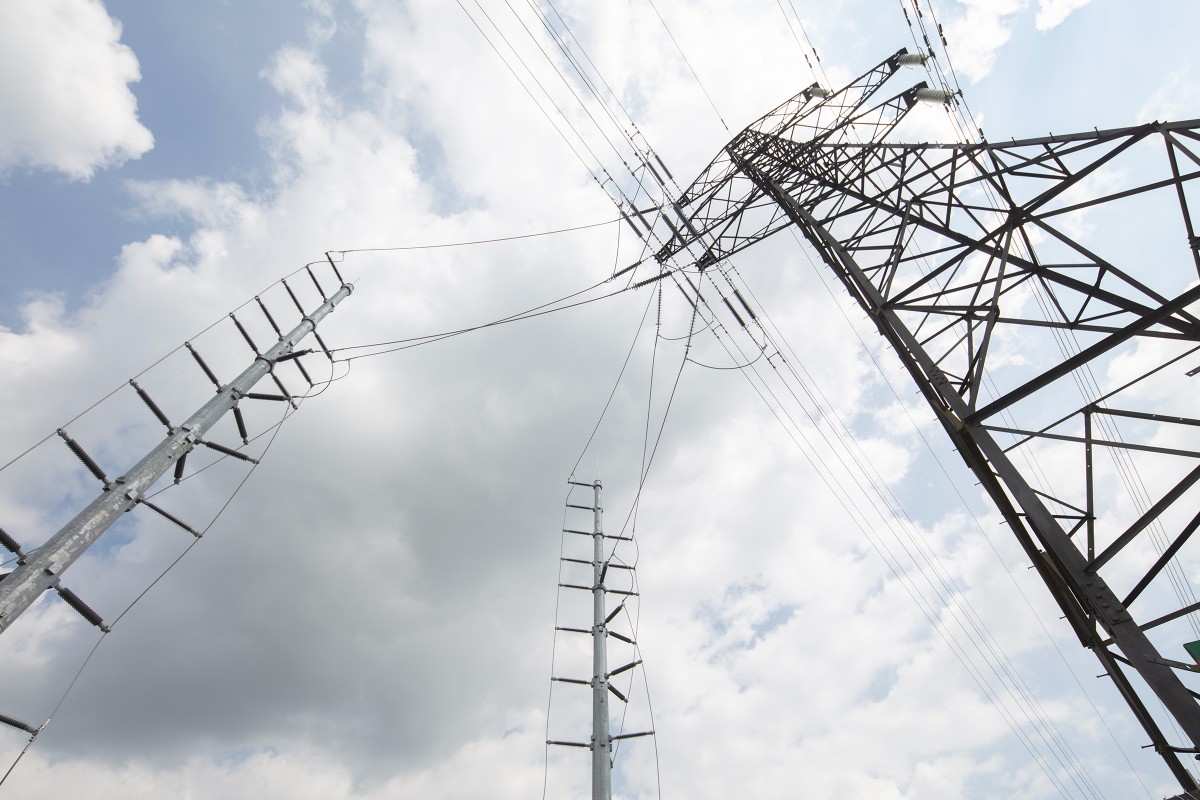 Grid connections can be a challenge for solar developers, as networks work to expand alongside the booming sector. To ease this, many are looking to innovative new technologies as an alternative to the often costly traditional upgrades.
Earlier in August, Scottish and Southern Electricity Networks (SSEN) Distribution connected its first solar site to the grid using Point of Connection Mast (POC-MAST) solution, developed by tech company Freedom Professional Services.
Solar Power Portal caught up with Matt Pryor (MP), technical manager of Overhead Lines at Freedom and Craig Gilroy (CG), head of Connections for SSEN, to discuss how the technology was developed, connecting the Bradenstoke solar farm and what POC-MAST could mean for grid connections going forwards.
Could you tell me a little about how the POC-MAST tech was developed?
MP: We received a phone call from a UK distribution operator who was trying to connect a solar farm in East Anglia. They needed to connect to a 33kV lattice steel overhead line tower, but it had an unusual manually operated air-break switch configuration. They had a problem and came to us to see what we could do.
We already had a product called Protean, which is a steel pole alternative to wooden poles or lattice steel towers; it uses a hinge at the base, so it doesn't need a crane to erect it. We had the idea of adapting this by adding post insulators and conductors so we could jumper the connection across to the tower – from this POC-MAST was born.
How does it differ from traditional grid connections?
MP: Sometimes you will need to build an entire tower as a temporary diversion solution, while the permanent tower that is needed online is being built, it's an incredible amount of work, cost and time needed just to connect to one circuit. To construct an overhead line tower, you need to install the foundations, then set the stub leg and build the tower up in sections. This requires a crane and a linesman on each leg to then lift the next box section of the tower up and land it. So, from a health and safety point of view, it is a risky operation.
POC-MAST eliminates all that. POC-MAST also minimises the environmental impact of new connections. The screw anchor foundations remove the need for deep excavations and can save up to 30 tonnes of concrete on a project.
How significant do you think this could be for renewable developers?
MP: As outlined above, considerable cost savings can be made against traditional methods, with no requirement to replace or modify existing towers and removing the need for cabling back to the nearest substation. Crucially, it also offers a faster connection solution, taking less than 20 weeks from project concept to completion. It also offers the potential opportunity to complete connections all year round – these factors can make the difference to whether a connection scheme is viable, a faster, lower-cost connection means projects can begin generating revenue as soon as possible.
The recent connection at the solar farm also demonstrates that POC-MAST can overcome obstacles where a traditional connection presents challenges. In that instance, the location next to an ancient woodland presented several challenges and it initially appeared that the permanent connection would require installation of a new pylon, diversion of an overhead line and removal of part of the woodland. The POC-MAST installation provided an alternative solution, enabling a connection directly onto an existing tower without the need to disturb any of the surrounding woodland.
How does the POC-MAST solution compare with traditional grid expansion to accommodate renewable capacity?
CG: This is first time that Scottish and Southern Electricity Networks (SSEN) Distribution has installed the POC-MAST system and as its use on our network is still at an early stage, it's difficult to make a direct comparison right away. Given more time and further connections, we'll have a much greater insight into cost, flexibility and time comparisons against other methods used.
It's important to note that different connections and environments across SSEN's network require different types of connections, so there's no 'one size fits all' solution.
It's because of this that SSEN always has to address each connection on a case by case basis; understanding the needs of Connections' customers and working to ensure they can connect to the distribution network through a system that is both cost effective, and is right for them and the surrounding local environment.
The Freedom team believe POC-MAST is a tool to manage and eliminate many of the risks associated with delivering new connections and grid expansion.
Are there any particular challenges to using the POC-MAST solution?
MP: POC-MAST is currently available for connections up to 132kV to the most widely used tension and suspension towers on the UK distribution network, so it is suitable for most connections. However, there are certain non-standard tower types it is not suitable for and it is not currently designed to connect into higher voltages although we are starting to discuss this option with interested parties.
How do you envision the solution being used going forwards as the uptake of EVs etc. drive up energy demand?
CG: As a distribution operator, SSEN has committed to invest in its network infrastructure and flexibility to help the UK Government meet its net zero ambitions of having 10 million electric vehicles (EVs) on UK roads by 2030.
This commitment means that through innovative and alternative installation methodology SSEN will always explore the best options for installation, efficiency and greater flexibility for both the network and the customers who connect to it. Connections' customers are looking for the most cost-effective and substantial system for their requirements and in turn, SSEN has to explore how those requirements can be met without disruption or delay.
Those options may sit across a broad spectrum of systems, network upgrade and adaptation – and that includes the use of the POC-MAST system – but whatever option is used, SSEN assures its customers that it will be a system carefully chosen to meets their needs now and for years to come.
With the increase in renewable energy developments, the Freedom team believe POC-MAST will make a difference to a significant number of these schemes across the UK by potentially reducing their connection costs and enabling them to connect to the network much faster.