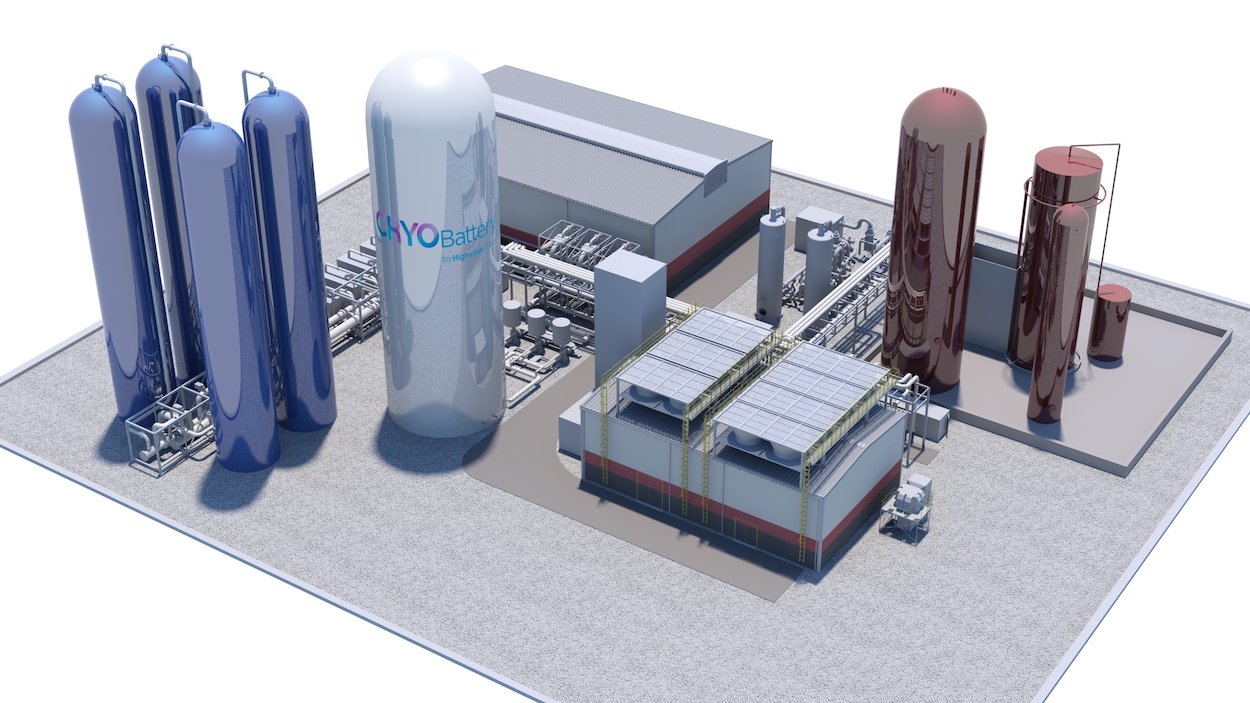 The world's largest liquid air storage site has taken a step forwards today, with the announcement of a £10 million grant from the UK government.
Energy storage start-up Highview Power, together with partner Carlton Power, has received the grant from the Department for Business, Energy and Industrial Strategy's (BEIS) Energy Innovation Programme, to build a 50MW/250MWh CRYOBattery in Trafford, in the Greater Manchester area.
The record breaking project will include the world's largest – and first – commercial liquid air battery, and sit within the Trafford Energy Park, eight miles south of Manchester, the largest such site in Europe. The project will sit on the site of a decommissioned power plant, and will be able to use the existing grid connection and electrical infrastructure there, eliminating the need for costly new infrastructure.
It will provide long-duration storage to the grid, and will be capable of powering around 200,000 homes for 5 hours a day. This will help with the integration of further renewables such as solar into the grid, and be able to help balancing supply and demand to avoid blackouts.
Carlton Highview Storage – the joint venture behind the project – say its income will come from arbitrage, grid balancing, the capacity market and ancillary services.
The system works by cooling and compressing air so that it becomes liquid and can be stored in industrial containers. This can then be fed through a turbine to turn it and generate electricity when needed. It will work in together with a Combined Cycle Gas Turbine (CCGT) plant, capable of providing the electricity needed to drive the process.
Keith Clarke, chief executive of Carlton Power, said the company looked at a number of different technologies for utility-scale, long-duration storage before selecting Highview's liquid air energy storage, "because it is scalable, clean, can deliver the grid services we need, and can be deployed now".
"We were also keen to work with Highview Power to explore the opportunity to deploy the CRYOBattery in tandem with a gas-fired power plant that we have permitted to be built on the Trafford Energy Park. This type of 'hybrid CCGT' would be an important tool to enable the UK to reach net zero."
In time, the CCGT element could be adapted to run off of zero carbon hydrogen fuels or retrofitted to include carbon capture and storage technologies to facilitate the move to net zero.
The project will help to create over 200 jobs and put Trafford at the forefront of the latest green technologies, lauded BEIS.
Energy and Clean Growth minister Kwasi Kwarteng welcomed the project today, saying: "This revolutionary new CRYObattery facility will form a key part of our push towards net zero, bringing greater flexibility to Britain's electricity grid and creating green collar jobs in Greater Manchester.
"Projects like these will help us realise the full value of our world-class renewables, ensuring homes and businesses can still be powered by green energy, even when the sun is not shining and the wind not blowing."
Highview revealed plans for the site last October, stating it already had a number of agreements in place when speaking to sister publication Energy-Storage.news. Highview Power chief executive Javier Cavada said at the time that the firm was primed to start construction.
Speaking today of the BEIS grant he added: "We are excited to team up with Carlton Power for our first large-scale commercial UK project. They have an impressive track record of deploying grid-scale energy projects in the UK and their commitment to developing multiple projects with us speaks volumes about their confidence in our technology.
"We are on a fast-track to develop our cryogenic energy storage systems around the globe and this partnership will help accelerate momentum in the European markets."
Carlton Highview Storage have plans to develop a further four CRYOBattery projects across the UK, amounting to over 1GWh of storage. Construction of the Trafford site will begin later this year, with it expected to be operational by 2022.