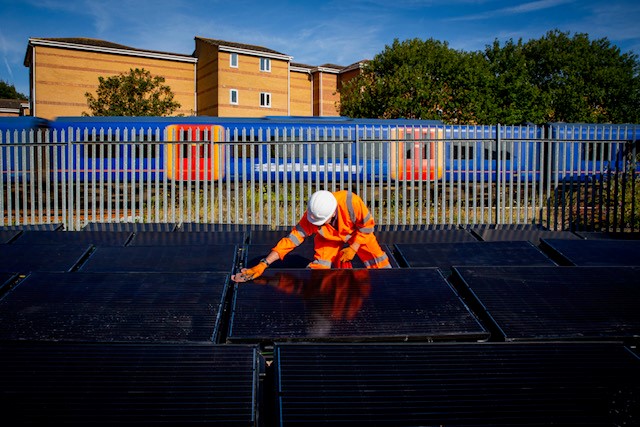 Greentech start-up Riding Sunbeams has won £400,000 of innovation funding from the Department for Transport and InnovateUK's First Of A Kind 2020 programme for a solar rail demonstrator.
The project is being hailed as a first of a kind direct connection between renewable energy generators and electrified rail networks. The funding will be used build a solar array coupled with line-side storage at Quinton Rail Technology Centre at Long Marston.
It will allow the trains along the network to be directly powered by solar energy for the first time ever.
Alex Byford, chief technology officer at Riding Sunbeams, said this was a "huge step forward" for the company's mission of developing and connecting "unsubsidised, direct-wire renewable generation and energy storage to power British trains, with significant social impact for line-side communities".
"Our latest project will showcase our ability to adapt existing technologies to directly power AC rail networks with clean, green energy and also help to support low-cost electrification of some of the most challenging remaining diesel powered lines. As a testament to the success of our DC demonstrator last year, we are once again excited to be working on the First of a Kind programme, funded by the Department for Transport and delivered by InnovateUK."
Riding Sunbeams is formed of a consortium, including Turbo Power Systems, Ricardo Power & Environment and rail companies Network Rail, Angel Trains and the Birmingham Centre for Railway Research and Education.
The green tech startup was founded by climate charity Possible and Community Energy South, with the goal of supplying the rail network with green, community owned power.
Ivan Stone, chief executive of Riding Sunbeams, said: "Using solar energy to power railways faces a number of technical challenges, but Riding Sunbeams's world leading project teams are consistently showing how every one of these challenges can be overcome. Instead, the hardest part of realising our mission is turning out to be breaking into the traction power supply market as an SME with an innovative new value proposition."
In August 2019, Riding Sunbeams celebated a 'first of it's kind' demonstrator project, which saw a solar-powered railway, made up of a 30kW solar test unit consisting of around 100 solar panels, switched on in Aldershot. The 'First Light' project bypassed the grid by connecting the solar directly to the railway.