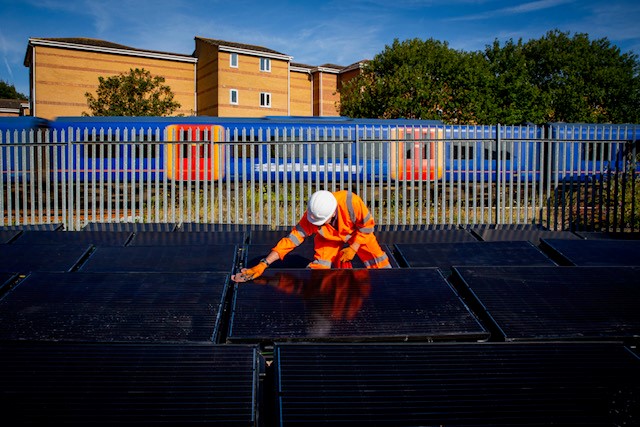 The Riding Sunbeams project has won a further £2.5 million of funding to develop solar power for railways.
As part of the government's recently unveiled £900 million Getting Building Fund, the South East Local Enterprise Partnerships (SELEP) won £85 million. This is being split between 34 projects that will create 9,167 new jobs and safeguard a further 3,341.
This includes greentech start-up Riding Sunbeams's collaborative project together with Network Rail that is looking to develop and supply clean energy from solar farms to rail networks. It will be the first to create a direct connection between renewable energy generation and electrified rail networks.
SELEP chair, Christian Brodie, said he was "delighted" that the government had recognised the "excellent projects and potential" in the south east, and how they could drive forward the economy.
"These projects have been carefully selected to target those areas and industries particularly vulnerable to COVID-19 and those that can progress, at pace, to support economic recovery. The South East LEP has a proven track record of delivering successful projects and has been working really closely with our local areas to understand what our businesses need and where investment will have significant impact.
"We truly believe that the South East will help lead the country out of the crisis and into recovery. The Getting Building Fund provides the next phase of financial stimulus to restart our economy."
Riding Sunbeams is a social enterprise founded by climate charity Possible and Community Energy South.
In 2019, it celebrated a 'first of its kind' demonstrator project, which saw a solar-powered railway, made up of a 30kW solar test unit of around 100 solar panels, switched on in Aldershot.
Riding Sunbeams won £400,000 of innovation funding from the Department for Transport and Innovate UK's First Of A Kind 2020 programme in June 2020 to continue to develop the project.
Along with Riding Sunbeams, a number of other energy projects received funding from the Getting Building Fund, including the UK's first large scale energy EV logistics hub, the Energy Systems Accelerator Pilot and the Bedford Green Energy Innovation Park.