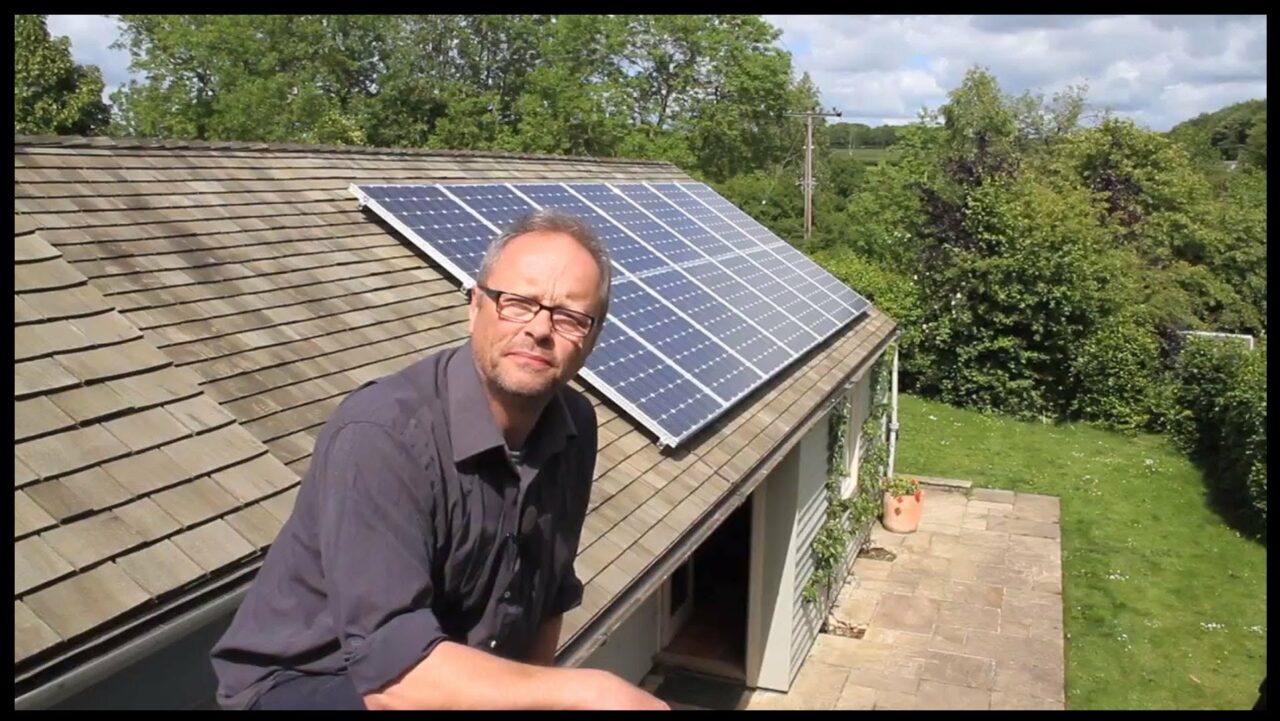 "I have to accept that I live in a bubble of obsession about kilowatt hours and renewables," says Robert Llewellyn. The actor, best known for his portrayal of the android Kryten in Red Dwarf, is a self-confessed clean energy obsessive who preaches what he practices.
That's why he's our choice to host the Solar Power Portal Awards in October for the second time, having previously compered the event four years ago. Since then the UK's solar industry has come a long way. It's been through its ups and downs of course, but there's a growing maturity within the sector that is no longer indicative of a cottage industry attempting to break out.
It's this maturity, coupled with a wider resonance within the general public, that has Llewellyn hooked. "It is so encouraging to see the general interest in solar from the public, the amount of people I speak to and the people that live around me that have come to see what I've got at my house," he says.
Llewellyn's house in the Cotswolds benefits from a 5kW+ rooftop solar install and a Tesla Powerwall 2. When the set-up isn't charging one of his two electric cars, it's powering the house. The battery is a new addition having only been installed in the last few months, but the Fully Charged host says it is already proving its worth. Llewellyn has been able to run his house and on-site office almost entirely from solar so far this summer, reducing his bills to "just a couple of quid each month".
But Llewellyn isn't just in it for the financial benefits. Insisting that it's the "bigger picture" that really interests him, he recently attempted to convince his entire village to 'go green'. His endeavours were filmed for a BBC Four documentary and while he wasn't able to complete his quest in time for the programme's filming, he remains committed to the cause and hopes to make some movement by the end of the year.
Situated where it is, the village of Temple Guiting suffers from grid constraints and Western Power originally resisted applications for large solar arrays. After a change of tack, the village settled on a rooftop array atop a barn conveniently situated nearby more readily available grid capacity. The project is now ready to go – "we've got the barn and all the paperwork sorted," Llewellyn says – with the outstanding decisions now focusing on technology and installer choices.
Nevertheless, the hard work was eminently rewarding. "It was a complicated, long and slow progress, but I was surprised at the enthusiasm for it. The learning curve was very steep in the village… yet there's an enormous enthusiasm right across the political spectrum for all of this," he adds.
It goes without saying that the financial benefits and rewards have had a hand in the process. Llewellyn says that apprehension regarding onshore wind soon dissipated when feasibility studies returned favourable sums. Villagers are also excited about the prospect of getting their own domestic batteries under the project.
But, more pertinently and pleasingly, Llewellyn insists his neighbours have now "got it" and are now keen to follow in his footsteps. "It's been a complete turnaround," he adds.
Llewellyn is, of course, no stranger to the green economy. He jokes that he's spent his pension on batteries and electric cars – "my financial advisor says it's not a joke," he quips – and his Fully Charged show has just shy of 200,000 subscribers on YouTube. He's test driven a full complement of EVs and reviewed some of the most cutting edge green tech on the market.
It'd therefore be easy for him to be left under awed by what the renewables industry has left to offer, but that just isn't the case.
Llewellyn marvels at the new Tesla Model 3 – "it really does look to be a game changer" – and describes the offshore wind turbines that make up the Burbo Bank extension in Liverpool Bay as "stupendously colossal" having seen them at first hand. But he returns to the simple battery for some of his highest regards.
"Just like a switch, it's completely changed the way we use electricity in our house. Our electricity bill is virtually nothing. I'm not sure I'll live in this house long enough for it to pay it all back, but that's not why I did it," he says.
Robert Llewellyn returns to host the 2017 Solar Power Portal Awards, which takes place on Wednesday 4 October 2017 at the Hilton Birmingham NEC Metropole. The solar, storage and associated industries will gather to celebrate their successes in front of more than 500 of their peers.
Tickets for the ceremony are available to purchase now, and include full access to the pre-ceremony drinks reception, black tie gala dinner, awards ceremony and evening entertainment. Tickets and table packages can be purchased online here or by contacting Sue Bradshaw.
Sponsorship opportunities are also available and include a VIP table for the evening. If you are interested in sponsoring a category at this year's award, please contact Sue Bradshaw.