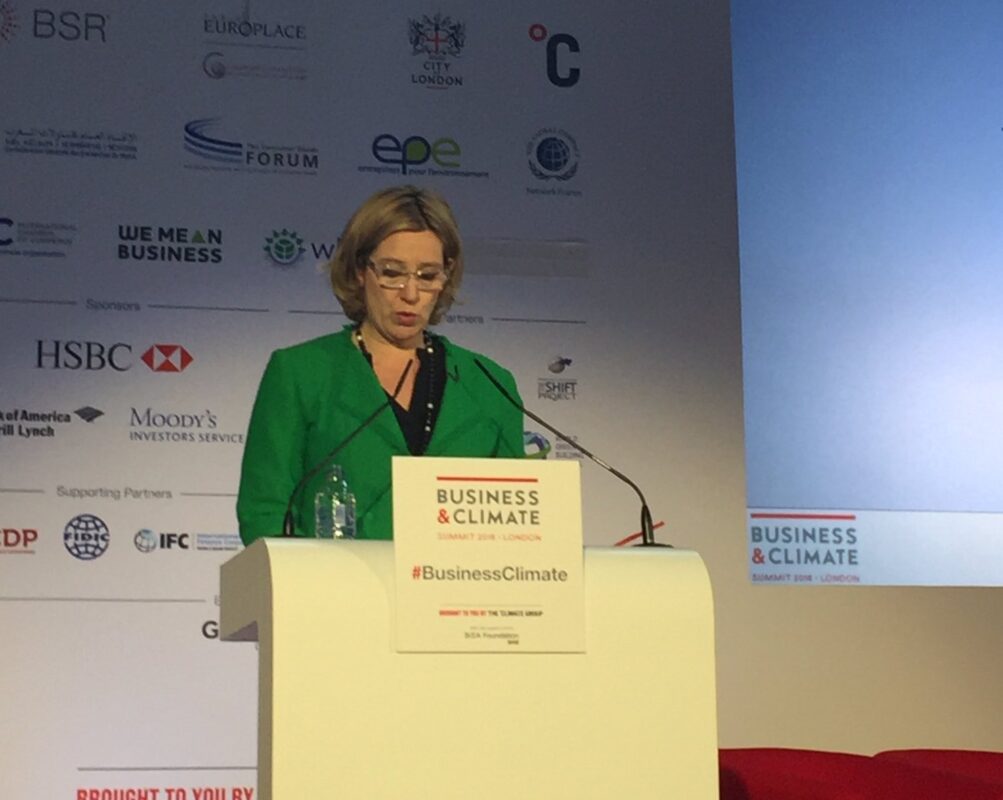 Energy secretary Amber Rudd has said that she will "continue to watch" the UK's solar industry after admitting that subsidy cuts enacted since last year had caused difficulty.
Speaking at this week's Business & Climate Summit in London, Rudd addressed the audience to reiterate the government's commitment to climate targets despite last week's Brexit referendum result sparking significant uncertainty.
Rudd added that investment certainty was critical to this alongside a need to maintain a "creative workforce" able to carry out those decarbonisation efforts.
Her comments however come at a time of considerable instability regarding employment within the solar industry. A growing number of installers have entered into administration or insolvency, with even more announcing redundancies.
The Solar Trade Association's survey of the solar industry, conducted alongside consultancy giant PwC and due to be published in the coming weeks, is widely expected to report that UK solar employment has halved since last August.
Such a drop would largely tally with the Department of Energy and Climate Change's impact assessment for the feed-in tariff cuts published last year, which estimated that as many as 18,700 jobs could be lost.
Responding to a question by Solar Power Portal this morning, Rudd said that cuts to those subsidies were "part of an ambition we have to make sure we deliver on our targets while keeping the bills down".
"I know that has been difficult for the solar industry, but I hope that we will continue to be able to support the solar industry, but with not quite so much money.
"And I'm hopeful – the solar industry, as far as I can see, is making nevertheless good progress. Not as fast, but good progress. I'm going to continue to watch it to make sure that we do."
Rudd's comments came at the same time that energy minister Andrea Leadsom sat before the energy and climate change select committee to discuss investor confidence, where she was too grilled on the subject of employment and insisted the new regime was designed specifically to support a large number of jobs.
.@andrealeadsom: The impact on jobs was at heart of thinking on new subsidy regime. New regime would support in region of 25000 jobs

— ECC Select Committee (@CommonsECC) June 29, 2016
The impact on employment has proven to be a particularly contentious topic in relation to last year's subsidy reset, and one which the government has rarely countered head-on.
Earlier this year DECC officials insisted that the solar industry must "stand on its own two feet" and said that it would be wrong for subsidies to ultimately support jobs. Leadsom later followed this up in a written response to a question from Labour MP Helen Hayes stating that the department had recognised "efforts the solar industry is making to adapt following those changes" and was "encouraged by the way the industry is responding".