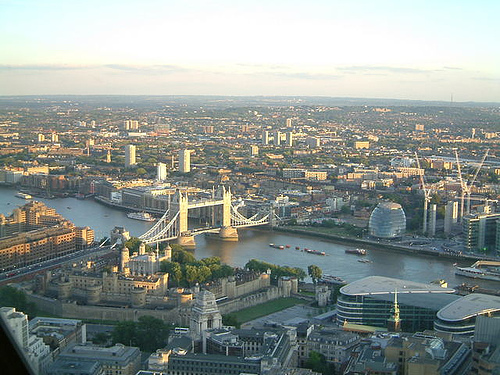 The Mayor of London has awarded £150,000 to 13 community energy schemes across the capital, with funding provided for development and feasibility studies for a diverse mix of solar and battery storage projects, Solar Power Portal can reveal.
The London Community Energy Fund will support new projects across eight London boroughs which seek to deploy solar on housing blocks, schools, community buildings and more.
If completed, these projects would see well over 1MW of rooftop solar installed across the city, with five of the projects also seeking to investigate the use of battery storage to maximise the use of solar generation outside daytime hours.
Power Up North London, which was awarded £11,500, will investigate the possibility of installing battery storage that could enable charging electric vehicles overnight.
| Winning project | Funding | Project |
| --- | --- | --- |
| Battersea Arts Centre Solar (Wandsworth) – CREW | £15,000 | Development work for a project to install ~50kWp of solar on the roof of the Battersea Arts Centre, and feasibility for energy storage on the site. |
| Ealing Schools – Ealing Transition | £15,000 | Look at the feasibility of installing solar panels on five schools in the Borough of Ealing, hoping to achieve up to 140kWp of solar capacity. |
| South East London Community Energy (Greenwich) | £14,999 | To produce business cases for the installation of a combined total of 70kWp of solar on two leisure centres in Greenwich. |
| RBKC Community Energy (Kensington & Chelsea) – Repowering London | £14,933 | To develop community solar projects on sites such as schools, community buildings, a hospital and a leisure centre which could produce up to 500kWp of solar power. |
| Energy Local Brixton (Lambeth) – 10:10 | £14,878 | Technical and financial modelling of the impact of battery storage, and an assessment of capacity and feasibility for solar PV on ten housing blocks in Lambeth. |
| Caversham Group Practice (Camden) – Power Up North London | £12,940 | To develop a project to install about 29kWp of solar panels on the roof of the Caversham Group Practice (CGP), and look at the use of battery storage to use extra energy outside daytime hours. |
| Heathview Tenant's Cooperative Solar Power Project (Barnet) | £12,670 | To undertake feasibility assessments of the roofs of housing buildings to establish if up to 50kWp of solar could be installed. |
| LUX (Camden) – Power Up North London | £11,500 | A feasibility study for the installation of ~34kWp of solar panels on LUX, an international arts agency based within Waterlow Park, Camden, and the possibility of installing battery storage that could enable charging electric vehicles overnight. |
| Walworth Methodist Church Solar Project (Southwark) – SE24 | £11,425 | Looking at the installation of ~50kWp of solar on the large, multi-building facility. |
| Calthorpe Energy Lab (Camden) | £9,775 | The completion a feasibility study and design for a solar PV installation for a community centre in Kings Cross, and also draft a share offer. |
| Kentish Town City Farm (Camden) – Power Up North London | £9,700 | Development work from the technical feasibility assessment of the roof of a stable block for a ~11kWp solar PV installation and the the production of a community share offer. |
| Rooftop Solar PV at Hornsey Girls School (Haringey): En10ergy | £4,900 | Expansion of existing solar installation on the roofs of the school which could provide up to 100kWp of solar electricity. |
| New River Sports Centre (Haringey) – En10ergy | £4,500 | Development of a business case to install ~50kWp of solar panels on the roof on the spectator stand of the New River Sports Centre in Haringey. |
As the funding is to be used for the early stages of the projects, the mayor's office expects the grants to be used by June 2018.
Dr. Giovanna Speciale, chief executive of South East London Community Energy, said: "The London Community Energy Fund has provided vital support to community energy groups in London. It allows us to bring the benefits of renewable energy to schools, churches, and leisure centres. We are delighted to be working with Mayor to transform London into a clean, green, affordable city."
Initially only £300,000 in grant funding was to be offered across London over four years however City Hall sought extra funding after receiving a high number of quality applications.
Mayor of London Sadiq Khan said: "I'm delighted to see so much interest in community energy, which is just one part of my plan to make London a zero-carbon city by 2050."
'Bulk-buy' solar scheme gets underway
The Mayor's office has also opened the Solar Together London scheme to householders and businesses interested in signing up to the capital's first group-buying solar scheme.
The first phase of the Solar Together scheme is to be rolled out this month in five London borough – Brent, Ealing, Kingston, Merton and Sutton – with City Hall working with Ealing Council on the scheme.
Householders and small businesses can now register their interest, without obligation, where the demand for solar will be pooled into a single bulk purchase. On April 18, vetted UK solar panel suppliers will then bid for the contracts before each customer receives an offer, and if accepted, a technical study.
A spokesperson told Solar Power Portal earlier today that City Hall would like to see 600 households participate in the first phase of the scheme "but have processes in place to manage much higher levels of take up."
Speaking to SPP back in August 2017, deputy mayor for environment Shirley Rodrigues said the scheme would bring down the cost of solar for homeowners and businesses.
"Homeowners will fund it but will get it [solar] cheaper than if they had gone out themselves," she said.
The scheme is part of Sadiq's Energy for Londoners programme which aims to cut Londoners' energy bills and supply the capital's homes and workplaces with more local clean energy, with a London-wide target of achieving 1GW of solar by 2030.
Khan said: "London has a wealth of buildings that can harness solar energy, but we're simply not making enough of them. Generating clean, local electricity can help cut bills, and bulk buying will make solar panels more affordable. I'm also working with Transport for London (TfL) to expand the use of solar power and energy efficiency across their buildings."
TfL recently awarded Engie with a contract to install 1.1MW of new solar capacity on a variety of its buildings.