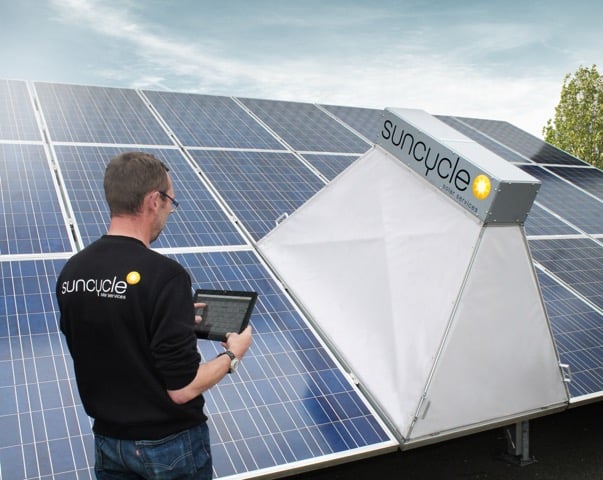 Cobalt Energy has joined forces with German solar firm Suncycle to launch a joint venture bolstering its operations and maintenance service to UK customers.
The addition of the German company's operations to the UK arm, known as Suncycle Ltd, means clients will now be offered advanced O&M techniques such as mobile electroluminescence, flash testing & aerial thermography analysis as well as standard maintenance services.
John Davies, managing director of Suncycle Ltd, said: "We are excited to collaborate in this new venture with Suncycle Germany. By combining Suncycle's extensive experience across Europe in testing and servicing with Cobalt Energy's well established solar operation and maintenance service, we will be able to offer unique professional and technical expertise and services."
"The new company shows our confidence in the UK solar market in a post Brexit environment," he added.
Following the reduction in government support in the form of cuts to feed-in tariffs and ROCs, Suncycle believes the UK market is transitioning towards an O&M market following a highly active period of construction. This is further supported by the fact that many solar PV installations are soon to come to the end of their warranty periods.
The company believes this means many of the sites which have been built, totalling more than 12GW of installed capacity in the UK, may require new maintenance services.
Dr Mischa Paterna, the managing director of Suncycle Germany, said: "Solar PV is currently one of the cheapest forms of installed electricity generation and the UK has seen an influx of international solar modules over the last few years, predominantly from the Far East.
"However these modules have historically been prone to deterioration and a multitude of failure mechanisms. These defects need to be detected by advanced operation and maintenance techniques. Our mobile services will offer early detection and rectification of these defects, saving asset owners thousands each year."
Suncycle Ltd will be exhibiting at the Solar Energy UK | Clean Energy Live 2016 exhibition at the NEC in Birmingham, 4-6 October. Registration for event is free of charge and can be found here.