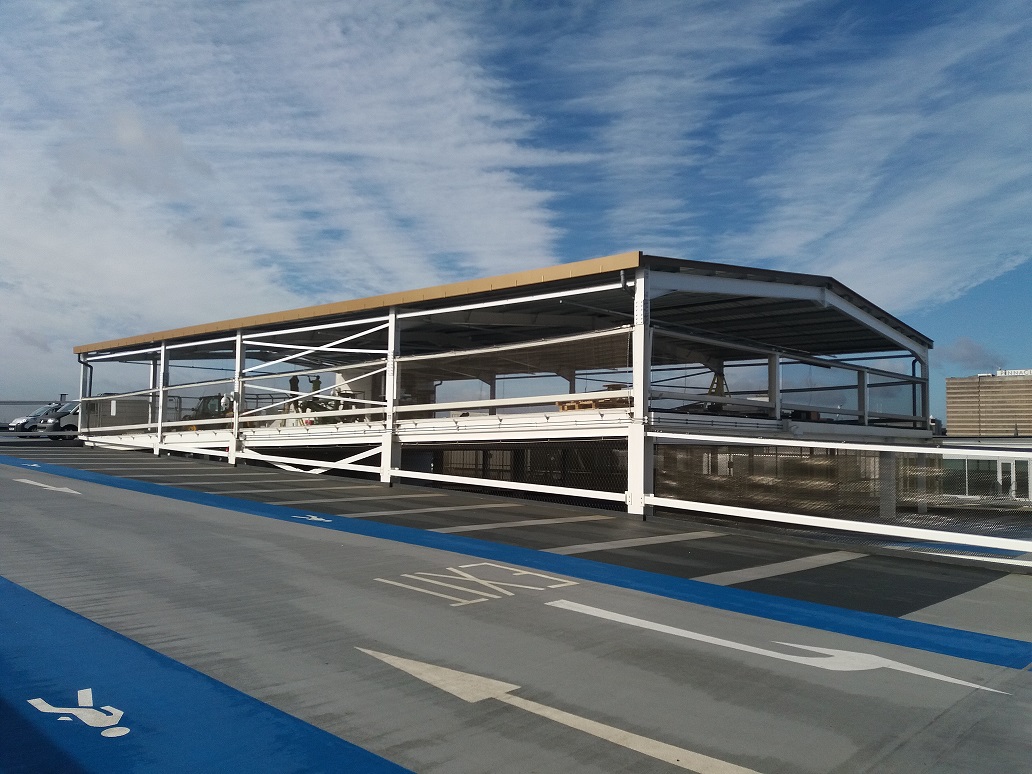 Two solar installations with a combined capacity of 140kWp have been completed at the Victoria Gate shopping centre in Leeds, including a carport system installed atop the site's multi-storey car-park.
The system began generating at the end of August 2018 as part of the rollout of solar at the Victoria Gate by owner Hammerson. The 90kW system has been described as the real estate investment group's first carport and was installed alongside a 50kWp solar array on the mall roof.
The solar was installed as part of Hammerson's sustainability strategy, which sought to increase the BREEAM rating of the shopping centre to Excellent. The company chose to utilise available roof and car park space which required the design and installation of a structural frame to accommodate the solar panels on the upper level of the car park.
According to project manager and technical consultant Syzygy Renewables, it was a challenge to achieve structural sign off given that the system was on top of a multi-storey car-park, requiring the company to account for wind shear and various additional loading considerations.
In addition, Syzygy and contractor EvoEnergy to meet stringent aesthetic design parameters while maintaining the same number of car park spaces and existing sight lines from various key vantage points.
This required close working with internal and external stakeholders, in particular John Lewis & Partners and Leeds City Council.
The PV at Victoria Gate generates approximately 105MWh of clean electricity each year, estimated to be around 60% of the mall's annual electricity demand.
Syzygy added that the carport in particular provided an important successful proof of concept for car port systems which could now see more rolled out, and has ensured that all of Hammerson's new car parks are built with the capacity to accommodate the future installation of car port structures and PV.
While the project is supported by feed-in tariff income, Syzygy told SPP the business case behind some projects would still be viable in a post subsidy market "considering the falling construction costs, while an electric vehicle charging service provides an additional income stream".
The company is now doing more work in this area, in addition to traditional renewable generation, with carports with EV charging described as "the perfect application for both technologies".