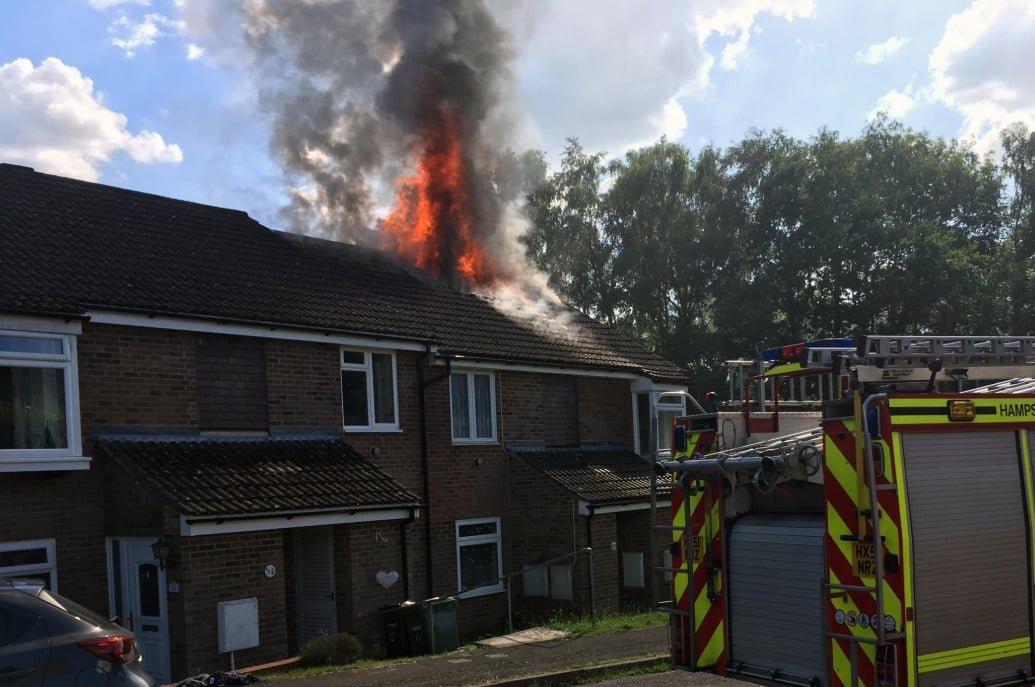 An electrical fault in a solar panel array has been deemed to have been the 'most likely' cause of a house fire in Winchester which over three hours for firefighters to get under control.
Crews from Winchester, Eastleigh and St Mary's fire stations, as well as the Hampshire service headquarters, and were called at 9:43am on 13 June to a property on Complin Place in Weeke. Initial reports claimed the solar panels and the roof were "well alight", according to Hampshire Fire Service, leaving the roof "100% damaged", with the first and ground floors also suffering damage.
An investigation has since concluded that "the most likely cause of the fire was as a result of an electrical fault in and around the area of the roof fitted with photovoltaic solar panels, resulting in fire spreading to the roof".
Due to the considerable levels of damage, a Hampshire Fire Service spokesperson said that it was difficult to confirm this as the cause, but that the investigation team had gathered as much evidence as possible in this instance.
The incident came just days after a similar fire at a property less than eight miles away in Wellbrooke Gardens in Eastleigh, where an electrical fault with a solar installation caused a house fire that left one man in hospital.
While rare, such instances draw significant attention to the issue of safety around solar technology. However, many fire investigations lead to the same level of ambiguity as that of the recent fire in Weeke, usually owing to the severe levels of damage caused by such incidents.
In July 2017, a fire broke out at the Bow Wharf development in London which the project's solar panels largely thought to be the cause owing to the dramatic images appearing online of the fire.
However, London Fire Brigade has told Solar Power Portal that the latest information from the fire investigators is that the Bow Wharf blaze was recorded as 'accidental', once again claiming that the 'most likely' cause would be an unknown electrical fault within the solar panel array on the roof.
"We can't say definitively, but that is the most likely cause," a spokesperson added.
According to a report published by the Building Research Establishment (BRE) almost a year ago, fires involving solar panels are most commonly caused by errors in the installation process rather than any particular technological faults in the panels themselves.
However, the Solar Trade Association's director of new markets and advocacy Léonie Greene said that the report showed the risk of a fire caused by a PV system is 1 in 80,000 – much lower than with other common electrical equipment.
Both the STA and BRE have recommended that only installers accredited under the Microgeneration Certification Scheme be employed to carry out solar installations.