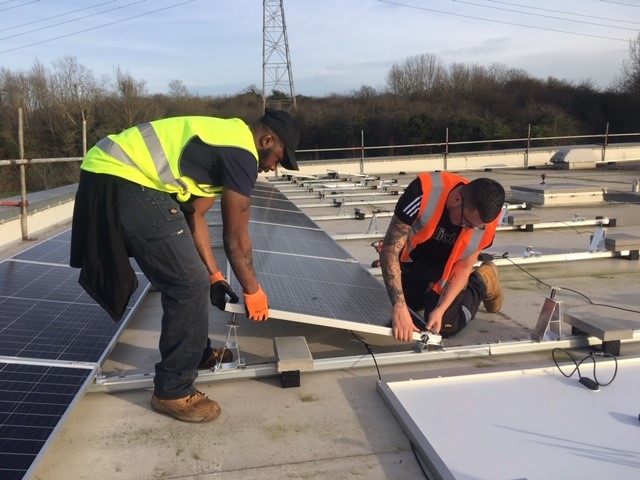 Despite the challenges created by the COVID-19 pandemic and the ensuing lockdown for UK solar installers, many are now so busy they are having to employ new staff.
Talking to Solar Power Portal recently, Joju Solar explained that despite having to pause non-essential installations in April and May, it has since seen a huge amount of interest.
"We furloughed some staff during April and May but got most back in June as we realised things weren't quieting down and we started installing again. We've since hired more as well," explained Jon Cowdrill, head of residential solar at Joju.
This echoes the experience of other solar installers, with both Naked Solar and AES Solar hiring over the past few months in an effort to keep up with the demand.
As Cowdrill explained: "We are pretty busy. Our install calendars are full for the next few months other than some contingency days for maintenance and the odd job which needs a quick turnaround."
Joju has now caught up with its back-log from its COVID-19 shut down, and is able to move onto newer installs. During the company's pause, it only worked on building sites and renovation projects.
"We didn't want to leave those clients with big, solar panel shaped holes in their roofs," says Cowdrill. "Fortunately this work was outside and away from home owners and other contractors so was low risk from a COVID-19 point of view."
It also used the time to focus on design and quotes for new installations, as well as getting permissions set off. This meant that it had work ready and lined up come June, allowing it to forge on ahead.
While it seems the pandemic has spurred on solar installations rather than slowing them down, the period was not without its challenges. Cowdrill says it was "pretty depressing" having to unbook installations, and that sourcing some bits of kit for June installs – with quite long lead times for Sunpower panels – was challenging.
Having enough installers available was also difficult at times, as all parts of the business needed constant electrician labour, including completing the back-log of installs and newer ones.
Additionally, "some customers were less concerned about the risk posed by COVID-19 and were keen to proceed with their installations regardless," he adds. "There was the occasional tricky conversation off the back of that."
Despite the challenges however, the outlook for residential solar installations remains bright, Cowdrill said.
"Right now, it seems quite positive. I'm guessing potential customers have had a little more time on their hands to tackle those home improvements they have never got round to doing. As more people are working from home they must be seeing a home solar installations as an increasingly good idea.
"This coupled with the trend towards more electrification of transport and heating, it feels like there will be a steady and sustained growth for solar over the coming years."