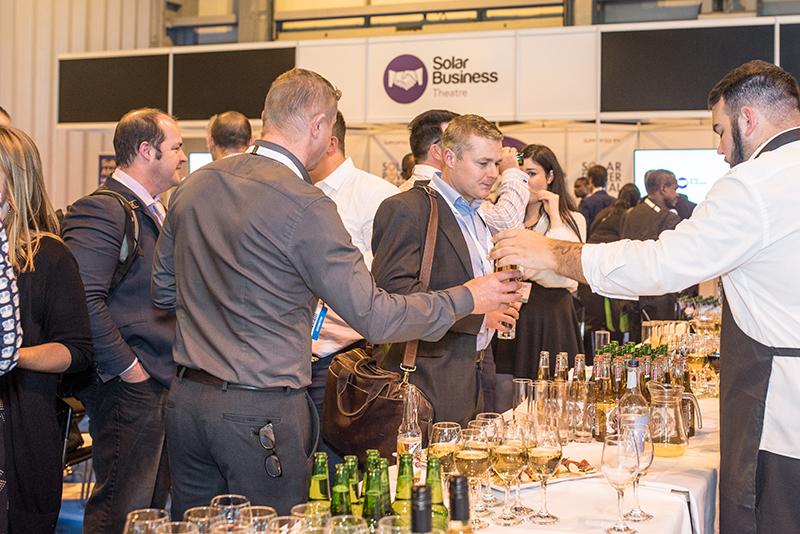 Solar Media, the publishers behind Solar Power Portal and PV Tech, has outlined its suite of products for 2017, officially launching Solar & Storage Live at a drinks reception in London on Monday night.
Hosting around 100 industry members and stakeholders, the event introduced guests to the latest iteration of Solar Media's annual flagship UK event. Now in its seventh year, the exhibition in Birmingham will take on a new focus for 2017 to reflect the growing importance of solar with energy storage and other smart technologies.
David Owen, chief executive of Solar Media, said: "We're really seeing very strong development in this area which is why we have refocused our biggest event of the year. We see solar and storage becoming a key element in the market along with other ancillary technologies and that's really exciting for the future."
Solar Media's lead for the event, account manager Meena Manthena, explained how the refreshed exhibition will draw on the growing trend towards smart energy technologies.
"Solar Media are pleased to adapt the former Solar Energy UK exhibition to Solar & Storage Live. It will build on the success of 2016's event, which saw the largest gathering of storage exhibitors in the UK, with more than 40 storage related companies demonstrating their products on the show floor alongside the resilient solar PV suppliers," she said.
"The exhibition this year will also cover operations and maintenance of solar farms, with over 2 GW's of opportunities in UK assets over the next 18 months, emerging PV markets, EV infrastructure & charging solutions, smart energy technologies, demand side response and data management."
2017's event will also see the return of the Solar Power Portal Awards. Now in its fifth successive year, the SPP Awards 2017 will recognise the best and the brightest of the UK's clean energy sector and celebrate their achievements.
Entries are already being taken across 13 award categories and participants are encouraged to enter now. Nominations will close at midnight on 31 May 2017, followed by a judging process which will take place throughout June before the awards ceremony and gala dinner takes place on 4 October.

Last night's drinks reception also included contributions from Lauren Cook, research analyst for Solar Media's rapidly expanding market research division. The team's output has grown considerably from PV manufacturing and technology reports and now encompasses solar assets across the UK, the growing pipeline of projects in Ireland, and the newest addition of an energy storage project database.
"This is one of the newest research areas of Solar Media market research and by using a similar methodology we've used in the past for solar we've managed to put together a pipeline of about 2.3GW worth of projects," Cook explained.
"This will be an ongoing process to build up a really good picture of what the market is looking like. There will be a lot of changes over the coming year, with new companies entering the market with new business models. I think as the year goes on we will be able to provide a lot more clarity about how the market is going to develop and who is going to be successful."
Owen added: "The intelligence unit is a logical extension for us but it's adding a tremendous amount of value to all the other activities we do as a group. Lots of our customers around the world as well as in the UK tell us they want more valid data, more detailed data around particular projects and the team has done a tremendous job of really vetting and finding out what's happening in the market."
All of these resources will feed into October's event, taking place at the NEC in Birmingham on 3-5 October. Free registration is open now and can be completed here, where you can also find information on how to get involved in the show.