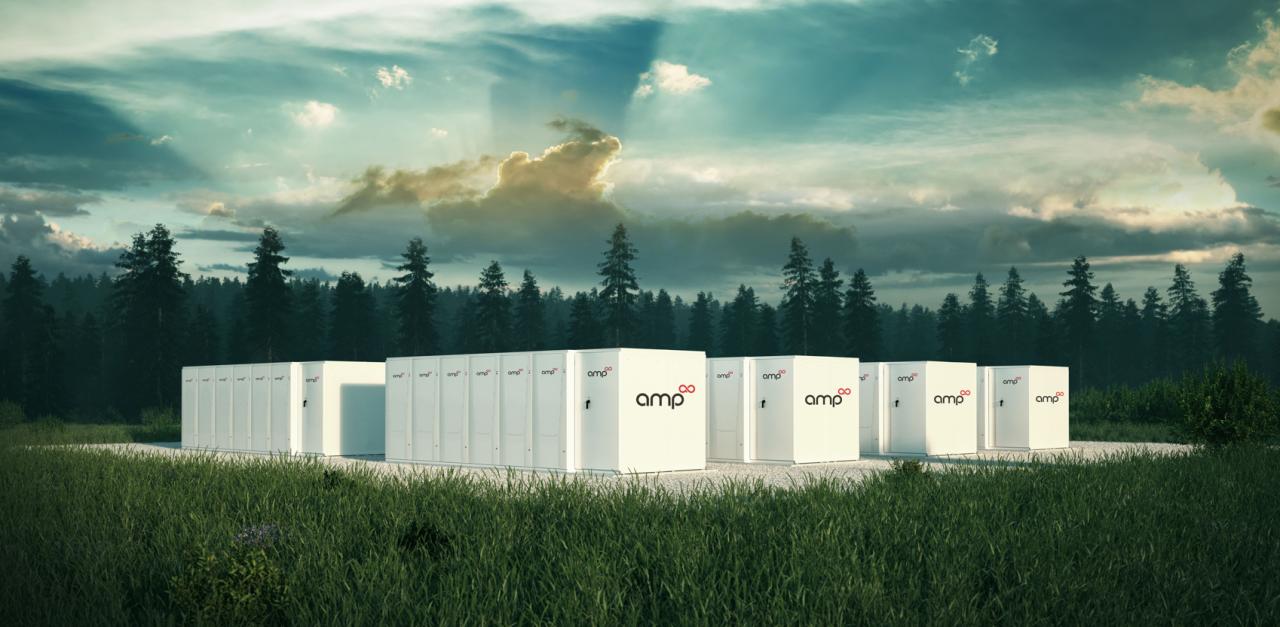 The last year was particularly strong for battery energy storage assets in the UK, as they stepped up to help meet the challenges of grid balancing.
Companies across the board have reported strong financials and significant pipelines, with most looking to expand at pace.
Solar Power Portal took a look at the top five most read battery energy storage stories across the site over 2022.
1. Amp Energy gets go ahead for 800MW of battery storage
Published: 26 January
Taking the top spot as the most read battery energy storage story on Solar Power Portal in 2022 was Amp Energy getting the green light for what it claimed were Europe's two largest grid-connected battery storage facilities, each boasting capacities of 400MW / 800MWh.
Dubbed the Scottish Green Battery Complex, the facilities are to be located in Hunterston and Kincardine in central Scotland, and are set to be operational in April 2024.
2. myenergi launches 'libbi' home battery product to complete home energy ecosystem
Published: 28 October
The second most read battery story was the only domestic news to make it into the list. In October, eco-smart technology manufacturer myenergi launched a new home battery called libbi, to complete its home energy ecosystem.
It joined the eddi, a smart solar diverter, and zappi, a solar EV smart charger within the wider myenergi portfolio.
3. Gresham House lauds expected doubling of earnings as it eyes two hour duration batteries
Published: 10 January
Battery energy storage heavyweight Gresham House Energy Storage Fund announced in its trading update for the full year to 31 December that it expected its earnings to reach £40 million for FY 2021, more than double the £15.6 million of FY 2020.
Additionally it announced that it was targeting a market share of c.25% to 30% in the UK and Ireland in 2022 following an increase in earnings over 2021.
Throughout 2022, the company has continued to expand its operations, including securing £155 million incremental term debt in November to help develop a 747MW existing battery storage pipeline in the UK and Ireland. The company saw its net asset value (NAV) increase by 53.5% to £785 million as of 30 June 2022.
4. Field secures £77m as it looks to 'double down' on its battery storage portfolio expansion
Published: 28 June
Battery energy storage company Field's rapid expansion took the last two spots in Solar Power Portal's top five most read battery energy storage projects.
In June the company – which was launched in early 2021 by Amit Gudka, one of the founders of energy suppliers Bulb – secured £77 million in funding as it looks to continue the rapid expansion of its portfolio.
This was made up of £30 million of equity funding from early-stage investor Plural, which itself was launched in June by founders Taavet Hinrikus, Sten Tamkivi, Ian Hogarth and Khaled Helioui.
The remaining £47 million comes as a debt facility secured from Triple Point Energy Investment Company (TEEC).
5. Field acquires 20MW battery energy storage project as its pipeline surges to 775MW
Published: 11 April
Last in the top five was the news that Field had acquired a 20MW/40MWh battery site in Newport, South Wales, bringing its total pipeline to 775MW/1,510MWh at the time.
The company's 20MW battery energy storage site in Oldham became the first in its portfolio to be fully operational in December, in what was hailed as a "tangible step towards decarbonising and stabilising the UK's grid."