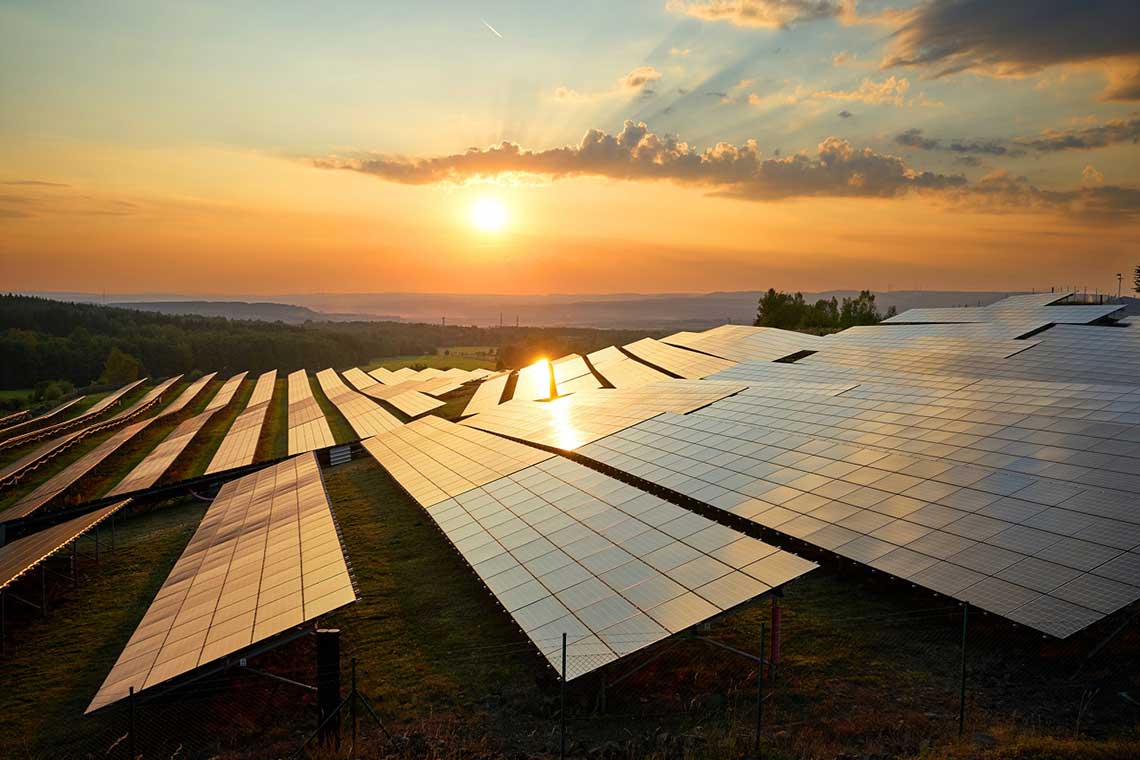 Solar has superseded expectations as it scooped up 796MW in Ireland's first Renewable Electricity Support Scheme (RESS) auction.
The technology had been guaranteed up to 10% of the available capacity ahead of the auction, however it took home 34% of the overall auction energy volume. The majority of this was awarded in the technology neutral category, with the Irish government stating solar proved to be "very competitive".
The technology has smashed predictions, as it was expected to be contracted for just 100-300MW compared to the 796MW it ended up winning at an average strike price of €72.92/MWh (£65.78/MWh).
Onshore wind, conversely, only secured 479MW. Whilst these results are only provisional, they show that 2,237GWh of the 2,557GWh bids submitted have been identified as winners.
A total of 114 projects applied to participate in the qualification process, with 109 approved to participate. Of these, 82 were provisionally successful.
Minister for Communications, Climate Action and Environment, Eamon Ryan TD, said that whilst developer-led onshore wind has been the most cost effective technology available to Ireland to date, "solar and community owned energy projects will play a critical role in diversifying our renewable generation portfolio for the period out to 2030".
The average weighted bid price for the technology neutral auction – where solar saw the majority of its success – was €74.08/MWh (£66.90/MWh). This represents "significant savings" on previous schemes according to the Irish government, although unlike previous schemes renewable generators will be required to pay back to electricity customers when market prices are high.
Bid prices are fixed over the lifetime of the support, with no payments to be made during negative market price periods.
The RESS also included a 30GWh preference category for community projects, representing 1% of the auction volume. These also overperformed, accounting for around 1.5% of the overall successful auction volume.
It was hoped the RESS would help kick-start solar in a relatively dormant market, with development and PPA manager of Elgin Energy, Michael Moore, previously stating there is a "huge opportunity" for solar in the country in light of the RESS.
And there is now – as of March 2020 – a total pipeline of projects in Ireland of nearly 6.9GW according to Lauren Cook, analyst at Solar Media Market Research.
The RESS was designed to help the country meet its target of reaching 70% renewable energy by 2030. This first auction accounts for approximately 10% of the capacity needed to meet this goal, with a minimum of four auctions to occur between 2020 and 2025.
The frequency of these auctions is, however, dependent on the renewable electricity project supply pipeline. The Irish Solar Energy Association has previously called for more frequent auctions as four were originally proposed to take place between 2020 and 2027, stating in December 2019 that the industry is "ready to deliver" with over 1.3GW of projects in Ireland with land, planning and grid connection offers and a further 1GW due to receive offers in the next 12-18 months.
Ryan continued, however, to state: "The volumes procured set us on the right trajectory to achieve the ambitious 70% renewable electricity target by 2030 set out in the Programme for Government and the Climate Action Plan. This will be crucial to Ireland's contribution towards an EU wide renewable energy target of 32% by 2030 and to the 7% per annum reduction in overall greenhouse gas emissions from 2021 to 2030.
"Meeting these targets will support an investment in Ireland of over €1.4 billion (£1.3 billion) and support the recovery by creating roughly 10,500 construction jobs and 1,100 additional permanent jobs."