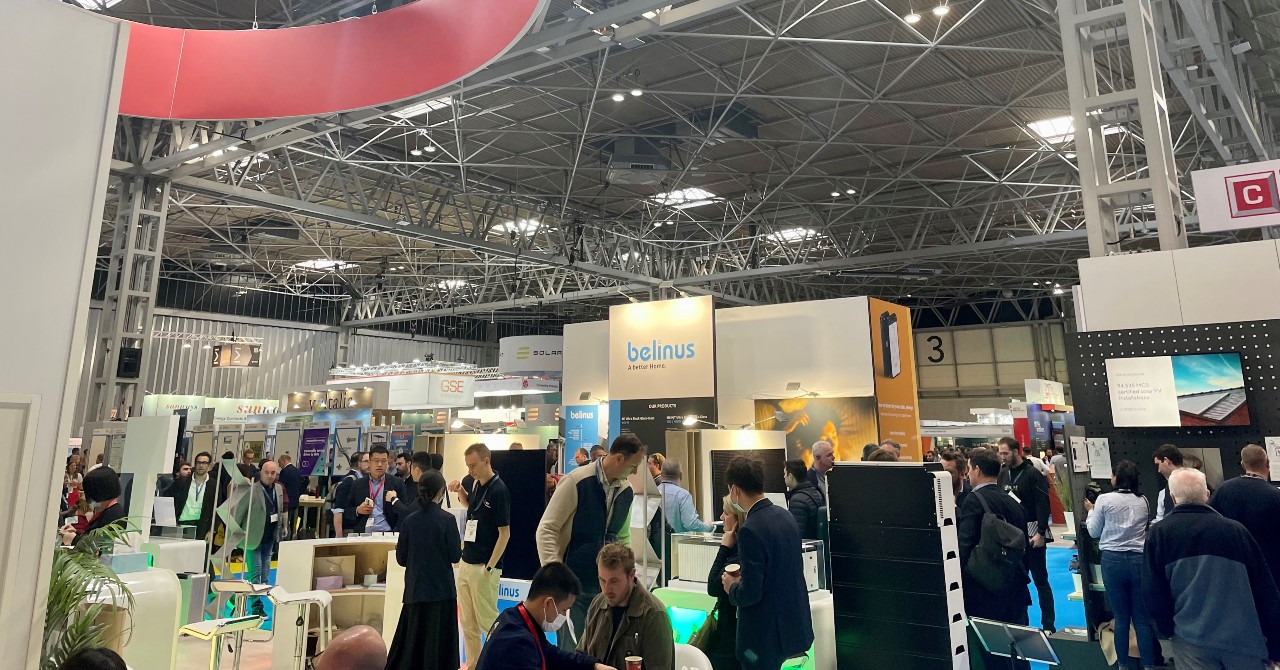 The Solar Power Portal editorial team is reporting live from Solar & Storage Live 2022 at the NEC in Birmingham, bringing you all the insight, news and views from the show floor.
For all the biggest stories from Day One, read our rolling coverage here.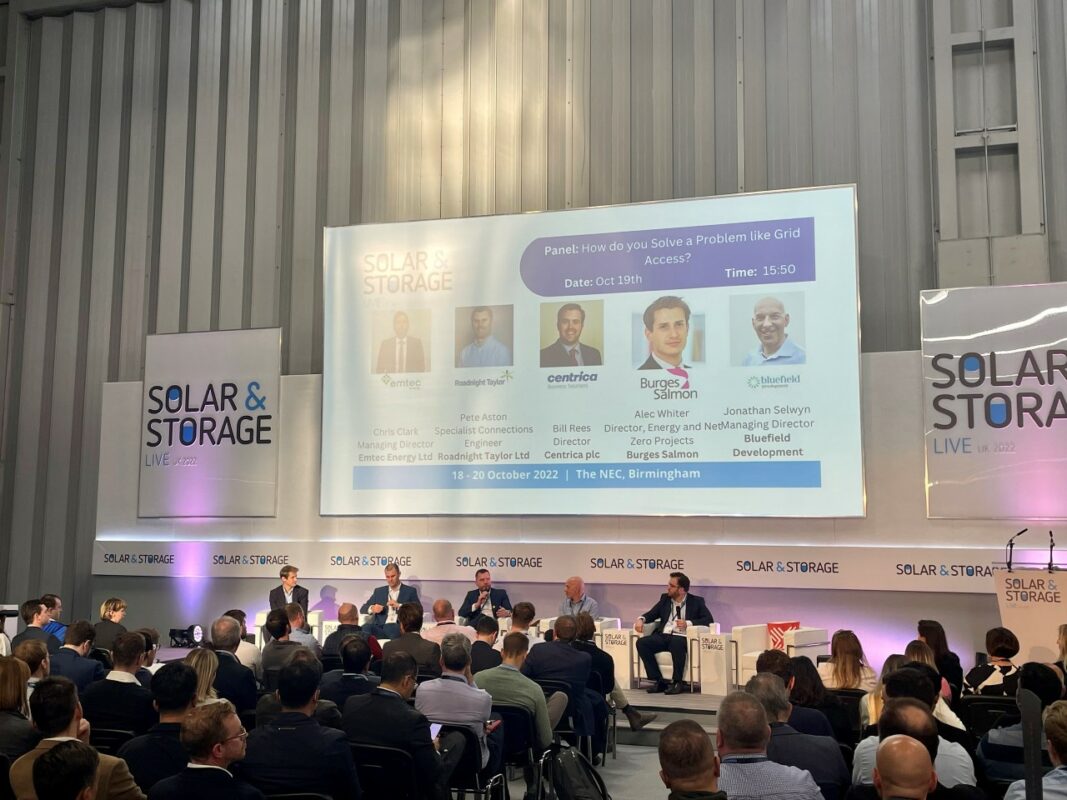 The reality of British land is 'much more complicated' than the land classification allows
Utility-scale solar projects under 50MW are more frequently being refused at local planning stage, according to Claire Brodrick, senior associate at Pinsent Masons LLP.
Many local authorities are struggling with having the resources to deal with complex projects, and often if a project is delayed it is due to elements that could have been picked up at the pre-application phase, she continued as part of the Solidifying Britain's Energy Security Strategy through Reforming Planning Regulations panel.
More broadly, clearer policy would aid developers and local authorities in progressing solar farms, in particular given "a confusing ministerial statement" about the use of agricultural land made by politicians recently.
The development of solar on agricultural land has drawn focus in recent months, due to such comments. If every solar farm currently put forward was built, this would still account for less than 0.4% of the UK's agricultural land and 0.28% of the UK's entire land area, according to Solar Energy UK.
Land is graded 1-5 in Britain, with the majority of solar developed on 3B. But the realities of land are "much more complicated" than the system allows, added Brodrick.
For example, a piece of land might have pockets of higher grade land, but overall would still only be suitable for low-grade crops. This can present a challenge to developers looking for land, who may run into problems getting planning permission due to the gradation of the land.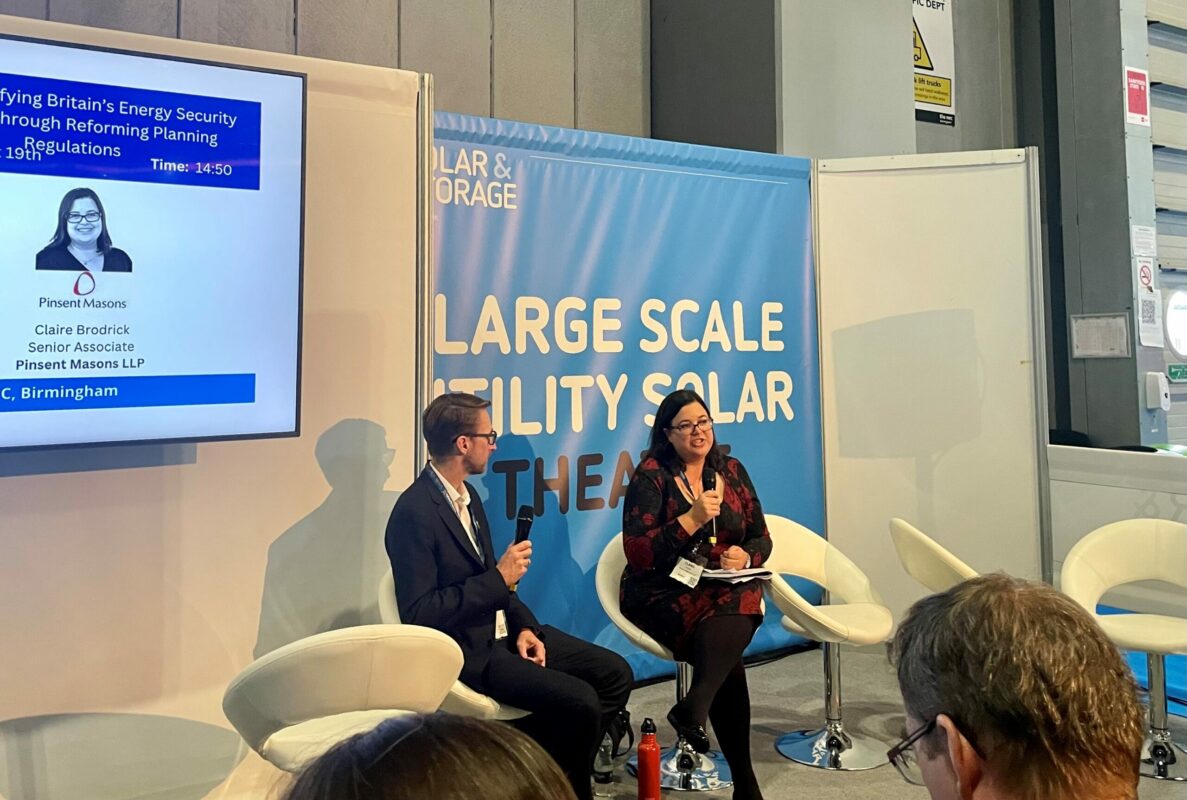 Battery energy storage to reach 6GW-9GW by 2030
"The initial grid requirement to balance the oncoming solar and wind is around 13GW of battery storage by 2030, but the current forecasts are between 6GW or 9GW," said Jacob Lloyd, head of specialist asset finance at NatWest.
The collective need to scale battery energy storage has been rising as renewable energy projects continue to be developed. Energy storage can help balance the energy grid whilst also complementing variable renewable generation sources such as wind and solar.
'Securing capital protection upfront is crucial when facing technological redundancy', says Quinbrook
"The ability to secure capital protection upfront, in the initial contract you sign for a project is crucial when you are also facing technology redundancy," says Rosalind Smith-Maxwell, vice-president at Quinbrook Infrastructure Partners.
Securing capital protection up front is vital to increase investor confidence in emerging clean technologies in the UK. One which requires this is energy storage, a technology that has been rapidly scaled within the UK's energy system.
Despite battery storage investment being a large market, it has started to become overcrowded. More can still be done to support strategic decision making and ensure maximum returns can be gained by investors on these assets.
Co-location still has challenges in the UK, with only one out of the solar and battery able to export energy at a time thus decreasing its efficiency.
"The main constraint is around the grid connection as you can't export energy at the same time," said Paul Mason, chief investment officer at Harmony Energy.
In 2021, a series ran by Solar Energy UK indicated that co-location was a desirable asset criterion for investors. This clearly has not changed with investors seeking co-location projects.
"Investors will want to see combined renewables, whether that's co-location or hybrids," said Lucy Whitford, managing director of development and construction for UK & I at RES. "We've got to innovate as well, to bring the investors [into the sector]."
Scotland has 'nowhere near enough solar' warns experts with 6GW target needed
Scotland has "nowhere near enough solar", needs to set a national PV target and must overcome current barriers to higher deployment if it is to have any chance of hitting its ambitious climate targets, according to a panel of experts at Solar & Storage Live 2022.
Panellists noted that while Scotland had very little solar PV currently online – they put it at around 375MW – it would play a big role in the country's pursuit of net zero by 2045, five years earlier than the rest of the UK.
The vast majority (60-70%) of solar currently operating in Scotland is residential and the panel said more needed to be done to encourage larger-scale deployments.
They all called on the Scottish government to set a 6GW solar target by 2030, with some panellists noting that the administration was not sold of the need for a top down target. That target would broadly by broken down into 1.5GW of residential solar, 1GW of commercial solar and 3.5GW of utility-scale solar, according to Josh King, head of technical delivery at SMS PLC.
Emily Rice, policy analyst for Solar Energy Scotland, said her organisation was in close contact with the Scottish government and had been pushing for them to set a 4GW-6GW target that could provide a roadmap for the country's solar sector. She noted that Holyrood is soon due to deliver its long-awaited energy strategy that will include the first "solar vision" Scotland has had.
But that strategy will have to overcome several challenges. In particular, Scotland's grid system needs urgent attention and reform. Bryan Dixon, head of Grid Services at Decerna, said Scotland's "heavily constrained grid system" was in need of reform as distribution network operators (DNOs) regularly planned for a worst case scenario under which demand was unreasonably high. Loosening the rules around this would open up a lot of extra capacity, panellists said.
Key to doing this was accumulating more and better data to understand actual energy usage in Scotland, they said.
On top of this, Scotland needs to reform its rules around permitting to speed up project delivery, address workforce shortages by collaborating with universities and educational institutions, co-locate solar and storage on existing generation sites to simplify connection process and address high transmission charges, the panellists noted.
Other upcoming barriers also include a change to Scotland's building codes that ban gas boilers and will mandate heat pumps in all new build developments, diminishing the need for residential solar deployment, which Scotland is currently a leader in.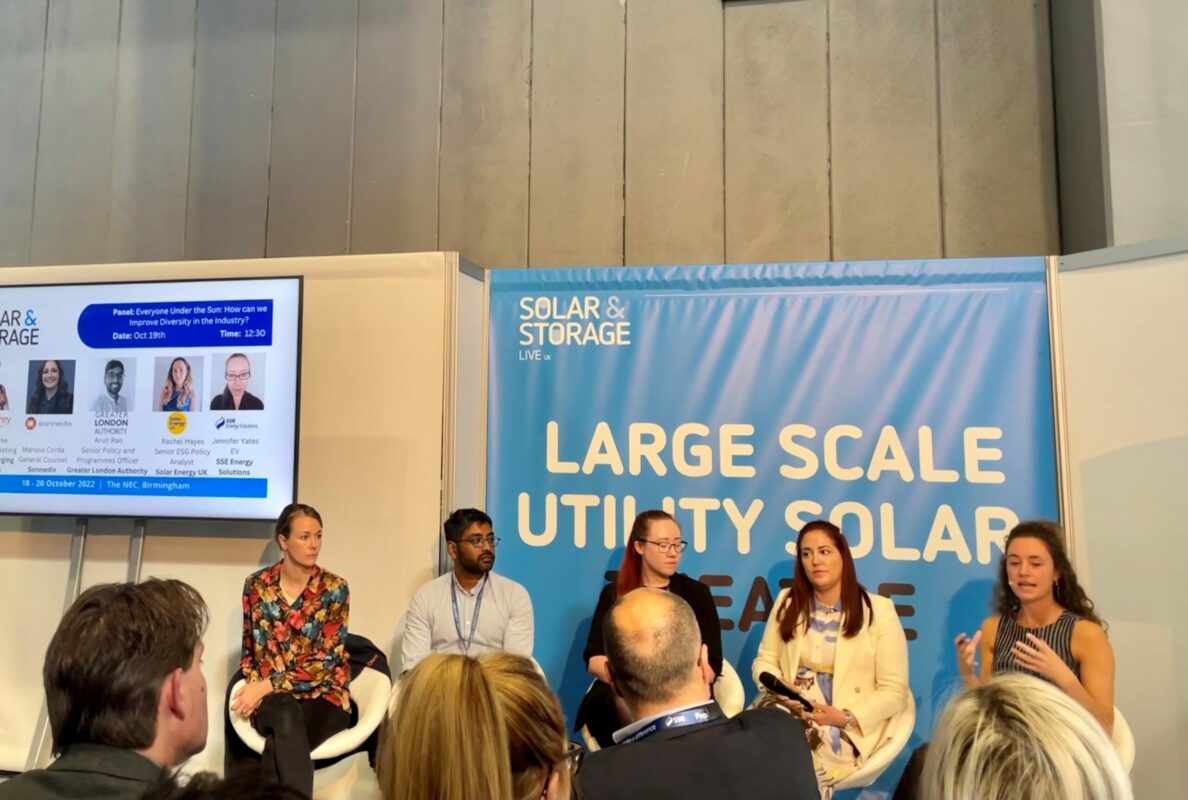 Environmental sector second least diverse in the UK
More work is needed at all levels to boost diversity, with the environmental sector the second least diverse in the UK.
This is according to Arun Rao, senior policy and programmes officer at the Greater London Authority, who was speaking on the Everyone Under the Sun: How can we Improve Diversity in the Industry? Panel at this year's Solar & Storage Live event in Birmingham.
Work is needed in reaching out to students to make them aware of the careers available in solar, as well as putting in place training processes and schemes such as apprenticeships that target those from under-represented groups.
In terms of the hiring process, companies should look to make it clear they are actively pushing for diversity as well as blind CV processes.
Rao pointed to the Rooney Rule in the NfL, which famously requires all league teams to interview at least one ethnic-minority candidate for coaching positions. This works as an example of the difference simply ensuring people are given an in-person opportunity can make.
Within businesses, mentorship and allyship schemes can provide support, helping to ensure "it's not all the same people getting all the same opportunities," added Jennifer Yates from SSE Energy Solutions.
Energy sector 'way behind other industries' on micro rewards
"The energy sector is way behind other industries on micro rewards and incentives for particular areas," said Jon Ferris, head of flexibility and storage at LCP Delta.
Discussing incentive ideas to increase consumer engagement with demand flexibility schemes, Ferris believes that creating positive reward incentives could help increase the number of participants in demand flexibility trials.
Energy flexibility schemes have seen increasing popularity as the UK heads into the winter months. One of these has been introduced by Octopus Energy, which says its scheme could save customers £100 on energy bills and reduce demand during peak usage hours.
Dubbed Saving Sessions, the scheme aims to help customers of Octopus, who additionally have a smart meter installed, and around 5,000 businesses, to reduce energy usage at peak times with a financial incentive to do so.
Octopus' financial incentive scheme will see the energy supplier pay customers for every unit of energy saved compared to their normal usage during certain timeframes. Octopus expects to pay customers £4 on average, potentially saving customers around £100 over the course of the winter.
However, competitions between consumers could also be a successful method to increase household engagement and drive decarbonisation. As well as this, financial incentives could make participation wane in the long run.
"We need to stop treating households like how we treat businesses. Communicating with someone about money changes people's perception and willingness to continue participating," said Rebecca Ford, senior lecturer at the University of Strathclyde Glasgow.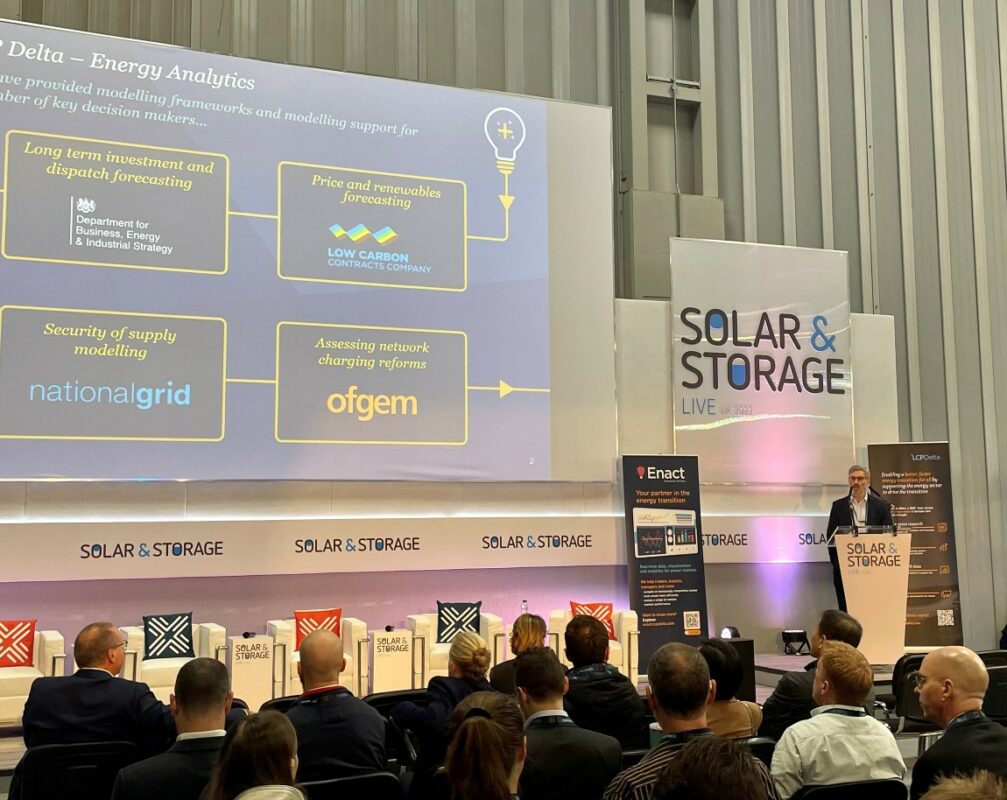 Excess generation expected in 52% of hours by 2030
By 2030, there will be excess generation from renewables and nuclear for 52% of hours, according to LCP Delta's Chris Matson.
While inter-day storage along with use of interconnectors and other measures should ensure Britain can balance this surging generation, there is likely to be significant periods of negative pricing.
Matson pointed to the weekend of 23-24 May 2020 as an example, where over the Saturday there was 17 straight hours of negative prices, and 11 on the Sunday. These negative periods were impacted by the pandemic but gave valuable insight into what the system could look like in years to come.
By 2030, there is expected to be 7.8GW of offshore wind coming on stream. If that was already online, on average that capacity over the last month would have produced 3.9GW average output.
This would have meant there was no gas generation for 191 hours, or 26%. The knock-on impact of this is that average prices would fall from £191/MWh to £152/MWh.
With the profile of power prices changing so dramatically therefore, the design of the market will have to adapt added Matson in his presentation How REMA will Shape the Future Energy Market.
While it may seem odd to talk of negative pricing amid the record high power prices currently – with prices for January trading at just under £900 for baseload, which is "insanely high" said Matson – the REMA offers a potential avenue to capitalise on them going forwards.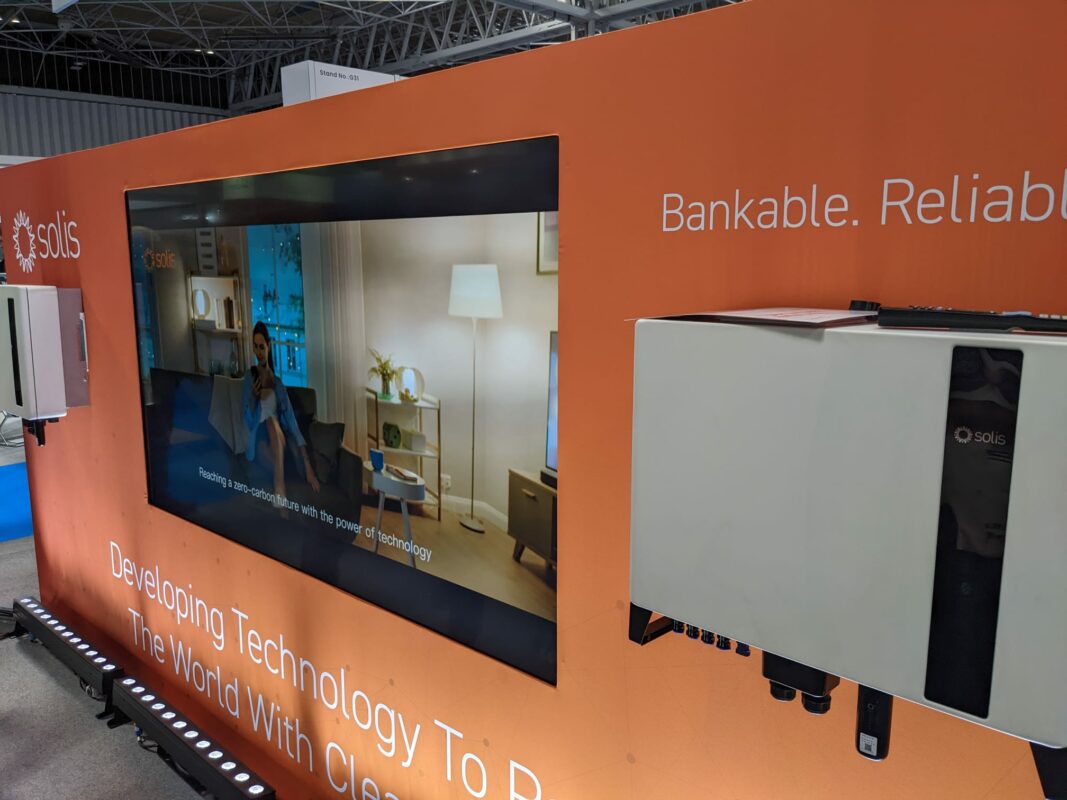 Solis seeing strong UK and European demand amid energy crisis
The centrepiece of Solis' stand at this year's Solar & Storage Live event in Birmingham has been its new Solis S6 hybrid inverter that can connect up to 10 units for up to 100kW Solar PV systems.
The inverter, which our sister site PV Tech has recently conducted a product review of, has a three phase application for homeowners and small businesses and has a 1:6 DC:AC ratio for more PV capacity, the company said.
PV Tech also recently reported how the energy crisis in Europe has seen demand for Solis' products soar and Claire Gardner, the company's marketing manager for Europe, said it had made big strides in developing new partnerships across the continent, particularly in Italy and Germany.
There is also strong demand across the UK, Gardner said, but that it was vital the government comes up with a long-term, consistent policy to ensure business certainty as well as reducing the number of damaging remarks made by ministers and policymakers at the heart of government.
Moving forward, the company will start to try and infiltrate the utility-scale sector in the UK and Europe by drawing on lessons and best practices from its large-scale operations in China and India.
Solis has enough production capacity at its factory in Ningbo, China to meet this demand, with its 40GW manufacturing centre not at full utilisation yet. Nonetheless, Gardner said the company was planning to increase its production capacity in preparation for continued high demand.
'The only power plant to be running after the hurricane in Florida, was a PV one' says Scletter
"With the recent hurricane that hit Florida, the only power plant still working was a PV one," said Christian Salzeder, CSO Projects at Schletter Group.
Creating solar PV plants in areas with extreme weather events can be challenging, however it is a necessity to ensure a just transition is achieved, especially in these areas. By ensuring the stability and resilience of the power plants are in check can boost the renewable generation capacity.
It also showcases the durability of solar PV modules across the globe and how they can be distributed at all stretches of the globe to support the energy transition.
Another important area discussed by Salzeder was the development of local manufacturing for large-scale solar parks as opposed to global supply chains.
"A big challenge is global supply chains vs local manufacturing. There has been a major shift in material supplies due to external factors and this can impact supply chains. Because of this we need to be as flexible as possible and look into local supply chains," Salzeder said.
Creating local supply chains can help mitigate the impact of external geopolitical factors, for example, such as the Ukraine crisis and the Suez Canal blockage that plagued industries around the globe. It can also help strengthen renewable markets in pockets around the globe.
This could help transition the globe to net zero and support the scale out of solar projects.