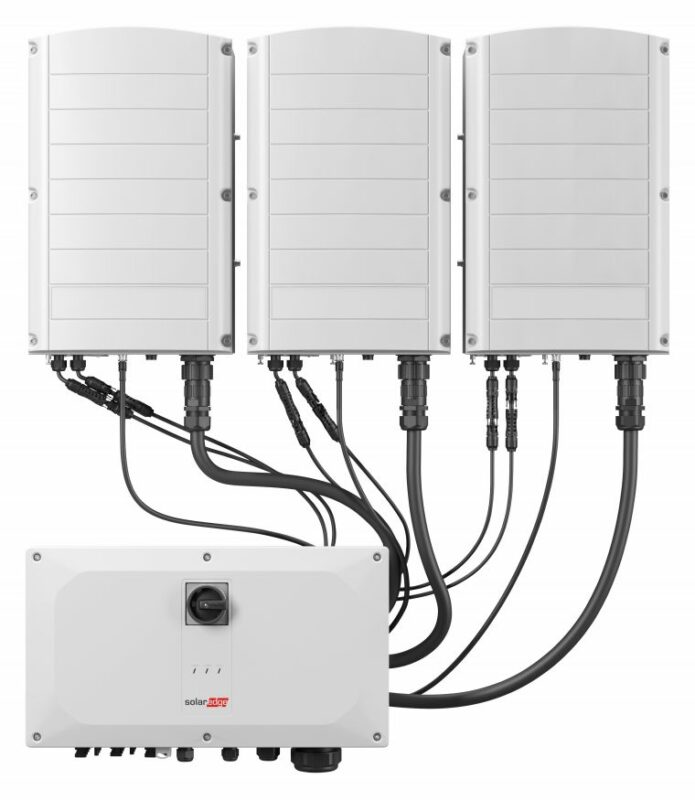 SolarEdge is launching its 100kW three phase inverter with synergy technology, designed to improve the profitability of larger PV installations, in the UK.
The SE100K inverter offers up to 150% DC oversizing to maximise energy generation, as well as including a built-in nighttime potential induced degradation (PID) rectifier to prevent module performance degradation.
The inverter intrduces a pre-commissioning feature that allows installers to fully and automatically validate system components from their smartphones before grid connection. This significantly speeds up the installation process, the company claimed, by flagging and resolving any potential wiring or connectivity issues ahead of time.
Individual units can also be installed by a two-person team without the need for specialist equipment due to the inverter's lightweight and modular design, with the bringing further time and cost savings.
Additionally, SolarEdge's Synergy technology splits the functionality of solar inverters into three independent units which are controlled by a single management interface, improving PV system uptime by ensuring that in the event of any technical faults connection to one of the units, the rest of the system will continue to generation.
The solution also introduces added protection with built-in thermal sensors on the DC and AC terminal blocks as well as surge protection devices alongside other safety features such as arc fault protection and rapid shutdown.
The inverter is available for order in the following power ratings: 66.6kW, 90kW and 100kW, along with 120kW for 480V grids.
"The new Three Phase Inverter with Synergy Technology addresses two growing demands in the European C&I sector," said Alfred Karlstetter, general manager of SolarEdge Europe. "While providing the core benefits of DC optimisation and high-resolution monitoring, it offers system owners and investors increased power and scalability for improved bottom lines, and also addresses installer demand for faster commissioning and installation processes."
Christelle Barnes, UK country manager at SolarEdge, recently spoke at a roundtabe organised by Solar Power Portal publisher Solar Media, discussing how the company has installed more in the past six months than the rest of her five years at the company. In particular, Barnes said there has been a great change in the way solar is perceived due to installers having the knowledge, understanding and most innovative technology available to them.