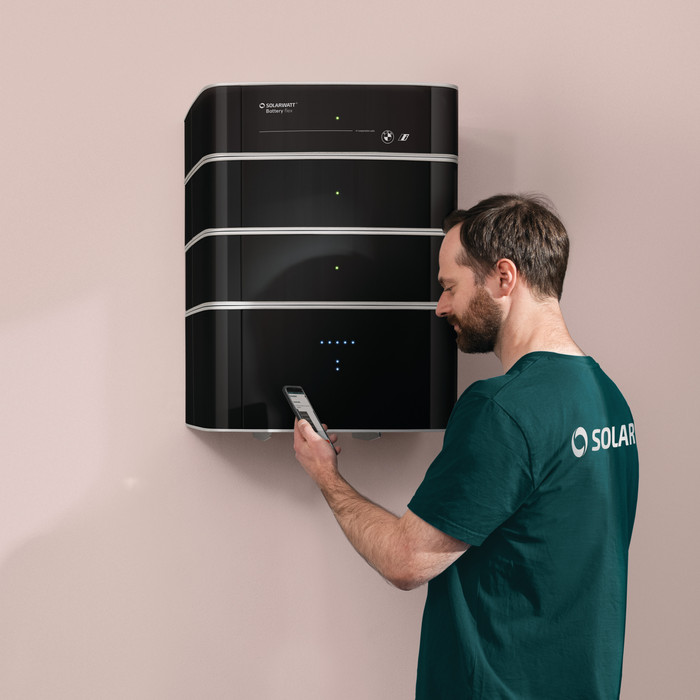 German PV manufacturer Solarwatt has today (9 June) unveiled a new battery storage product developed in collaboration with BMW.
The Solarwatt Battery Flex is a modular storage device, with the system able to expanded from 4.8KWh to 240kWh through the stacking of up to eight battery packs and creation of up to 10 clusters.
It differs from previous Solarwatt storage offerings in that it is much smaller and easier to install, with CEO Detlef Neuhaus claiming in a press conference announcing the product that "no mistake can be made in installing this storage unit" because the device indicates if it's correctly installed and there is therefore no chance to incorrectly install it.
Additionally, the individual components of the Solarwatt Battery Flex weigh no more than 25 kilograms, meaning the storage system can be installed by a single person.
Solarwatt is make the AC-1 system available in the autumn, which will be followed by the AC-3 and DC-hybrid systems in 2022, allowing the portfolio to be rolled out fully.
Describing the company as a well-stablished system provider, Neuhaus said the next logical step for it was "of course sector coupling". He cited the carbon reductions that can be achieved when e-mobility, heat pumps and solar PV are combined, but added that "we are convinced this is only possible with strong partners".
The company has therefore created the Solarwatt Battery Flex with car manufacturer BMW, with the system using components that are also used in BMW's electric vehicles (EVs).
When the Solarwatt Battery Flex system is paired with solar PV and used in conjunction with the Solarwatt Manager Flex intelligent energy management system, it is particularly efficient, with the latter controling and optimising the energy flows in the household and ensuring that as much solar power as possible is consumed in the household itself.
Speaking today, Neuhaus also explained that while a stationary house application requires higher cycle stability, e-mobility applications can work with lower cycle stability but need high power density. With it "being clear" there is a move towards bidirectional charging, which will mean EVs will be charged more frequently than just for mobility, "we need a cell and cell system that can do both things and this cell can do that".
Solarwatt's partnership with BMW has already been in place since 2013, with this initially involving arranging complete PV solutions for roof systems and carports for BMW i customers.
In 2019, the company announced it would be stepping up its presence in the UK solar and storage markets with a raft of new initiatives designed at leveraging how "receptive" the UK is to energy storage. Since then, it has also launched a smart solar-powered EV charging offering in the UK in partnership with Austrian e-mobility solutions manufacturer Keba, while also teaming up with Centregreat Group to develop solar-powered EV carports with built-in battery packs.