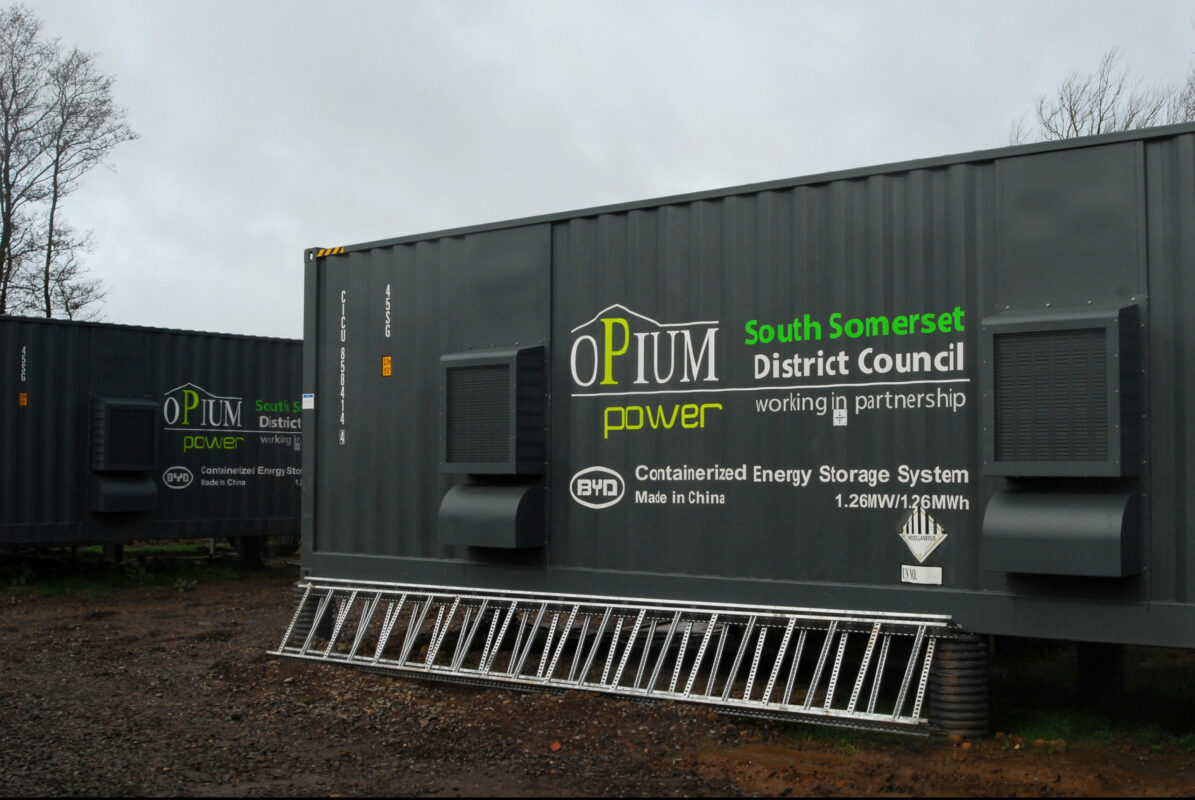 A 25MW battery energy storage system (BESS) in Somerset will see an additional 5MW, taking it to its maximum capacity.
The BESS, developed by the South Somerset District Council (SSDC) and local company Opium Power, is now to be a total of 30MW with the addition of a new development at the same site.
The system, which has a one hour duration, is already providing flexibility services to the grid.
The site, located near Taunton in Somerset, was developed earlier this year after being announced in 2018. With the additional capacity, it is set to become the largest council-owned battery storage system in the UK.
Approval of a viable business case for c.£2.5 million has been approved from SSDC's investment fund to enable the BESS to "maximise its benefits and storage capacity".
John Clark, portfolio holder for Income Generation at SSDC, said the project is a "sensible and viable business decision" to generate further income from the asset and ensures the council can deliver services to its communities in a sustainable manner.
Chinese manufacturer BYD is the supplier of the batteries, with additional services coming from BSR Connect and KiWi Power.
KiWi, which is providing battery optimisation services to the BESS, this month signed a deal with Gresham House for the optimisation of its 15MW Lockleaze battery.
Thomas Jennings, head of optimisation at KiWi Power, said: "With two more coal plants due to close in March 2020 and renewable penetration increasing, prices will become more volatile, creating greater revenue opportunities for fast-acting battery energy storage assets.
"We will use our expertise and technology to optimise the battery in real-time and deliver maximum value and sustainability impact on behalf of our project partners."
The expansion of capacity plays into the council's Environment Strategy, approved last week. Four priority outcomes were identified, including reducing reliance on fossil fuels, reducing emissions, minimising waste and increasing recycling and offsetting carbon emissions.
Sarah Dyke, portfolio holder for Environment at SSDC, said the storage system is a "great project" and demonstrates how important the environment is for the council.
Local councils across the UK have been deploying battery storage projects, particularly alongside solar. Cambridgeshire County Council unveiled plans for two solar-plus-storage projects at existing landfill sites at the turn of the year, with a combined storage capacity of 13MW.
Two solar carports backed up with energy storage have also been recently announced, by City of York Council and Northumberland County Council.