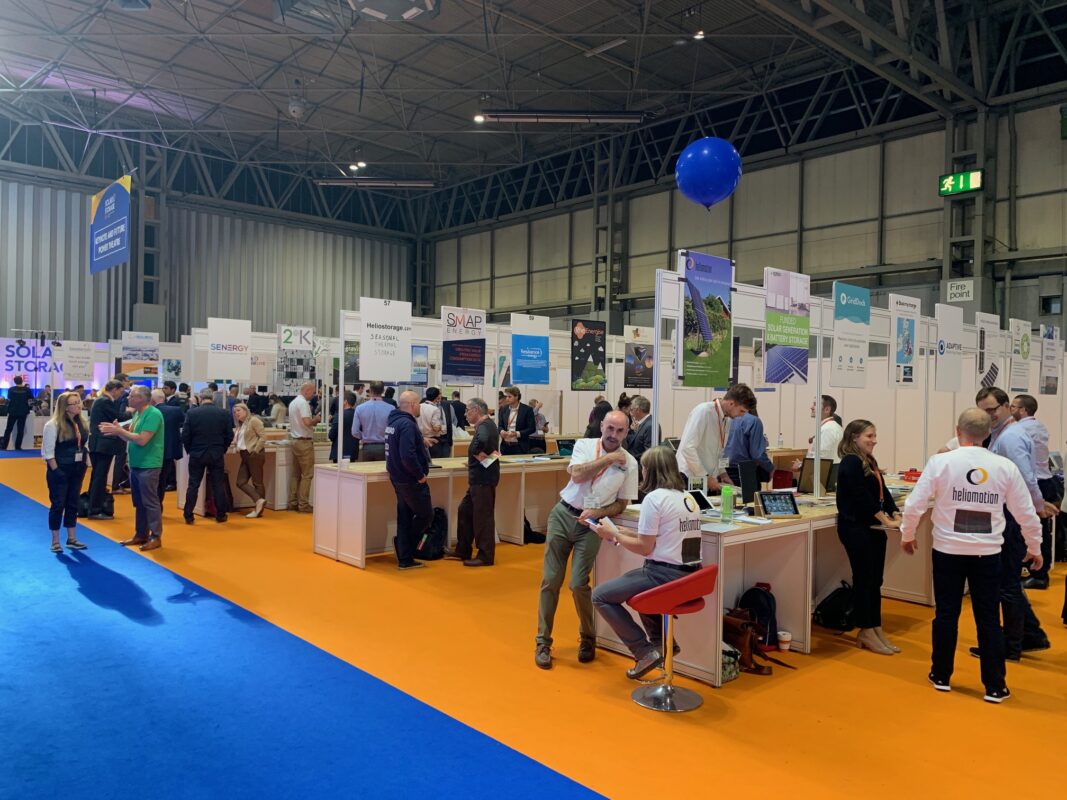 Today's marks the start of Solar & Storage Live 2019, among the highlights of the UK low carbon economy's calendar. The name might have changed above the door – SPP publisher Solar Media sold the event to Terrapinn last year – but that's not the only thing to have changed from 2018's event.
There's a very different feel to this year's event, one that may be difficult to put your finger on initially. SSL 2019 is a similar size and audience to last year, perhaps reflecting the ongoing policy vacuum solar and storage find themselves in. But there seems to be a renewed grit, determination and vigour from those in attendance.
That could be a reflection of what net zero could mean for the sector. Eliminating all emissions from the economy by 2050 is no small feat, and it'll require significant collaboration from the low carbon sector in general, as we heard this morning.
It could be a sign of the growing maturity of the sector. The discussions are no longer around what technology's best, or even which market is booming ahead of another. Gone are the days of fairly widespread bickering about what level a feed-in tariff is appropriate or what's required policy-wise. Subsidies are a thing of the past, replaced in conversation by business models and best practice.
Policies, and indeed politics in general, are now just a distraction. Brexit looms large over the country, especially today as HMG attempts a Marvel-esque victory in the Supreme Court, but each time Brexit was mentioned it only served to illicit groans from the audience. Every minute dedicated to discussing the possible permutations of something entirely out of the sector's control was deemed a minute wasted. There was less talk about Brexit in Hall 3A of the NEC than anywhere in the country, except of course Boris Johnson's negotiation table.
It's this kind of steely determination, with the eyes firmly set on the prize of a cleaner economy, that's required as decarbonisation enters a critical decade, and it was here in abundance today.
That's not to say the industry is without its challenges. Recent headlines have thrust mis-selling of solar back into the public conscious and rumours abound that the issue could be far more of a widespread problem than originally envisaged. This is not just bad news for the solar sector, but for the entire energy industry in general, according to SSE's Richard Cave Bigley, who said that at a moment when confidence in energy providers was perhaps at its lowest, it was another headline the industry could've done without.
But still, the industry presses ahead and there would appear, on the face of today, to be a head of steam building. Growing maturity is building quiet confidence, and that aforementioned grit and determination will prove vital as the next decade takes shape.
Confidence is contagious, too. More than 60 innovators packed a start-up zone that was a continual source of activity, as attendees went from booth to booth hearing what new and emerging technologies were around, and how they could change the sector for good. It's innovation that could prove crucial.
What the next two days of SSL 2019 hold remains to be seen. Tomorrow's awards will provide the opportunity for the sector to reflect on the year that's been and celebrate its successes. But if there's one thing clear from Day One, it's that this is now a sector only happy looking forward, and not back.