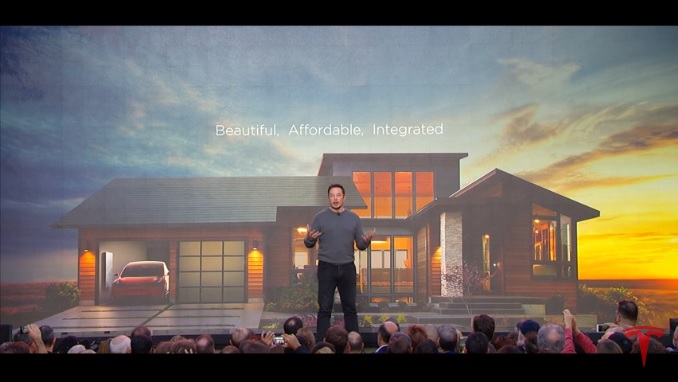 Tesla UK has refused to comment on prospective delays to the UK release of its solar roof tiles following the company's results disclosure earlier this month.
The energy company unveiled its most recent results disclosure at the start of November and, during an accompanying analyst call, was pressed on the subject of its solar roof tile rollout by Guggenheim Securities analyst Robert Cihra.
Responding to the question, group chief executive Elon Musk revealed that "most of the production line in Buffalo" would be turned on before the end of this year, prior to the company ramping "final actual production" at a later date.
Musk also revealed that due to the extended lifespan of the tiles – some 25-30 years – accelerated laboratory testing was required on components, something that had taken the company "sort of six months".
It is not yet clear at what time this process was started and, as a result, it remains uncertain when Tesla can expect its tiles to be certified by US authorities and sold.
When Tesla formally launched its solar roof tiles in May this year, Musk publicly stated that deployment in the US would start this year in the US and next year in the UK. Tesla has also been accepting pre-orders for the product from UK-based customers, charging £800 as a deposit to do so.
U.K. delivery and installation next year

— Elon Musk (@elonmusk) May 10, 2017
However when contacted by Solar Power Portal over delays caused by a lack of final production starting at the Buffalo facility, Tesla UK said it had no further update to provide.
The company would also not be drawn on any details regarding how it intends to sell its roof tiles in the UK given how its solar installation unit SolarCity is no longer active in the UK, having withdrawn its UK-facing subsidiary Zep Solar from the market in the wake of the feed-in tariff cuts of 2015.
However Musk has remained bullish over the potential for his company's new product.
"I have no doubt that this will be a very significant part of the business down the road. It just takes a little while to get those behemoth rolling, but once it gets rolling, it's going to be a behemoth," he said.
But sister publication PV-Tech has been charting the gradual decline of Tesla's solar sales, reporting earlier this month a 38% slump in solar system installations in Q3 2017; the firm's weakest install figures since it acquired SolarCity last year.
This has seen its market leadership position eaten into, with Sunrun the fiercest challenger to its status.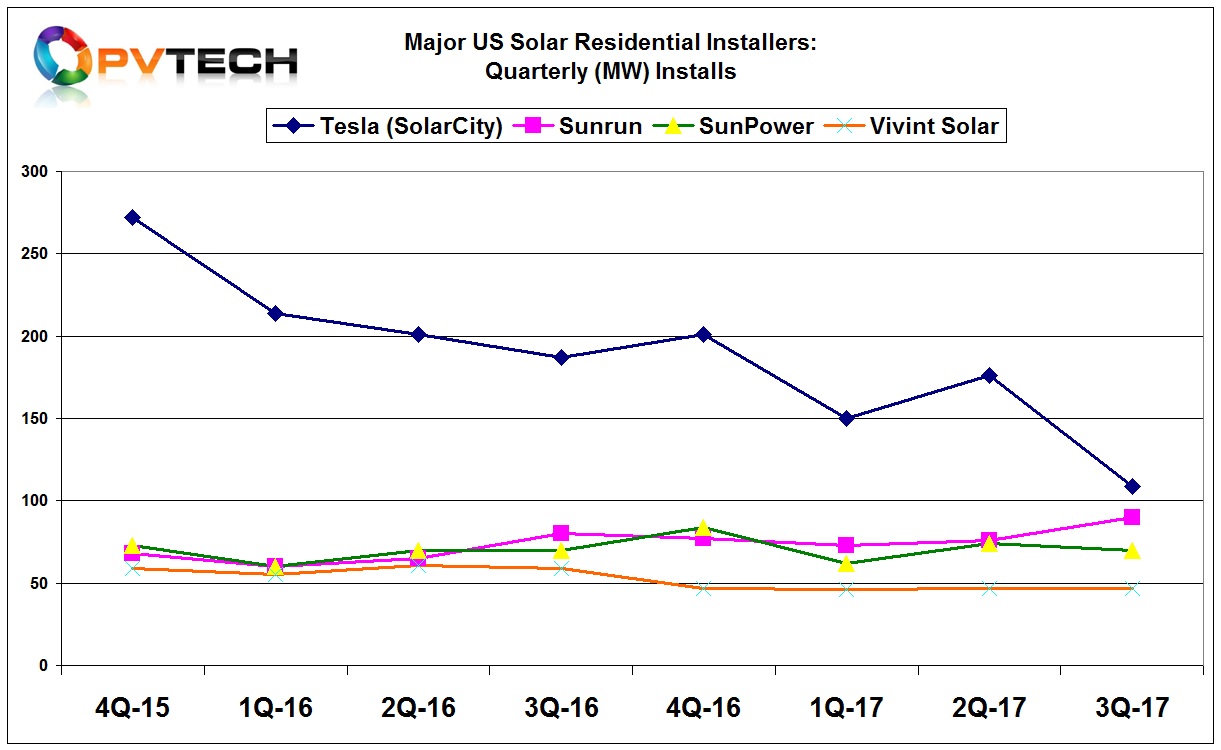 Indeed, yesterday US market analyst GTM Research said it expects Sunrun to become the top third party financing provider before the end of this year, bringing an end to Tesla's dominance of that market after it moved to place more emphasis on its direct sales performance rather than leasing.
Analyst call transcript provided by Seeking Alpha.