If you look online for a list of the biggest solar sites in the UK, you will find a lot of basic and out of date information. This list is changing frequently as big new solar sites are deployed in the UK, and the sites in this list are going to be dwarfed by much larger ones in the years to come.
There are also a lot of sites with capacity around 49.9MW, due to the Nationally Significant Infrastructure Project (NSIP) threshold for projects over 50MW, so there are quite a few sites around that size that could have made the list. Some sites have a peak DC capacity over 50MW but are still listed here as having an output of 49.9MW, so the UK is still awaiting its first solar site that can output more than 50MW to the grid.
The UK government recently published figures showing a total capacity of 15.2GW of solar in the UK currently. However, there are many big projects in development (as we will see in the next article in this series), which could see the total installed capacity of the UK solar sector rise considerably in the next few years.
Not all of this proposed solar capacity may be built. Some solar projects with capacities around 800MW may be reduced in size, or delayed for long periods due to a lack of grid capacity. There is also growing concern that some sites could be rejected in the planning process or reduced in size, with some Conservative MPs from Lincolnshire and nearby counties complaining about the amount of big solar projects being built there.
Solar currently generates between 2-10% of the UK's energy supply, but is clearly poised to be able to deliver much higher amounts of low cost renewable electricity. This energy will, however, be intermittent, and require much more flexibility from the grid but also from consumer demand. As solar deployment is built out, we will also need large amounts of battery storage, and luckily this is also being constructed concurrently with solar deployment.
This list is compiled from previous articles on Solar Power Portal, and gives a general impression of the biggest currently deployed solar sites. As mentioned above, this list is liable to become out of date by the end of 2023 as more solar projects are deployed.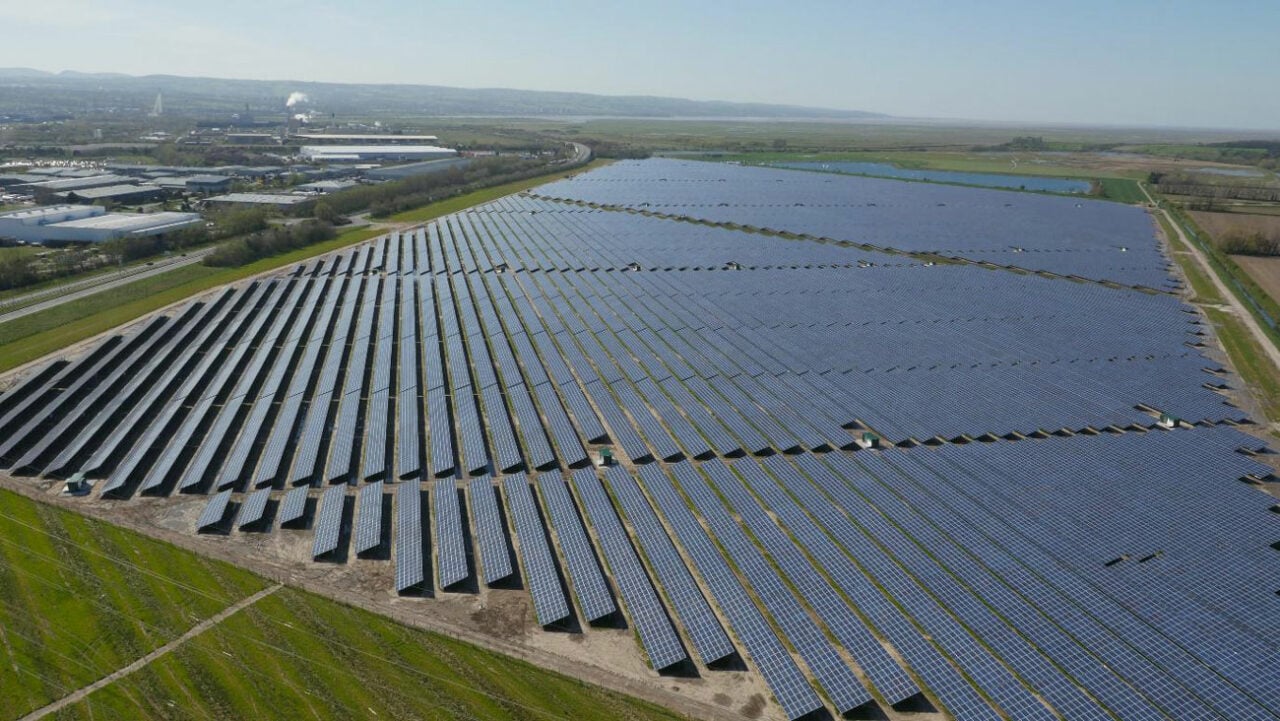 1) Llanwern solar farm, Newport, Wales: 49.9MW
Commissioned in 2021 by NextEnergy Capital. SPP first reported this site in 2018 as being 'near 50MW', with a planning application submitted by Gwent Farmers' Community Solar Scheme, with collocated battery storage. As Solar Energy UK noted, the area is "part of the Gwent Levels; an area classified as a site of special scientific interest (SSSI)." The site was brought online at the same time as another NextEnergy Capital site with a 40MW capacity at Strensham in Worcestershire. A 40-year ecological management plan for the site was agreed in partnership with Natural Resources Wales (NRW), Royal Society for the Protection of Birds (RSPB) and other stakeholders including Newport Council. This site is usually listed as having a 76MW capacity, and while it was a potential to output 75MWdc, like many sites in this list, planning conditions require it to output a maximum of 50MWac to the grid. Because solar sites do not generally hit their peak output, sites like Llanwern have a higher peak capacity than can be sent to the grid.
Article: Welsh government approves near 50MW solar and storage park (15 November 2018)
NextEnergy claims new record for UK's largest solar farm as 115MWp subsidy-free portfolio complete (1 Apr 2021)
2) South Lowfield solar farm, Kirkby Fleetham, North Yorkshire: 49.9MW
The project was developed by Lightsource bp and then bought by NextEnergy Solar Fund along with the Grange solar farm listed below and has a 15-year power purchase agreement in place for c.75% the electricity it generates with AB InBev, the world's largest brewer. It became operational in 2021. This is an agrivoltaics site, with a wildflower meadow to encourage biodiversity and the land beneath the panels used for grazing sheep.
Article: NextEnergy acquires 100MWp from Lightsource BP in £64.3m deal (1 Mar 2021)
3) Shotwick solar park, Flintshire, Wales: 49.9MW
Commissioned in March 2016 and built in just six weeks, Shotwick Solar Park was collaboratively developed by We-Link Energy and Compton group. Built on agricultural fields north of the A458, Weighbridge Rd, the site is close to a grid connection and an industrial park with high electricity consumption that includes the UK's largest paper mill. Although this site has a 72MWp capacity, it can only output 49.9MWac to the grid. Therefore this site is "72.2MWp, limited to 49.9MW (ac)", according to British Solar Renewables.
Article: Foresight splashes the cash on UK's largest solar park (3 Feb 2017)
4) Lark's Green solar farm: 49.9MW
Commissioned May 2023 by Enso Energy and jointly owned by Cero Generation and Enso Energy. The site has a collocated 49.5MW/99MWh battery storage system that will become operational in 2024. This site is a 49.9 MWac / 71 MWdc site, and Enso Energy says it provides "49.9MW of renewable electricity to the National Grid", similar to Shotwick solar farm above. Although it has a higher DC output, it can only supply 49.9MW to the grid, which uses AC power. It is common for solar sites to have a higher peak output than they can supply to the grid, because the peak potential output is not likely to actually be generated due to real weather conditions.
Article: Cero, Enso Energy achieve financial close on 49.5MW/99MWh battery storage system (30 May 2023)
5) South Farm, Dorset: 49.9MW
Developed by Voltalia, in 2023 the company signed a corporate PPA with the City of London Corporation, and the site "provides over half of the City Corporation's electricity needs, powering buildings such as its historic Guildhall Headquarters, three wholesale markets, and the Barbican Arts Centre."
Article: 'First of its kind' 50MW solar park inaugurated via Corporate PPA with City of London Corporation (20 Jun 2023)
6) West Raynham RAF solar farm, North Norfolk: 49.9MWDe
Developed by Good Energy, Built by ESM Power Ltd and commissioned in March 2015, this solar farm includes nearly 200,000 ground mounted solar panels over 225 acres. It is situated on a disused airfield near Fakenham, and Bluefield Solar purchased the site from Trina Solar in 2015 for £56.5 million. ESM power said the site was "chosen due to its reputation as being one of the sunniest places in the UK".
Article: Good Energy sells 49.9MW Norfolk solar site to Trina Solar (5 August 2014)
Bluefield Solar seals £56.5 million Norfolk solar farm purchase (30 Mar 2015)
7) The Grange solar farm, Newark, Nottinghamshire: 49.9MW
Developed by Lightsource bp, the site began as a 5MW solar farm in 2011, before expanding in 2016 with the development of the larger, 49.9MW solar farm which was completed in 2020. The site was then sold in 2020 to NextEnergy. This site is also covered by a 15-year power purchase agreement for c.75% the electricity it generates with AB InBev, the world's largest brewer.
Article: NextEnergy acquires 100MWp from Lightsource BP in £64.3m deal (1 Mar 2021)
8) Owl's Hatch solar park, Herne Bay, Kent: 49.9MW
Commissioned in March 2015 and constructed by British Solar Renewables, this site occupies 212 acres of land south of Herne Bay and is owned by Cubico. The site is dual use, with sheep being grazed on the same land. Sceptical local news site Kent Online reported in 2015 that "Rows of panels standing 2.4 metres high, all tilted at a 22 degree angle, will apparently harness the sun's power as sheep graze on grass beneath but owners of neighbouring farms and properties are not so convinced." British Solar Renewables told SPP this site is "52MWp limited to 49.9MW (ac), but also has limited inverter output due to the low MWp."
Article: Anesco secures O&M contracts for 148MW of Cubico and GLIL-owned solar (21 Jul 2021)
BSR continues asset sell-off as 50MW Owls Hatch changes hands (16 Sep 2016)
9) Lyneham RAF airbase (Bradenstoke Solar Park), Bradenstoke, Wiltshire: 49.9MW
Commissioned in 2015 on an RAF airbase. Bought by Bluefield Solar Income Fund (BSIF) in 2021 and situated on a former runway, Lyneham Solar Farm was the first developed by the Ministry of Defence. In 2018, Shell Energy Europe signed a five year PPA with British Solar Renewables (BSR) to take power from RAF Lyneham solar farm. Althought the site is 69.8MWp, it only outputs 49.9MW AC to the grid, so while it is often given as a 69.8MW site, we are listing it as 49.9MW
Article: Exclusive: The government just completed the UK's largest solar farm (15 June 2015)
Shell to become single off-taker of largest solar farm in England (18 Jan 2018)
10) Wroughton Airfield (Swindon Solar Park), Swindon: 49.9MW
Wroughton Airfield was developed by Belectric UK, British Solar Renewables, Public Power Solutions, and WElink Energy UK. The project is currently owned by Rockfire Capital. SPP initially reported the site's capacity as 50MW when it was completed in 2016, though by later in 2016 it was being reported as 61MW. As with RAF Lyneham, British Solar Renewables told SPP that this site is "60.9MWp, limited to 49.9MW(ac)". This is due to the fact that planning orders limit sites like this to output less than 50MW to the grid.
Article: WELink sells off BSR-developed 61MW Swindon project after finalising long-term PPA (13 Sept 2016)
___________________________________________________________
As mentioned above, there are a number of other sites which are 49.9MW like Ockendon, Coltishall, Defford Aerodrome, Inkersall Grange, Branston, while Snarlton Farm, South Lowfield and Sandridge Farm output 49.6MW.
This list should not be taken as definitive, especially as the list is likely to change soon, with a number of larger sites due to be completed in the coming year. However, what is clear is that the currently deployed scale of solar energy in the UK is dwarfed by the kinds of projects in the development pipeline.
It's an exciting time for the solar industry, despite attempts by some to paint solar as unreliable. Solar Power Portal will also look at the biggest battery storage sites in the UK, as these are incredibly important to solving the intermittency issue of solar power, and we will also be sure to report on updates to this list when those sites become operational.
This article has been updated on 30 August with more information about how much each site outputs to the grid.