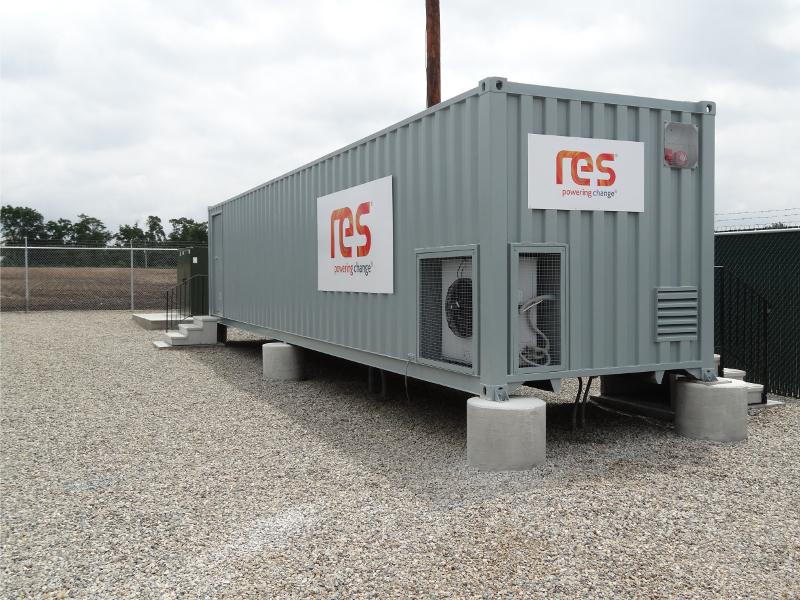 The Renewables Infrastructure Group (TRIG) has become the latest investor to enter the large scale storage market after buying a 20MW project from RES for £20 million.
The Broxburn energy storage project is currently under construction in West Lothian, Scotland, and is expected to be completed early next year by RES, who will maintain the site as TRIG's operations manager. It will be the first energy storage project acquired by TRIG and RES' fourth project in the UK.
TRIG's chair Helen Mahy CBE said: "The use of battery storage is becoming increasingly important in enabling grid networks to match fluctuations in the supply and demand of electricity and to stabilise power frequency. This becomes especially vital as the installed base of renewables generation increases.
"We are excited to be playing a part in this by investing in Broxburn, one of the first large-scale commercial power storage projects to be developed in the UK."
The project is expected to have an operational life of 15 years but has secured an initial four year bespoke bilateral agreement to provide dynamic, two-way import and export sub-second balancing services to National Grid.
A spokesperson for RES explained: "This is a bilaterally negotiated service contract with NGET [National Grid Electricity Transmission]. Such an approach to contracting allows closer working ties than in a market-based approach and can be appropriate in the early stages of developing new services and creating new markets."
RES secured this contract prior to last year's Enhanced Frequency Response (EFR) tender and provides the same service to National Grid that was hotly contested in August 2016.
Revenues over the four years are substantially based on pre-determined, RPI-indexed availability payments, with this bespoke agreement no longer available since National Grid moved to a tender auction model for EFR services.
Rachel Ruffle, RES' managing director, said: "Energy storage will play a vital role in the future of the UK grid network through delivering flexible services to support the UK's economic growth and enable more low cost, renewable energy to be used. We look forward to delivering and operating the project at Broxburn for TRIG."
The deal marks the latest move by a large investor into utility scale storage after Foresight entered the market with the 35MW Port of Tyne project, also a RES project, followed by the 10MW Nevendon battery acquired from Gridserve and Aura Power.
Both had won contracts in the EFR tender, showing the major interest in this revenue stream by new investors in grid-scale storage.