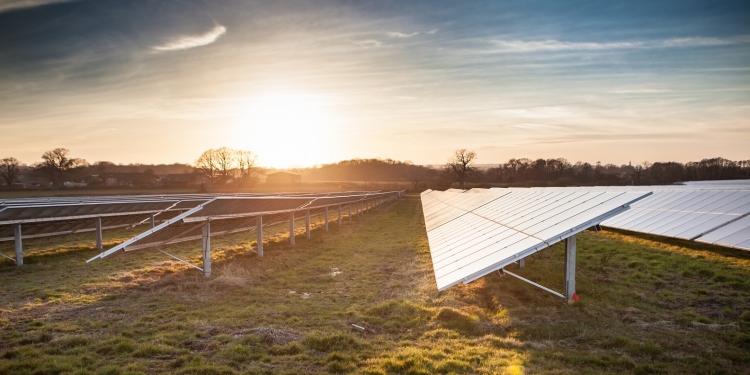 The pipeline of active large-scale pre-build large-scale solar farms (>250kWp) has seen significant growth during the past six months, and now stands at more than 4.2GW of total capacity.
This growth has been driven by the return of established greenfield developers, experienced with the UK solar planning process, and sets up the prospect of strong post-subsidy build-out during the 2020-2022 time period.
This article discusses the facts and figures behind this 67% growth in projects and pipeline capacity that has occurred in just six months, outlines the methodology used by our in-house market-research team at Solar Media, and breaks down the 4.2GW capacity across categories critical to site owners and component suppliers.
All data is taken directly from the UK Large-Scale Solar Farms: The Post-Subsidy Prospect List report that includes a full audit trail of all projects making up the 220 sites, totalling 4.234GW.
The 4.2GW pipeline of large-scale solar farms in the UK
During the past six months, the total number of sites at various stage of pre-build planning has increased by almost 70% from 131 sites at the end of October 2018, to 220 sites at the end of March 2019. This corresponds to a pipeline capacity change from 2.533GW to 4.234GW today.
During the past month, an additional 15 new sites were added to the pipeline, with a total of 846MW, driven largely by the inclusion of the Sunnica Solar Farm proposal, the specific details of which were first reported on Solar Power Portal last week.
The inclusion of the Sunnica site now means that there are 3 solar farms being reviewed under the UK's Nationally Significant Infrastructure Projects (NSIPs) that is mandated under the Planning Act 2008 that was introduced to streamline the decision-making process for major infrastructure projects across England and Wales.
Collectively, the Sunnica Solar Farm, along with Cleve Hill Solar Farm and Little Crow Solar Farm (the other NSIP designated sites) contribute 1GW of pipeline capacity.
Interestingly, across the remaining 3.2GW of pipeline capacity, we see an increasing number of former FiT/RO-motivated planners returning to greenfield site scoping, the most noticeable of which is Lightsource BP. Prior to its investment by BP, Lightsource was highly adept at identifying discrete land sites that were conveniently nearby and could be effectively merged into one as far as construction-related issues were concerned.
The reason this is relevant today relates to the probability of any post-subsidy sites being completed. Obviously, when solar sites move into NSIP territory, the chances of planning approval become more dependent on political whims of the day.
The best way to understand this is to compare the costs and risk to building, for example, a new 300MW portfolio. Building six separate 50MW sites (exclusively through the LPA portal process) is probably a far less risky proposition than a single 300MW project.
Ultimately, whether this is true or not will be known in about three years from now when we review how much of the post-subsidy sites have come from NSIP and non-NSIP (LPA-only) routes.
However, even removing the 3 NSIP sites, the site pipeline count has grown from 131 to 220 in just six months, as shown in the graphic below.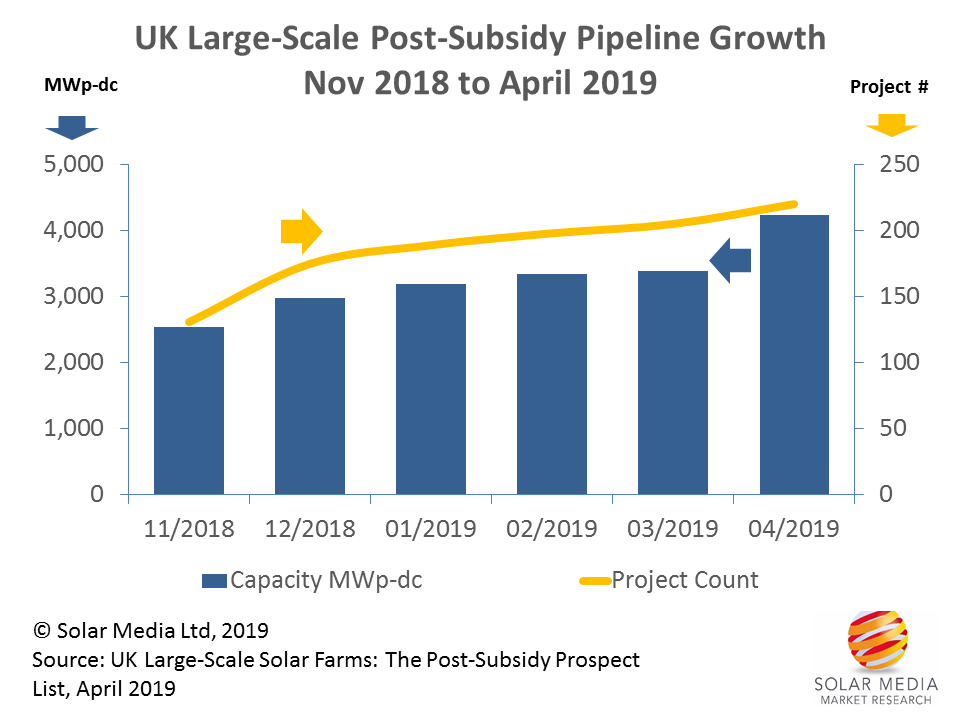 Understanding the status of the 4.23GW of pipeline capacity
As suggested above, the first thing needed to understand the total capacity is to remove the speculative NSIP projects. This quickly takes us to 217 projects adding to 3.2GW.
We then have 38 sites at >30MW (total 1.7GW), 30 sites in the 20-30MW range (707MW) and 39 in the 10-20MW band (515MW).
However, the most relevant segmentation comes from the planning approval classifications. A total of 115 sites have planning application approval (albeit subject to conditional discharge), adding to 1.47GW. This group remains the only viable sites for 2019 build-out, discussed in more detail below.
20 sites (smaller in size) represent new applications that are pending LPA approval, with just 109MW total capacity.
The majority of the capacity comes from sites that have yet to have full application forms submitted to LPA portals: 85 sites contributing a total of 2.66GW of capacity, of which 1GW is coming of course from the 3 NSIP sites.
For reference, we follow a relatively tried-and-tested process of removing pre-application screening/scoping applications after 12 months, if no full planning application has been submitted. Most times, this is a good way of keeping the pipeline fresh and relevant. However, it does appear that a small group of greenfield developers is putting in placeholders that could be returned to for full planning applications beyond our 12 month window.
This can be explained by the fact that the incentive-driven time deadlines are no longer in play, negating the requirement to rush a planning application to the LPA once it has been confirmed that an EIA is not needed. Again, only time will tell if this assumption is correct.
Pipeline growth also reflects non-completion of build-outs
While growth in any pipeline of pre-built sites is critical to understand developers' bullishness in final site returns (either flipping or owning), it is also impacted by the lack of new site completions. This simple fact confirms the as-yet activity-uptick in solar farm builds in the UK during 2019.
However, this is perhaps not unsurprising as there are no quarter-end deadlines today. Also, to some extent, one cannot discount Brexit-related impacts on the broader investment climate prevailing in the UK these days.
Furthermore, component supply is also moving rapidly in a way that the sit-and-wait strategy can only yield fruitful outcomes in terms of lower site capex (mainly from module ASP declines) and higher-performing products (most notably from bifacial availability).
In reality, most of the expected build-outs for 2019 are still going through conditional planning discharge, owing from the fact that many sites were submitted during RO days and were put on ice, either due to time-consuming discharging elements or being halted through the removal of the much-anticipated CfD (second) round for solar that never happened.
A further delay on build out of these pseudo-post-subsidy sites comes from changes in site ownership (pre-build) that requires new site owners to perform their own internal due-diligence and build-out planning arrangements.
Therefore, when assessing additional capacity coming from large-scale solar farms in the UK, there are several factors to consider: near-term 2019 capacity from projects currently getting final build-approval, approved sites that are being lined up for 2020, and the 2.65GW of pre-application sites that will either be moved to full planning status or mothballed for a number of reasons.
Further updates will be given on Solar Power Portal in the coming months that reflect the progress across the pipeline segments.