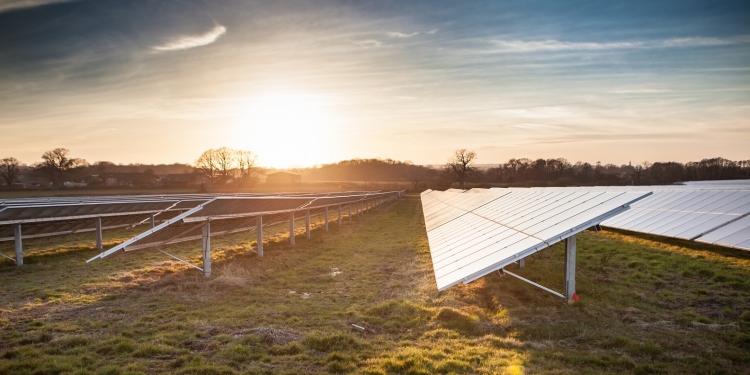 Large-scale solar deployment in the UK is set to re-ignite next year as the technology continues to beat all previous cost estimates and could be as cheap as £40 per megawatt hour by 2030, the Solar Trade Association has said.
Citing new analysis conducted by the association alongside its members over the last six months, the STA now forecasts that next year ground-mount solar cost of generation is to sit between £50 and £60/MWh, significantly below both the STA's previous estimate of £80/MWh and the government's central estimate.
As a result, the STA is now signalling that large-scale solar PV will be "highly competitive" with CCGTs and onshore wind next year.
At a briefing organised by the STA yesterday morning and attended by SPP, policy analysts Nicholas Gall pointed towards significant reductions in solar's CapEx in recent years. Modules, which in 2014 were expected to cost around £270,000/MW in 2019, are now forecasted to be as cheap as £200,000/MW and will be a drastically lower proportion of a project's overall cost – as low as 10% – by 2030.
Annual OpEx costs have also recorded drastic declines in recent years, meaning that solar farms are cheaper to operate and maintain than previously thought.
A number of other factors have also been brought into consideration in the STA's revised analysis, which Gall described yesterday. Most solar farms are now expected to have an operational life in excess of 30 years, and some as long as 40 years, rather than the 25 years previously considered as an industry standard.
In addition, panel degradation is occurring far slower than previously thought and is now being factored at 0.4%, rather than 0.5%, annually. And load factors are creeping up from the base case of 11% to nearly 12% in 2019, and 13% by 2030.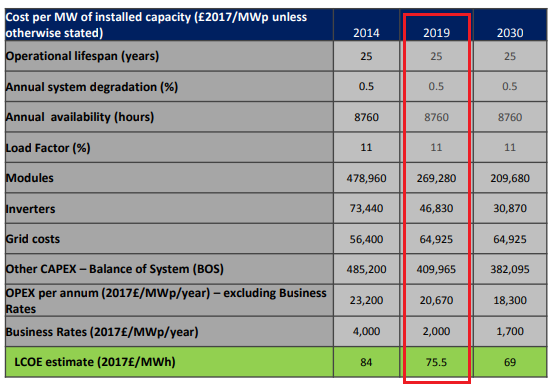 All of these marginal gains have contributed towards a significant shift in the economic viability of large-scale solar – even in spite of regulatory instability and a later-than-expected repeal of the minimum import price – and Gall now estimates that somewhere between 300MW and 500MW could be installed in the UK next year.
That figure tallies with forecasts provided by SPP publisher Solar Media's in-house market research team, which has also reported how the country's post-subsidy solar pipeline has swelled to 3GW in capacity.
Commenting on the analysis, Gall said the results were another example of the fast-moving solar market outpacing forecasts and analyses.
"We urge all organisations conducting low-carbon or energy cost analyses to make use of this up-to-date industry data, which comes directly from our members' own experience of the UK market. We also urge decision-makers to understand how effective policy frameworks enable the lowest possible costs for solar, which will greatly benefit consumers," he said.
The STA has further said that deployment of large-scale solar could be nudged further with a few tweaks to existing energy policy, citing analysis by the Committee on Climate Change which has pointed towards a need for up to 50TWh of clean electricity generation by 2030 to meet binding emissions reductions targets.
Floor-price CfDs
Most interesting amongst the STA's policy recommendations is the design and implementation of a technology-neutral floor-price Contracts for Difference scheme, which would allow projects to bid for government contracts to support their development.
At yesterday's briefing, Gall described how they could work in practice. If a contract is awarded to a project set at an arbitrary price per megawatt hour, it acts as a price guarantee for the power it exports to the grid rather than leaving them subject to merchant risk.
If the wholesale price dips below that floor price, the project would receive top-up payments to ensure the price it receives for its power does not dip below. However, should the wholesale price exceed that floor price, the project would not receive the inherent upside (i.e. the additional price ahead of the floor) until the project had effectively paid off its balance of top-up payments received when the wholesale price had dropped below.
Such a contract would not amount to any form of subsidy and would remove the threat of merchant risk and make renewable energy projects more attractive to investors.
In addition to the floor-price CfD concept, the STA is also calling for the government to remove regulatory barriers which currently prevent co-located solar-plus-storage sites from participating in capacity, arbitrage and ancillary services markets, and enact a Climate Change Levy exemption for all new-build corporate PPA-backed solar developments, currently only afforded to private-wire projects which are not connected to the grid in any fashion.
Chris Hewett, chief executive at the STA, said the new analysis provides a "clear message" for government and corporate buyers alike.
"UK solar electricity is now cost competitive with fossil fuels. By establishing the right policy framework for solar and storage, including expediting a smart, flexible energy system, government can enable this technology to realise its full potential in delivering an affordable, low-carbon future energy system."
During the week commencing 7 January 2019, Solar Power Portal will be hosting a 'Subsidy-free Week' of content. Over the course of the week, a series of exclusive news stories, guest blogs and feature articles will examine the scope for grid-parity projects in the UK and how the industry looks set to re-ignite in 2019.