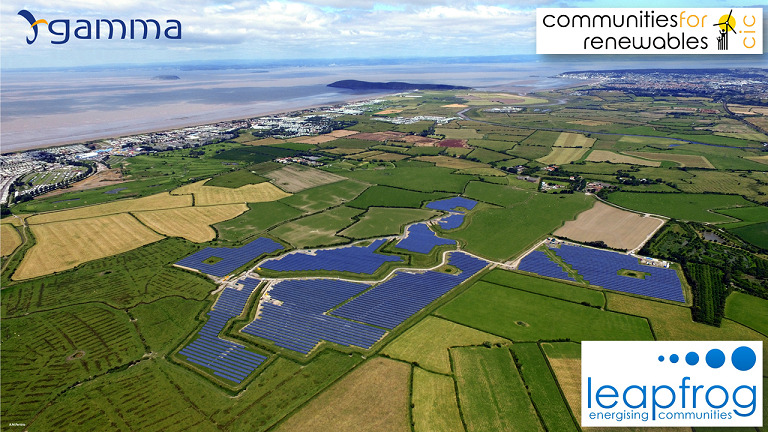 Communities for Renewables (CfR) CIC has purchased what is claimed to be the UK's largest community solar farm from developer Gamma Energy.
CfR has acquired the 9.3MW Verdant CIC solar farm, located between Weston-super-Mare and Burnham on Sea, five months after its commissioning in June this year.
Leapfrog Finance has financed the project's acquisition, and CfR intends to run the solar farm as a community project. Over the next six months local organisations are to be involved in the project and a community investment offer is to be launched.
Over its lifetime the solar farm is expected to generate circa £1.2 million of income for local community organisations, equating to roughly £48,000 per year.
Tom Cosgrove, development manager at CfR, said: "It's great to be involved in securing another significant scale solar project into community ownership… We are looking forward to working with local organisations to develop the community model for the project and launching the community investment offer early next year."
The site itself has been borne out of the 15MW Wick Farm project which received planning permission but just missed the ROC cut-off point following the government's decision to close the scheme prematurely.
Gamma Energy subsequently split the site into three separate projects; Red, Green and Orange. The Red project is a commercial 5MW solar farm, with the Green and Orange site both having been pre-accredited under the community feed-in tariff in June last year, and have now been purchased by CfR.
The Green site shares a grid connection with the 5MW Red site, while the Orange farm has its own separate grid connection.
Leapfrog managing director Richard O'Rourke said the firm was "delighted" to support the acquisition.
"It is yet another example of Leapfrog's commitment to not only enabling community ownership, but maximising social impact. Forecast to deliver over £1.2m of community income over the life of the project, it has enormous potential to catalyse the delivery of social impact across a wide spectrum of issues in the community," he added.