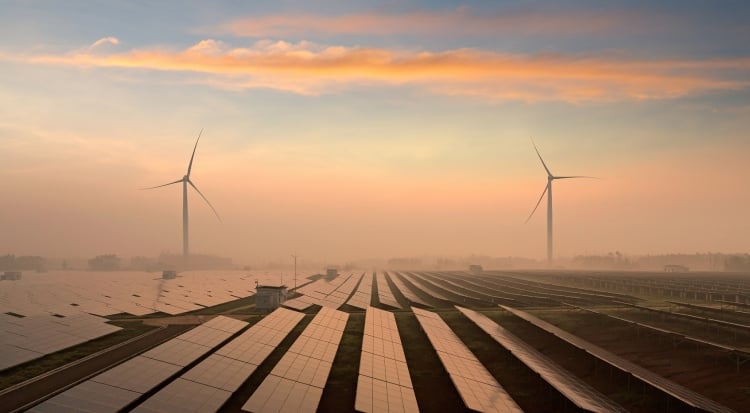 Planning, financing & policy challenges in the UK & Ireland: 20-50 MW sites & mega-solar to 500-MW-plus
The morning kicked off with an in depth dive into the planning process, and in particular the Nationally Significant Infrastructure Project (NSIP) process, which 50MW+ solar projects must go through as opposed to local planning.
Gareth Phillips, partner at Pinset Masons, was up first, giving the example of Cleve Hill Solar Farm, a 350MW solar site in development by a joint venture between Hive Energy and Wirsol that received a development consent order – the equivalent to planning permission for NSIPs – in May 2020.
While the NSIP process can be lengthy, there is a level of certainty to them, which Phillips said is attractive to investors and is an advantage of the UK planning process.
"The certainty of outcome is very high, particularly with NSIP," Phillips said, suggesting a success rate of above 90%.
Indeed, as Solar Media's head of market intelligence Finlay Colville said, "it's very, very unusual for the large projects not to get through".
"Because the margins are tighter they have to get everything right, or they're just wasting money."
Following Phillips, Voltalia's UK country manager Simon Holt talked audiences through the developer perspective on planning and financing, with the subject of power purchase agreements (PPAs) cropping up and a discussion around whether a project will be able to go ahead if a PPA isn't in a place where it's signed and sealed.
Holt suggested that "you're unlikely to get financial close" in that situation, with talk turning to whether developers have the knowledge to go out and win a tender through a commercial process considering it's "quite a new and different thing" with the market having – until 2019 – been mostly reliant on the feed-in tariff and ROCs.
Colville explained that for a lot of the developers with subsidy-free sites, their expertise is in developing land and putting it through planning, not in going out to market to sell energy and sign PPAs with global corporates.
"If you look at the overall climate, these type of players, especially the large global corporates, will come to the sector because they will need the solar industry more than the solar industry needs them, because they're all committed to their own sustainability numbers," Colville added.
The morning also saw a lot of talk around the considerations developers must think about when putting projects through planning, with Simon Newall, director of Neo Environmental, giving a comprehensive walkthrough of the process. Considerations such as noise, cultural heritage and biodiversity were brought up, with Newall stating that biodiversity net gain assessments are being asked for more frequently, and are expected to become a core requirement as part of amendments to the Environmental Bill.
"There's obviously a bit of a mindset shift, in terms of biodiversity net gain going from something you do if you have to, to being very much part of the process."
Planning, financing & policy challenges in the UK & Ireland: 20-50 MW sites & mega-solar to 500-MW-plus (part two)
The second session of day two of the Utility Solar Summit also focused on the planning, financing and policy challenges for UK solar sites. Sonnedix's director of project finance Elizabeth Baxter opened with a presentation that highlighted that the "banking market for UK solar is becoming more competitive".
Banks lend the amount equivalent to 60-80% of the total project cost for greenfield assets in the UK, with solar sites increasingly seen as a safe investment. The nuances of this do vary depending on the financial model the project is utilising, with debt service coverage ratio (DSCR) in particular varying between PPA based projects – which have a low ratio of 1.1-1.2x – and merchant power sale projects – which have a higher rate of 1.4-1.7x.
Further variation occurs depending on the company and the country, but less so within PPAs than merchant solar as often big corporations will have set PPA contracts that they impose regardless of geography.
Following on from Baxter's presentation, Cam Witten, policy manager at trade association Solar Energy UK talked through the "success story" of the UK's solar sector. The market is currently on track to double to over 28GW by 2030, and has a rapidly growing pipeline of over 17GW.
He teased many of the key points from today's Lighting the Way report, released by the association which calls for 40GW to be installed by 2030 in order to keep the UK in line with the pathway to net zero.
The final presentation of the session came from Solar Media analyst Lauren Cook, and focused on the emerging market in Ireland. With 2021 set to see the first utility-scale solar installation in the country, interest is rapidly growing in the pipeline of ~8GW in the market.
With a target of 70% renewable generation by 2030, the need to scale up at pace contributed to its first subsidy auction in 2020, which saw 63 projects approved. The second RESS auction is expevted to be held in 2022, with 1.5GW of projects like to participate.
As a young market and one still reliant on subsidies, it's hard to truly predict what will happen next, but it seems likely that it will follow in the footsteps on many other European markets with the emergence of a subsidy-free market soon.
Building, financing, owning & operating sites in a post-subsidy climate
In the afternoon session, attendees heard from three speakers who offered invaluable insights into the state and prospects of UK solar in a subsidy-free world. First, Patrick Doyle, business development manager at Bouygues Energies and Services, told listeners that the removal of subsidies had improved the engagement process whereby EPCs like his are able to process, plan and execute a project without the pressure of short deadlines. He also noted how technological change was driving the subsidy-free market, from substantial increases in project lifespan to the emergence of battery storage and being delivered simultaneously alongside projects.
The next two speakers narrowed in on the risks and challenges to the current and upcoming UK fleet. John Davies, founder and CEO of 2DegreesKelvin, a climate neutral engineering business, outlined the root causes of problems with the current national stock, presenting the key challenges to operational sites and new build pipelines. His talk focused on market technology and the mechanisms for improving existing and upcoming stock.
On the other hand, Michael Covington, renewable investment director at Alpha Real Capital, examined the UK market from an investor perspective, spelling out the risk to GW deployment. Covington was sceptical that 1GW would be deployed in 2021 but saw a more positive outlook for 2022-2025.