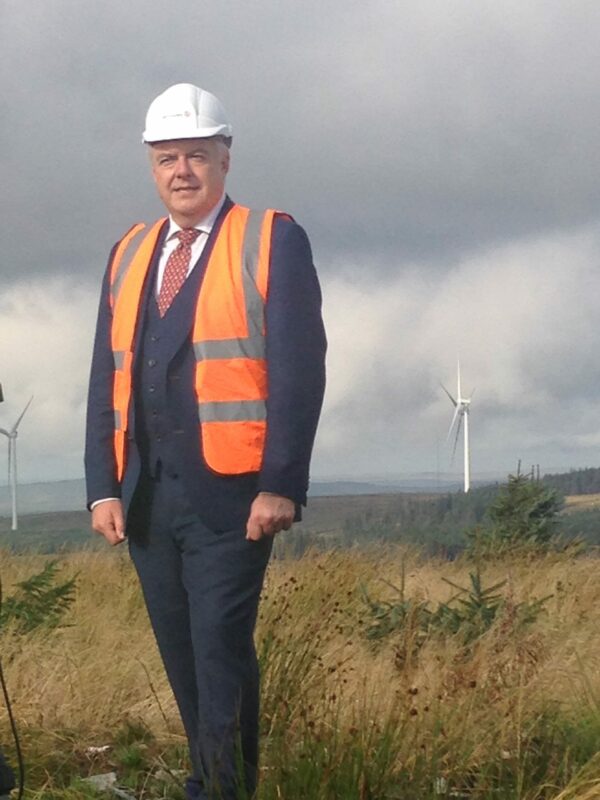 Solar will not play a role in helping Wales meet its newly set target to generate 70% of its electricity from renewable sources by 2030, according to the first minister of Wales.
Environment secretary Lesley Griffiths announced earlier this week that the devolved government would seek to more than double the proportion of renewable electricity from its current level of 32%.
Combined with a 1GW target for locally owned renewable electricity capacity by 2030, and all new projects to have an element of local ownership by 2020, Griffiths said the "stretching but realistic targets" would help decarbonise the energy system, lower costs and deliver greater benefits.
However, speaking to Solar Power Portal at the opening of the Pen y Cymoedd onshore wind farm – the largest in Wales and home to Vattenfall's forthcoming EFR battery project – first minster Carwyn Jones said the targets would be met with a mixture of wind, marine and some hydroelectric projects.
Citing the cuts to and closures of subsidies paid to solar, Jones said: "At the moment I can't see a future for solar because of the actions of the UK government, and we regret that.
"What we need to do is encourage as many different sources of energy as possible to reach our target…and we want to see resources made available for solar. [However] the UK government just knows what it doesn't want and not what it does want and that is bad news for energy producers at the moment. We need to see some direction from London to match the direction we have outlined here in Wales."
He also ruled out any chance of devolved finance for a Welsh subsidy for solar, claiming to do so would likely see the Welsh Assembly needing to support such a scheme from its own coffers.
"We know that if we are given money it's always less than we need by the UK government so we're always careful not to take on something we end up having to resource some of our own money [to].
"[There's also] the issue of how do you devolve market issues in the single Great Britain market. We are not going to have a Welsh energy market clearly…but devolving it is tricky unless you start thinking about if you should devolve all energy policy, including the commercial side, and maintaining all the resources of National Grid which could be more difficult than how it is now," he said.
Despite these words, subsidy-free solar did take a considerable step forward this week after Anesco unveiled its solar and storage farm at Clay Hill, the first to be built since the closure of the Renewables Obligation.