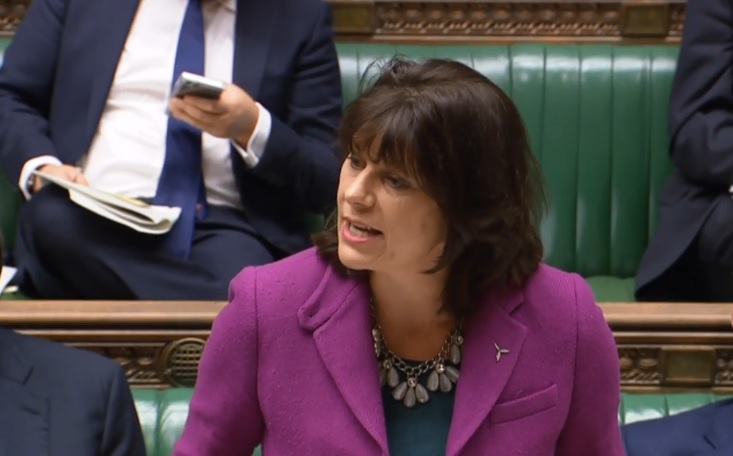 Solar power "should not be provided to the grid for free" according to energy and clean growth minister Claire Perry, potentially heralding a change of stance from the government as it plans the future of small scale renewables.
Perry was answering the first question of the day in the House of Commons from fellow Conservative Kevin Hollinrake, who asked if she believed that householders should expect some form of payment "rather than simply subsidising large energy companies".
"I do completely agree that solar power should not be provided to the grid for free and that's why I'll shortly be announcing the next steps for small scale renewables," the minister replied.
She later added in answer to a question from Richard Graham: "It would be wrong to have power provided to the grid for free."
Perry continued to press the point when confronted with an accusation from shadow minister Alan Whitehead that she has "messed things up on this occasion" by putting the closures of the FiT and the export tariff together.
"I can't think of a better way to discourage people from investing in solar in the future than telling them that they will be expected to give away to the national grid half of the electricity they generate from their investment. We're not talking about a subsidy here when we talk about an export tariff, we're talking about a payment for good supply," he said.
In reply, the government minister said: "People who have gone through the installation process should not be essentially captive takers should someone want to buy their energy and I'm looking forward to announcing some further deliberations on this shortly.
This marks the first sign from the Conservative front bench that it has reconsidered its previously stated position to close the export tariff at the same time as the feed-in tariff as set out in a consultation in July.
Since then, opposition to the proposal has been drawn from all quarters, with the government's deputy director for renewable electricity support Vicky Dawe saying last month that industry's voice on that matter had been heard "loud and clear".
The Solar Trade Association, which led a significant campaign to reverse the proposals, responded to the news on Twitter immediately.
Extremely grateful to @kevinhollinrake for his question regarding the export tariff asked a short while ago. @claireperrymp completely agrees that solar power should not be provided to the grid for free. We look forward to hearing her announcement on the issue in due course pic.twitter.com/lYEQr8RuKa

— Solar Trade Association #Fair4Solar (@thesolartrade) November 20, 2018
"We are delighted that Clare Perry has now stated clearly that future small solar generators should receive payment for their exported electricity," said STA chief executive, Chris Hewett.
"STA had sent her a letter signed by over 350 organisations from across the solar, battery, electricity supplier industries and civil society seeking just such an assurance. As ever the devil is in the detail, so we now need to see the proposals and make sure they are in place from April 2019, but this is a good day for solar installers and prospective rooftop solar owners."
James Court, policy and external affairs director at the Renewable Energy Association, said the prospect of a U-turn was "hugely welcome".
"The feed-in tariff has been a stand out success, and has led to huge cost reductions. Cancelling the export tariff though would be a significant blow, for industry, for consumers, and for the UK if we are to meet our climate commitments.
"The industry is moving away from direct government support, and there are market based options for the future which we look forward to working with government on."