Shortly after the Department of Energy and Climate Change released its proposed changes for solar under the RO scheme in December, we highlighted in a blog that there had been a change of qualification for grandfathering under 1.3 and 1.2 ROCs, from 22 July 2015, based upon planning applications being validated.
In fact, the word used by DECC was 'valid', not validated. To most people, this probably does not mean much, but making the word valid a verb in the past tense has an altogether different meaning in UK planning.
Of course, neither word was mentioned in DECC's 22 July 2015 consultation documents to the industry, raising the first obvious question: how can you have a consultation on something so important, when it is not in the list of topics to be consulted?
Had DECC introduced the word 'validated', then this would have placed the qualification criterion at the hands of the LPAs. Of the 400 LPAs in the UK, the timeline to validate a planning application can vary hugely, with some taking weeks, even months, just to show registration.
Valid is no less damaging and open to question however. Who decides if the applications submitted on 22 July 2015 were officially valid? Is there a protocol for this in place today? Or does this fall on the hands of the developers to get LPAs to confirm this in writing?
In fact, the questions passing over lawyers' desks right now are likely to be much more specific.
It is worth flagging up that giving an industry a one-day deadline to submit applications could be considered as rank unfair, but in this there is sadly precedence, so we are going on the assumption that DECC can probably get around this one if challenged on the deadline issue.
But if valid was going to be introduced in the December post-consultation response of DECC, then surely it had to be there in the 22 July documents.
In speaking to a range of developers and planners in the past few weeks, many of them noted that had DECC spelled out valid as a grandfathering criterion, they would have hand-delivered planning documents on the day to LPAs.
DECC's case gets even more confusing however when one remembers that documents of a certain size – needed for many planning submissions to the planning portal – can't actually be sent electronically. And then there is the rather unfortunate occurrence of the planning portal understood to have crashed on the day.
Furthermore, previous RO changes had not mentioned valid being a planning requirement, so if we are to take precedence as a basis of legal acceptance, then the RO grace condition changes in 2014 are not the same as outlined in the past few months.
Of course, if nothing was submitted on 22 July 2015 then the whole issue would be immaterial, but this is not the case. And nor could it have been, when the industry got a one day ultimatum to act on projects, some of which had accumulated easily £50-100,000 expenses over the previous couple of years, notwithstanding the £25,000 cheque to the LPA on the day for a 4.99MW planning application.
On 22 July 2015, there was about 760MW of planning applications submitted to the LPAs. Add the applications over the previous couple of days, which are also affected by the change in terminology, and the figure ends up at 780MW for 171 applications. We should probably go back ever further into June 2015, and the figure would then easily exceed 800MW.
By the end of 2015, 82 applications out of the 760MW (171 applications) had been approved (368MW), 30 had been rejected (137MW), two were withdrawn and 57 (total 267MW) were pending decision. Assuming a 70% approval rate on the pending applications (in line with the ones adjudicated by year end), then we get to what's at stake from DECC's inclusion of the world valid – 550MW of RO planning applications. Even assuming a more negative response on the 57 pending, this figure is still comfortably in the 400-500MW range.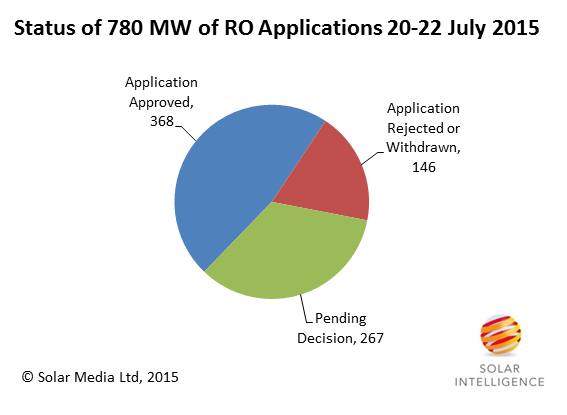 Figure caption: breakdown of planning status of the 780MW of solar farm applications over the period 20-22 July 2015, by year-end.
Furthermore, the choice of developers to go to appeal for rejected applications is also something that should be put into the equation. In this regard, one could argue that the changes do affect the entire 780MW of applications, not simply the 550MW outlined above.
Given the potential raft of inconsistencies through DECC's use of valid, it is hard to imagine that legal challenges are not currently being issued. Indeed, one wonders also whether the new wording could be considered one step too far this time around. In fact, if this conclusion was to be made by a high court judge examining the entire list of changes, then it could even come back to bite DECC and give extra weight to other challenges being presented at the same time.
This is all conjecture of course, but we have surely not heard the last of this issue and it could potentially run for some time, well beyond the timeline for 1.3 ROC qualification on 31 March 2016, creating yet another source of financial damage to the industry. For now though, the immediate impact will be on the 368MW of approved projects, and whether this whole issue will simply eliminate them from 1.3 ROC build-out potential, wiping off a chunk of capacity that would otherwise have contributed to the expected Q1 2016 RO deployment spike.

Finlay will be hosting a free webinar on changes to the RO and the size of the opportunity for developers after 31 March 2016 under 1.2 ROCs next Wednesday 20 January 2016. More details can be found here.