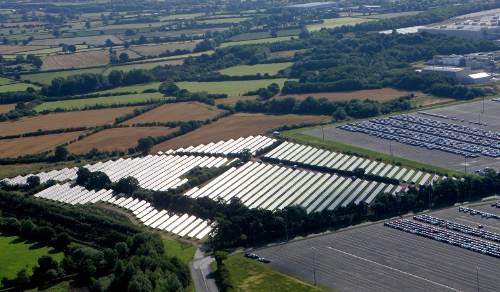 UK-based green finance group Bluefield Solar Income Fund (BSIF) has acquired a fully operational 70MWp solar park in Wiltshire in a deal worth £89 million.
The Bradenstoke Solar Park, which was built in early 2015, sits on a former RAF airbase and will start generating revenue for Bluefield Solar from 1 April this year. The company now oversees a total installed capacity of 612MWp, which is made of UK solar assets with "high levels" of government-backed revenue streams, according to a statement.
The Wiltshire plant is accredited under the Renewable Obligation Certificate (ROC) regime, with a tariff of 1.4 ROCs.
BSIF used its revolving credit facility, which has been both extended to September 2022 and raised to £100 million, to finance the acquisition.
BSIF raised £45 million late last year in order to support further acquisitions in the renewables sector through what it called a "significantly oversubscribed" share placing. This latest acquisition has brought its outstanding debt to £370.4 million, including debt that was accrued from the purchase of another 64.2MWp solar portfolio last August.
The investor spent an initial £106.6 million on the portfolio, which comprises 15 operational solar PV plants.
John Rennocks, chairman of BSIF, said the latest purchase is "evidence of our ability to source attractive assets with high levels of regulated revenues".
Rennocks added that Bluefield continues to "carefully assess a strong pipeline of opportunities across both primary and secondary markets."
The investor unveiled plans to diversify its portfolio last June, and suggested amending its own Investment Policy in order to fund more renewable energy and energy storage developments.
Jonathan Selwyn, who became Bluefield Development's managing director in 2018, recently told Solar Power Portal that developing subsidy-free renewables projects in the UK is one of his first priorities. BSIF's gross earnings grew to 12.03 price per share (pps) in its 2020 full year results, thanks to its fixed power purchase agreements (PPAs) and strong irradiation throughout the year.