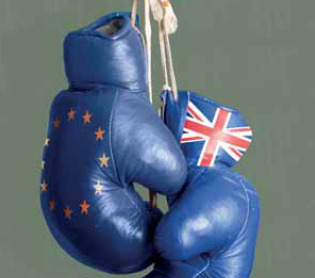 Should Great Britain vote to leave the European Union later this week there could be a much greater need for new energy generation capacity, but at the cost of an extra £140 million on annual consumer bills.
Economics consultancy Oxera has suggested that the energy market stands to be significantly disrupted in the event of a vote to leave the EU, particularly in relation to the country's policy of importing energy from continental Europe through its interconnectors.
This energy, Oxera said, is effectively subsidised to the tune of between £8 and £8.50 per megawatt hour due to the differences in carbon prices and generator charges between countries, effectively distorting the UK's own energy sector.
Should Britain vote to leave the EU on Thursday the UK government could introduce tariffs on imported electricity, both mitigating those market distortions and incentivising greater domestic generation.
Speaking to Solar Power Portal, Vladimir Parail, senior consultant at Oxera, said that such a measure would "shift generation from continental Europe to Britain", creating "more room" for domestic generators.
Enacting such a policy would significantly hamper relations with the EU when it came to negotiating other trade agreements, but would improve energy security by decreasing the country's reliance on interconnectors. As a result, imported electricity would only be used in times of system stress.
But while renewables would appear best placed to take on the mantle of additional generation – the Committee on Climate Change's fifth carbon budget calls for greater deployment of renewables, and numerous reports have hailed solar's significantly shorter lead times than other technologies – Parail said any new generation would likely be gas.
Last year energy secretary Amber Rudd announced the government's intention to consult on a phase-out of coal generation by 2025 and has consistently hailed gas as a "bridging fuel" since then.
Hydraulic fracturing has also been widely supported by the Department of Energy and Climate Change.
Renewables would not, however, stand to be affected in the immediate aftermath of a decision to leave the EU.
"In terms of [renewable] energy making it into the mix, it's difficult to see any impact because there's zero marginal cost… it's always the cheapest energy to use when it's available and it's almost impossible to see that changing. The only foreseeable change is with respective future capacity, and that really is about how committed Britain is post-Brexit – should it happen – for renewable support compared to where it is today," Parail said.
Parail also dismissed the potential impact on decarbonisation targets, stating that domestic targets are already "tougher than EU ones" and that binding renewables targets are active until 2020.
Curbing interconnector use could even have a net-positive impact on emissions, Parail said, by reducing the chances of energy from an inefficient coal or gas-firing plant in Europe being prioritised over more efficient domestic generators.
The impact of such a policy would, however, be felt on customer's bills. Electricity prices would have to increase and Parail said the impact would be around £140 million each year – roughly £2 per household bill.
Protecting bill payers has been a central tenet of the Conservative government's energy policy to date. The small-scale feed-in tariff was significant cut in order to save consumers circa £5 per year and other policy decisions have been taken to prevent costs being passed on to consumers.