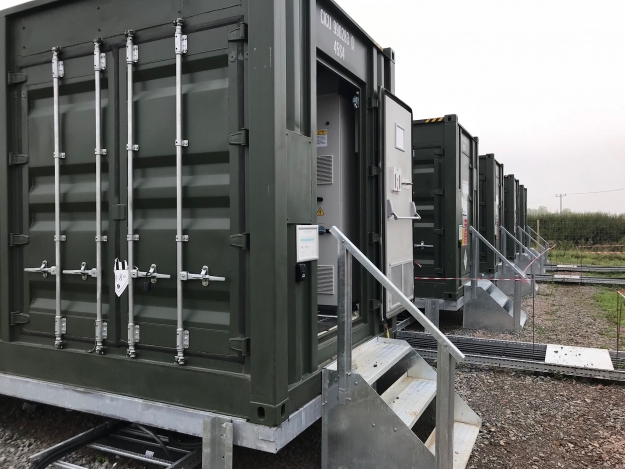 Over 9,000MWh of battery energy storage could be deployed in Britain over the next five years as the sector enjoys a trend towards "explosive growth" driven largely by the country's clean energy transition, a market analyst has said.
Lauren Cook of Solar Media's Market Research division spoke to SPP and sister publication Energy-Storage.News this week on the publication of a new report, 'UK Battery storage: Opportunities & Market Entry Strategies for 2018-2022'.
Cook found that in just 12 months, the UK's pipeline for new battery storage projects has grown by over 240%, with forecasted installations in 2018 set to rise more than 200% year-on-year. Opportunities are being created by a range of drivers including a national commitment to phase out coal, falling technology costs and more than 30GW of wind and solar capacity ripe for co-location with batteries.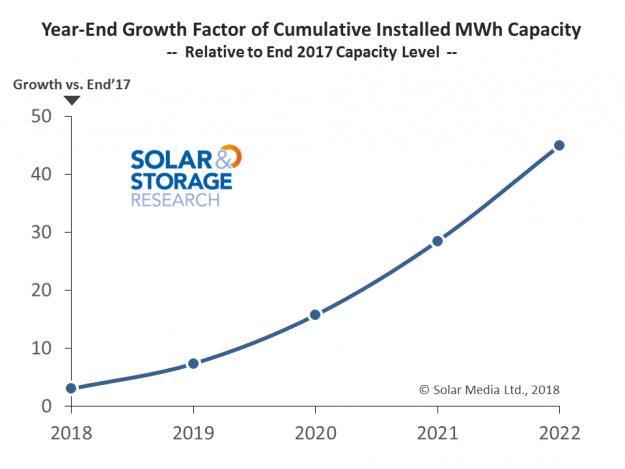 "The market is growing and it's changing rapidly. There are now projects completed on the ground. Once global companies start to see it's not just a speculative market, it will make sense for them to think about how to enter the market and what the opportunities are for them.
"They will then need to know who is active in the market, who has these opportunities and who they will have to work with to take advantage of those opportunities."
Many of the projects noted by Cook to have already been completed or under construction are standalone projects, with co-located solar plus storage sites yet to take off.
With Ofgem only recently having closed its consultation period on draft guidance for those seeking to add energy storage to their RO and FiT accredited sites, Cook maintains that a lack of clarity is sparking caution within the market.
"The solar farms tend to be owned by large investors so they have less appetite for risk. I think a lot of those are still getting their heads round storage at the moment and figuring out what it means for their business. They'll be looking at adding storage to their solar assets but I'm not sure they're ready to take it up on a large scale yet," she said.
However, she added storage developers are already looking to bypass this uncertainty by considering the other advantages of co-location, particularly the savings in cost associated with sharing the grid connection and infrastructure already in place at an existing solar farm.
"That's certainly how people will be getting around the uncertainty around the RO…there's definitely a lot of potential there in the future because it makes sense from a technical perspective."
No 'typical' revenue stack
Going beyond co-location potential, Solar Media Market Research also looked extensively at other business models surrounding energy storage deployment, another aspect of the industry analyst Cook said is changing fast.
With an emphasis on projects earning long-term revenues, it is becoming commonplace to speak of a "revenue stack" – earning multiple revenues streams for providing a range of services. However, Cook said, there is no such thing as a "typical" stack in the market today.
"I'm not sure there's any such thing as a typical stack because there are many factors involved, but if you look at the timeline from the EFR of 2016 you had those projects [that] were successful then went on to apply for the Capacity Market (CM), T-1 and T-4 in early 2017," Cook said.
"We then saw the FFR auctions happening throughout 2017. Those projects also participated in those auctions [and] new projects also came in. Then I think the most recent phase of the Capacity Market was just another opportunity to add to those stacks.
"It's not just about stacking them in one moment – so having multiple sources at one point in time – it's about stacking the revenue streams across the lifetime of the project and having long-term revenue."
In megawatt-hours, battery energy storage capacities installed in the UK by the end of 2022 will be 50 times what they were as 2017 ended. The report also covers a predicted trend towards longer duration storage in future, comprehensive evaluations of leading players in the industry and analysis of stakeholders.
Learn more about 'UK Battery storage: Opportunities & Market Entry Strategies for 2018-2022', here.