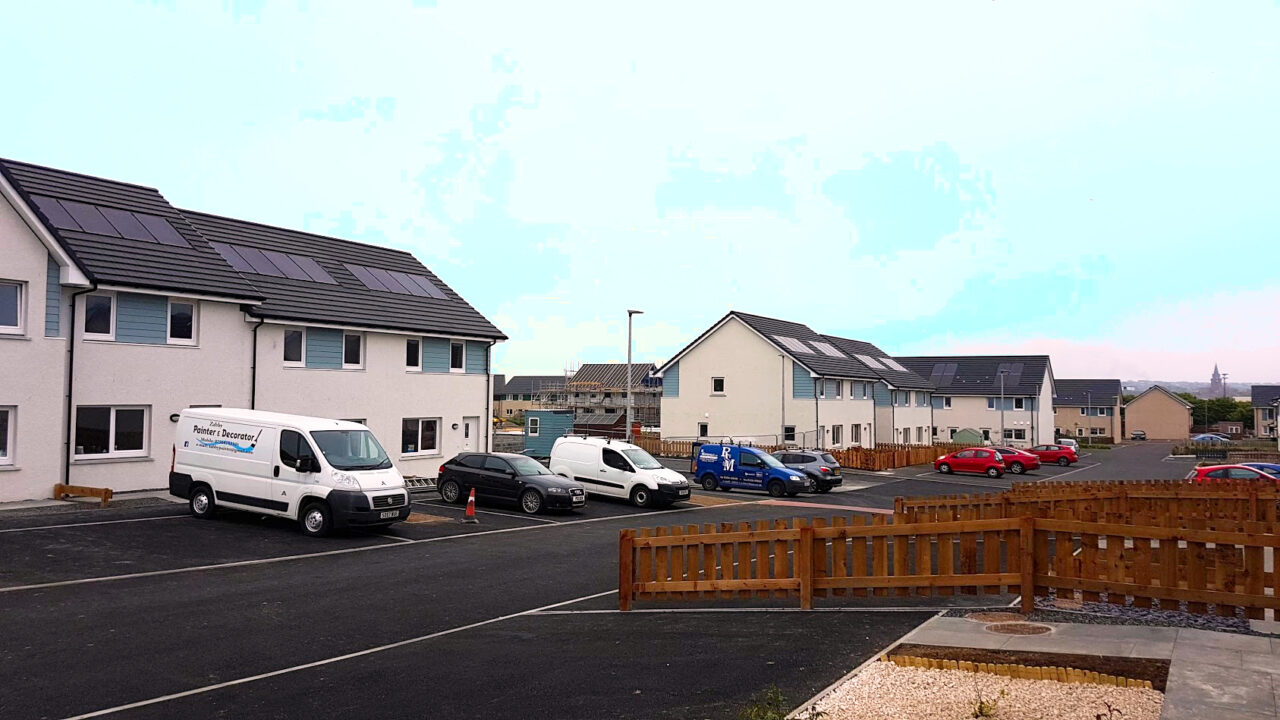 Solo Energy is to launch a 'free battery' business model to UK homeowners after carrying out a pilot in Orkney that saw solar and storage systems deployed on 30 properties to boost self-consumption and overcome grid constraints.
The company partnered with sustainable housing developer Orkney Builders in April to carry out the installs at the housing project on the island off the coast of Scotland. The Grainbank project linked sonnen eco battery units to existing solar on 30 households to make better use of the renewable generation throughout the day.
These batteries were intended to stop excess solar generation from 'spilling' onto the local grid, which is already constrained by high levels of intermittent renewable generation – the Orkney islands produced well above their net demand from local renewable generation in 2017. The storage units also charge from the local grid to utilise this local renewable generation.
The model is predicated on Solo Energy's proprietary FlexiGrid software, which aggregates the batteries into a virtual power plant (VPP) designed to optimise the storage and capitalise on peak renewable generation, low-demand and lower price periods on the grid system, saving households money on their bills.
While the initial pilot in Orkney is relatively small, Solo Energy's chief executive Mark Hamilton says it has proven how the technology can "revolutionise the future of the traditional energy system."
"By linking renewable energy generation from Solar PV wind and solar energy with cutting edge in home battery technology and revolutionary software we can facilitate a move to a 100% renewable energy future," he said.
"When deployed at scale, these technologies can also be used to take pressure off the grid by shaping demand and removing the peaks and troughs of intermittent renewable generation –lowering costs across the system as a whole.
"We're excited about the possibilities of this technology and look forward to rolling it out to a much wider audience over the coming months and years."
The company will now seek to roll out a new 'free battery' offer later this year, with the free installation of a vehicle-to-grid (V2G) charger to be offerd in the first half of 2019. A larger project is currently being planned in Orkney involving the roll out of hundreds of batteries and electric vehicles to help balance demand with local renewable generation.
Solo Energy says it will announce its technology partners later in 2018, but that 'several battery providers and V2G manufacturers will be used'.
The firm says it will seek to recover the cost of these VPP assets over time by partnering with energy suppliers to realise profits by selling an 'energy-storage-as-a-service' to them from a targeted 5,000 homes over the next two years. In addition, Solo's plan is to target all homes with pre-existing solar before offering solar as part of the free offer as well.
It will also seek to recoup its costs by trading capacity in wholesale electricity markets and delivering flexibility and grid services to network companies.
The company also has plans to investigate the use of peer to peer trading to allow energy trades between those included in the 'community' using blockchain technology. It will charge 'micro-fees' on these transactions once the regulatory framework is in place to allow for such revenue streams.
This is currently not possible under the UK's existing regulatory arrangements, however there are projects underway to test the model under Ofgem's regulatory sandbox initiative.
Earlier this year, Verv completed the UK's first energy trade at Hackney's Banister House Estate, using blockchain technology to trade 1kWh of solar generation between two of the flat blocks on the estate.
Solo Energy has already gone through the regulator's Innovation Link process to provide feedback on the business model relative to current regulation, highlighting areas where regulatory change may be needed to enable the business model. The company is confident that a future supplier hub model will allow such activity.
The Grainbank project is among the 67 entries shortlisted for 2018's Solar Power Portal and Energy-Storage.News Awards, with the winners to be announced at a prestigious gala dinner ceremony by guest host, TV personality and design expert George Clarke.
The event will take place at the Hilton Metropole NEC on the evening of Wednesday 17 October 2018, bringing a close to the penultimate day of this year's Solar & Storage Live, a three day exhibition and conference taking place over 16-18 October at Birmingham's NEC.
Tickets and tables are now available to be purchased here, or by emailing Sue Bradshaw.
For more information on the awards, including our independent judging panel, ticket pricing and how to purchase, please visit Solar Media's dedicated micro-site.