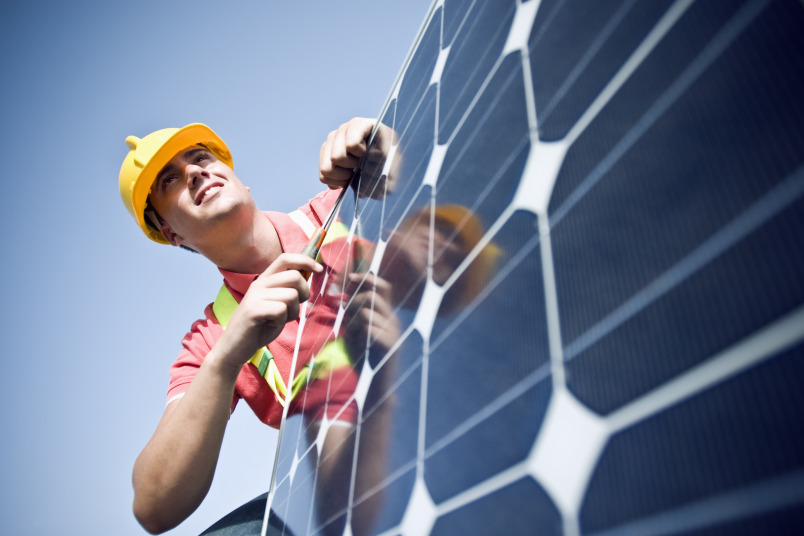 The MCS Charitable Foundation has declared that green apprenticeships could be critical for the UK's net zero transition, but these must be promoted better to Gen Z.
The independent UK-wide renewables charity highlighted that a "huge influx" of 15 to 25-year-olds are required to enter the green workforce to meet various renewable installation targets set for the 2030s.
Gen Z refers to the generation that was born between the mid-to-late 1990s and early 2010s.
For instance, the UK will need around 60,000 people installing solar panels and in related industries by the mid-2030s. For heat pumps, there will be a necessity to have around 50,000 heat pump engineers in place by the same time.
Demand currently is high for renewable energy jobs. According to data from hiring platform Indeed from early this year, there's been a 315% increase in the demand for solar installers over the last three years.
Having this workforce could be critical for long-term renewable targets as well. By sparking interest in the renewable sector for Gen Z citizens, this could not only benefit the uptake and maintenance of renewable technologies but could also raise awareness for green technologies and climate action as a whole.
This is something that was referenced in the report. MCS stated that "while concern about climate change was high among Gen Z, only 15% considered benefitting the environment as an important factor in their career choice. That compares to 60% prioritising a job that they enjoy and that is well-paid".
Renewable job salaries remain above the UK average
In light of this, working in the renewable industry can be potentially lucrative, particularly in comparison to the average salary in the UK. According to Indeed, the average salary for a solar installer in England is around £35,881 per year. However, in some regions of the UK salaries of up to £50,000 have been advertised.
This is in comparison to the average wage in the UK, which currently stands at £33,000 a year.
The report does mention that "57% of young people said that they would be more likely to consider a renewable energy job if they knew that they could get an apprenticeship where they could earn and learn at the same time".
55% of young people also said that they would "consider a renewable energy job if there was more information about the options in their school, college or university".
Clearly, there is a lack of awareness for renewable energy careers and more must be done by career advisors and the education system to boost interest in this career path. Apprenticeships in particular grant a means for young people to transition into a skilled career without following the traditional means of going to university.
Richard Hauxwell-Baldwin, research and campaigns manager at the MCS Foundation and author of the report, said: "For young people who want to do their bit for the environment but don't see a 'green job' as an option, apprenticeships could open doors in a big way.
"We will need more than a hundred thousand more solar panel and heat pump installers in the next decade, and apprenticeships are a vital link in to accessing the skills and capabilities of Gen Z to meet that need.
"We need to move beyond a system where university is seen as the only path for aspirational school leavers and demonstrate that apprenticeships can provide job and learning opportunities for young people that are enjoyable, earn good money, and deliver on their environmental values."
This article first appeared on Solar Power Portal's sister publication Current±.