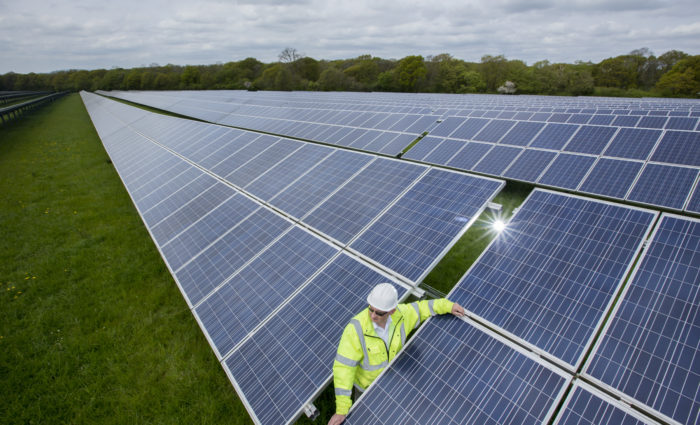 Due to high irradiation, solar PV and battery storage fund Foresight Solar Fund saw its UK assets produce 8.6% above budget last year.
Recorded in the Fund's annual results to 31 December 2022, Foresight Solar benefitted from the high irradiation witnessed across the UK in 2022. The portfolio, which consisted of 50 assets as of the end of the year, capitalised on the heatwave to deliver the Fund's best generation year to date.
As temperatures across the UK soared to over 30°C amid August's heatwave, on Tuesday 19 July, solar power output met up to a quarter of the UK's power demand.
Generation hit a peak of 7.7GW by midday according to Sheffield Solar's PV Live website, more than six times the capacity of the country's largest nuclear power station, the 1.3GW Heysham 2 plant in Lancashire.
This could have been an even stronger year for the UK portfolio if not for occasional distribution network operator (DNO) outages. Alex Ohlsson, chairman of Foresight Solar Fund said: "Looking at the technical performance of the UK assets excluding DNO outages, electricity generation was 9.0% above budget compared to an irradiation value of 9.4% above expectations".
The Fund's strong performance saw its net asset value (NAV) increase to £771.5 million on 31 December 2022, a rise on the £660 million at the end of 2021. The Fund's consolidated revenues and EBITDA globally were 26% and 37% ahead of budget.
"Foresight Solar has enjoyed another strong year, benefiting not only from elevated power prices and higher than anticipated inflation, but also from its favourable power price hedges, good operational performance," said Ohlsson.
The Fund also operates within the battery energy storage market and has three assets as of 31 December 2022. The Fund believes there are "attractive investment opportunities" for the company in the UK battery storage market, which it referenced as the "most active market in Europe".
"The investment manager believes there are several attractive opportunities in UK battery storage and in development-stage portfolios in the UK and Europe," added Ohlsson.
"As governments continue to support the transition to a net zero economy and prioritise domestic energy security, there is significant upside for the Company's core solar and battery storage markets. These industry fundamentals, combined with Foresight Solar's exciting pipeline of opportunities and attractive yield, position us strongly for 2023 and the following years."