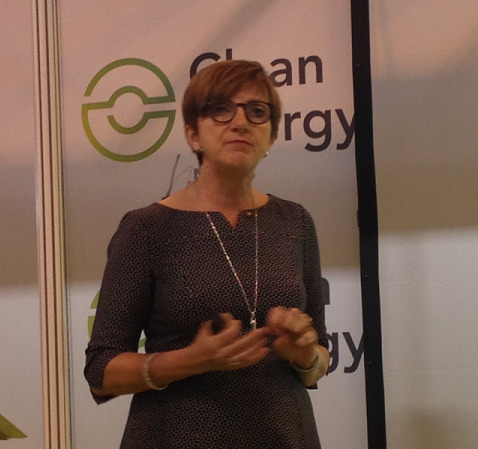 The renewable energy industry needs to unite to pressure government to provide clarity over the future of UK policy following the Brexit vote, according to REA chief executive Nina Skorupska CBE who delivered a keynote speech on the second day of Clean Energy Live.
Following Theresa May's unveiling of the Great Repeal Act at the Conservative Party conference, which would remove all of the current EU articles of legislation governing renewable energy and energy efficiency, Skorupska (pictured) said the UK needs some certainty from government over the next period.
She said: "Do you really realise that so much regulation and legislation and law forming the future of climate change is happening in the next four months? Meanwhile, we are now that spare partner on the side and people don't know whether to dance with us or not. It's a critical time so we really need clarity."
While May did pledge to transpose all existing EU targets and regulations into UK legislation, Skorupska remains concerned that energy policy will not be given the weighting it deserves when negotiations with the European Union begin next year.
"We've heard that we won't be doing anything in negotiating with our EU partners that would affect the higher parts of negotiations for Brexit. The energy bit is just one element, there's the bigger areas so where do we fit in the pecking order? I heard we weren't in the top five and that's not good.
"It is a risky time and what we are asking for is some clarity. But it takes time to make change and business as usual is suffering at the moment.
"It has opened up a can of worms but we need to be coordinated, unified and make it clear to our government what we need for renewable energy and clean technology."