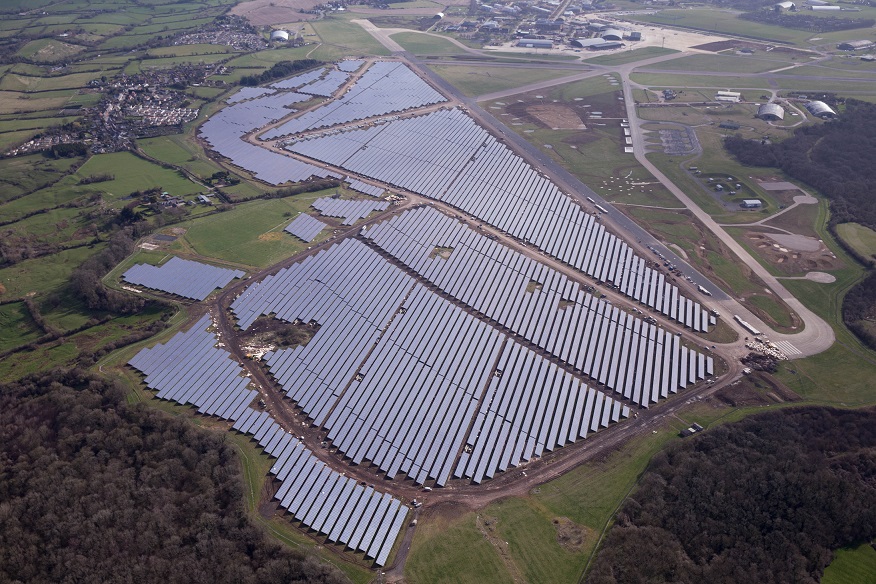 Shell Energy Europe has signed an initial five year power purchase agreement (PPA) with British Solar Renewables (BSR) to take power generated at England's largest solar farm at RAF Lyneham.
The utility will become the sole off-taker for the 69.8MWp Bradenstoke solar power plant, which generates approximately 65GWh of clean solar energy on an annual basis following its completion in March 2015. It is the largest solar farm to have been developed in England and is second-largest in the UK only to the Welsh 72.2MW Shotwick site, which had been developed by BSR and is now owned by Foresight.
BSR, which manages and operates the site on behalf of owner Siem Europe, organised the deal in its capacity as manager of the solar farm utilising its past interactions with Shell to bring the deal together.
Speaking to Solar Power Portal ahead of today's announcement, BSR's managing director and chief financial officer Graham Harding explained: "As asset manager one of our obligations is on behalf of the owner to negotiate the PPAs on an ongoing basis so we've been exploring different opportunities in the market place.
"Shell is a relationship we've had in various forms for a while but this is the first major piece of work that we've transacted on with them. Siem as a group also has relationships with Shell … so it was a natural evolution of various discussions that were going on."
The deal comes as Shell's integrated energy marketing and trading company is seeking to grow its footprint in Europe's renewable power market and is in line with the wider group's strategy to develop a new energies business focused on new fuels and the power value chain.
The power generated from the Bradenstoke solar power plant will be supplied to Shell Energy Europe's customers in the UK seeking to meet their needs with renewable energy.
Jonathan McCloy, general manager for north-west Europe at Shell Energy Europe, said: "The UK is one of our key markets for power and we've been exploring ways to increase our power presence in the country on both the buy and sell side. The deal with BSR helps us achieve this goal and is a significant boost to our renewable power portfolio in the UK."
SPP understands that the PPA could be extended beyond the current five-year arrangement should this be advantageous for both parties, with Harding stating that PPAs provide "stability in a volatile energy market".
The deal with Shell allows BSR to grow its expertise in large scale PPA deals following agreements with HSBC for power from the 61MW Swindon Solar Farm – now owned by Rockfire – and UPM in relation to the 72.2MW Shotwick solar farm, which is now owned by Foresight.
"It's something that we're very keen to develop a skillset in; we've got some very skilled and knowledgeable people in order to negotiate what we hope are beneficial deals for both sides," Harding added.