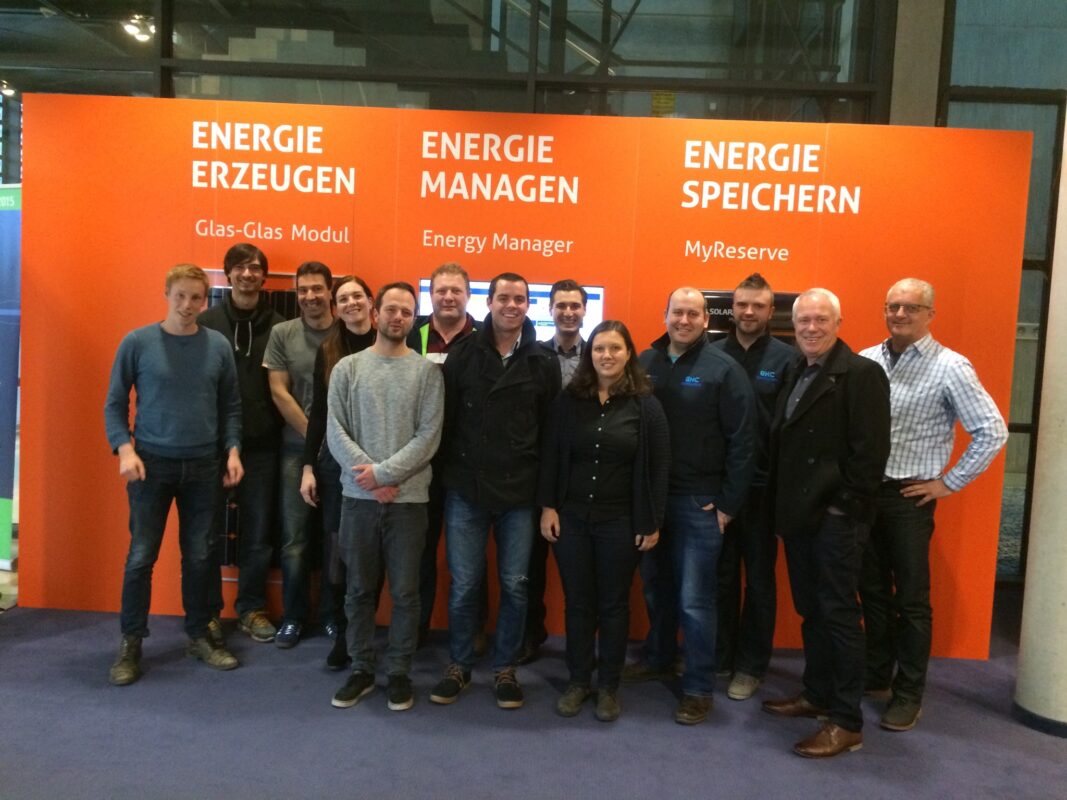 Solarwatt has hosted a week-long training session for its distributors in the UK and Ireland in preparation for the launch of its MyReserve storage system in the first quarter of 2017.
Engineers, technicians, managers and sales people from Wind & Sun and BHC Distributors were invited to visit the company's headquarters in Dresden for an intensive programme of training in the skills need to introduce Solarwatt's battery device to the UK and Irish markets.
The group was instructed in health and safety, transport, lithium-ion battery handling and diagnostics as well as full installation, product servicing and software updating.
James Ford, a member of Wind & Sun's technical team, said: "The right system must be relatively easy to install and not require lengthy and costly conversations with the electricity network. The size of battery storage must be appropriate for the typical UK domestic system but still have flexibility to expand. MyReserve ticks all of the boxes.
"We were especially impressed with the safety and longevity of the battery as we wish to sell systems that have the highest regard to safely installing lithium ion batteries in living spaces and creating the lowest cost-over-life use of a battery system."
The course also covered design, installation and commissioning of dual-glass solar PV modules and Energy Manager, the company's intelligent management system. Attendees also met with Solarwatt's chief executive Detlef Neuhaus before touring the automated factory.
Pearse McHenry, managing director of BHC, said: "I was very impressed. It's very reassuring to see how easy [MyReserve] is to install, and to optimise using Solarwatt's online configurator to ensure maximum working efficiency of both new and already fitted systems."
"Having toured the factory and seen the manufacturing quality, I understand how Solarwatt offers a comprehensive 30-year warranty product and performance warranty on dual-glass modules," he added.
Following the visit, both BHC Distributors and Wind & Sun will soon be providing certified installer training for Solarwatt systems. Having successfully completed their training, the German manufacturer says both parties are fully equipped for the MyReserve UK product launch, with a number of orders already waiting to be shipped.
Pol Spronck, Solarwatt's international sales manager, said: "As well as offering the best training by leading European experts, we like our partners to experience our manufacturing process first-hand. We are pleased with the very positive response from both companies. Following the training sessions, we have received our first orders for MyReserve for the UK and Ireland."
Solarwatt announced its entry into the UK market back in July following a substantial investment by Stefan Quandt of the family that owns BMW. Speaking to SPP, Spronck said the company was seeking to take advantage of the growing demand for energy security and self-sufficiency, calling the company's entry into the market "an important milestone for us".