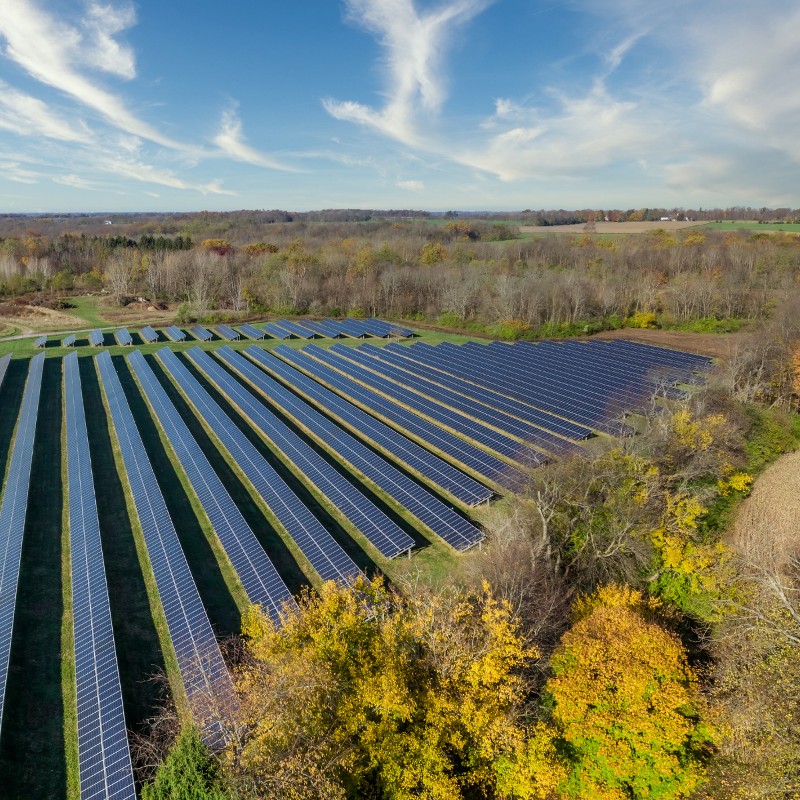 The Tory leadership race has been fraught with grandiose statements from both candidates, putting forward their approaches to solving the plethora of crises we're experiencing – from the energy and cost-of-living, to the agricultural crisis. And who would expect anything else? The incoming prime minister will be entering their new role a week after the energy price cap adjustment is announced, and against a backdrop of inflation, an agricultural crisis and a global environmental crisis.
So, when Liz Truss announced, "On my watch, we will not lose swathes of our best farmland to solar farms", and Rishi Sunak followed by similarly vowing to prevent agricultural land from being covered with "swathes of solar panels", the clean energy industry was unsurprisingly reeling.
Confusing the electorate
Pledges from both sides to make it more difficult for clean energy developers to build solar projects on farms are misleading and misguided. For starters, at present, grade 1,2,3a land – agricultural land of excellent, very good and good quality – is generally not permitted to be used for solar under current or proposed new rules. Therefore, when Truss and Sunak promise to "change the rules" to prevent agricultural land from being dominated by solar panels, there is little substance behind these statements as the existing rules already apply.
This is something both candidates are no doubt well aware of, given their respective tenures in the current Government. And so, it can be said with some certainty that they are using inflammatory comments – such as labelling solar panels "paraphernalia" – to stir up support amongst British farmers ahead of their bid for premiership.
Not in the best interest of farmers
This inference that solar panels are encroaching on Britain's finest agricultural land is a calculated political ploy and nothing more. It will, in fact, have an adverse effect on what has been promised. Instead of protecting the income of farmers by "saving" land for agri-food production, it merely prevents them from diversifying income streams at a time when increased revenue is most needed.
The cost-of-living crisis is all-encompassing; however, farmers are also having to grapple with record fuel and fertiliser prices. This, in conjunction with the loss of EU subsidies, means traditional farming has never been so expensive.
Solar panels can provide a financial lifeline to those struggling and can be managed alongside traditional farming practices. Positioning clean energy as a drain on the agricultural economy is not only false, but it is also preventing farmers from tapping into a tangible and secure alternative income stream.
Moreover, as highlighted by the Green Alliance, the use of arable land for bio-fuel production dwarfs that for solar farms by 108,000 hectares to 1,400. The efficacy of biofuels themselves has been contested as the best way to decarbonise the transport sector, therefore making this a much more obvious and appropriate target to reclaim for farming.
Establishing energy security and achieving net zero
Deadlines to meet national and international climate targets are fast approaching and the UK has experienced one of the hottest summers on record. As temperatures cool and the next energy price cap adjustment looms, it is important to issue a stark reminder of the winter ahead: sky-rocketing gas prices and misaligned energy demand vs generation in the UK means the possibility of power outages are becoming a reality. As is fuel poverty, which EDF has warned will affect half of UK households unless the Government takes action. It is clear from this that the incoming prime minister must take seriously previous pledges made to achieve net zero whilst also establishing a clean sovereign secure energy system.
In the short-term, continued reliance on fossil fuels is required. It is not possible nor practical to instantaneously divest from the likes of oil and gas. Doing so would disrupt the UK's security of supply further without us having the foundations in place to cope.
What can be done, and can be easily implemented by Sunak or Truss, is expediting the rollout of clean onshore energy projects. This can be achieved by reforming existing planning permission laws to remove the practical, on-the-ground barriers which cause unnecessary and costly delays to the roll-out of the likes of solar, and the necessary electricity storage to support it.
This will reduce the UK's reliance on volatile international gas markets that have this year seen energy prices increase by 54% in April 2022 and are going to go up by a further 80% from October, as well as help to realise net zero aims. There is, of course, no silver bullet that will solve the issues, as the climate crisis, energy costs, and energy security are all intrinsically linked. But supporting the rollout of solar in the UK is one of the cheapest and fastest ways to get back on track.
This Government has been accused of being asleep at the wheel. Now is an opportune moment for the next prime minister to demonstrate they aren't continuing this trajectory but that they are wide awake and prepared to tackle the realities ahead.